Breville Barista Express Review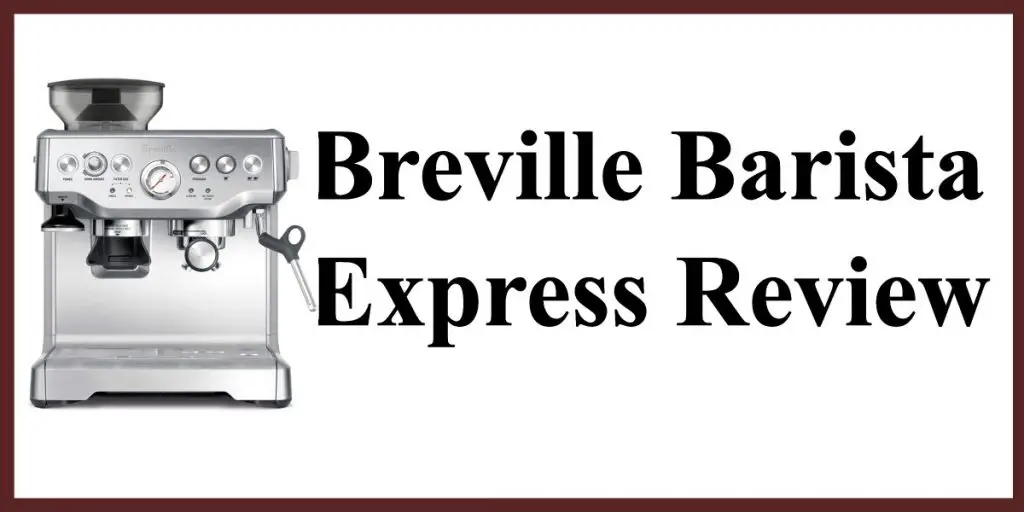 What is all the hype about Breville's Barista Express Espresso maker? It has been lauded by coffee lovers around the world for the quality of its espresso, its stellar design and, mostly, for its incredibly reasonable price.
The BES870XL is indeed an impressive espresso machine. It is good, it is mid-tier pricewise, and, as a semi-automatic espresso machine, it is easy to use whilst still giving you a large part of the real barista experience (read our guide on becoming a barista) – and the resulting quality coffee.
However, it really isn't for everyone.
If you want a convenient coffee at home, without the hassle of going through the motions, learning how to properly work an espresso machine, having to care for one and clean one, then you might be better off with a bean to cup machine. The coffee you will get from it will be decent enough, and all you will need to do to get is press a button or two and wait for sixty seconds.
Realistically, this is the most practical option for most people's everyday lives.
But… it's not quite good enough for many. The espresso is… OK. There is no sense of theatre, no enjoyment from the brew, and no first-class coffee at the end.
For these things, a proper espresso machine is needed. You could do a lot worse than Breville's BES870XL Barista Espresso Express – but is it really up to scratch? Let's find out in our Breville Barista Express review.
Breville Barista Express Specs & Key Features
The Breville Barista Express gives you a very good coffee, at home, using the four keys formula to give you a superb third wave brew. This means that it promises to deliver a rich, full flavor, perfectly balanced taste, an irresistible, opulent body and a silky smooth micro-foam milk.
It does this, in part, by dose controlling your coffee. An integrated precision conical burr grinder grinds on demand, giving you the perfect amount of freshly ground coffee, delivered straight into the portafilter, for a fresh, full flavor and aroma with each brew.
You can choose your own grind size using a dial, which is pretty straight forward. In fact, the full interface – an analogue gauge button control set up – is fairly intuitive. This gives you a fantastic amount of control over the final product with little effort or thought. The grinding cradle itself is innovative, high-quality and fully integrated.
The Breville Barista Express also optimizes water pressure, using a lower pressure pre-infusion method to get the most flavor out of the grounds, before gradually increasing pressure at the start. This will draw out all of the flavors, making sure that nothing is left out. Digital temperature control (PID) delivers water at precisely the right temperature, further ensuring optimal espresso extraction. The water should come up to temperature in three seconds, so that, despite it being a barista style machine, it is still a relatively quick, practical machine to use on the go.
Finally, the steam wand allows you to texture your milk by hand, getting the perfect micro-foam which will complement the taste of the coffee, rather than detracting from it, disguising it or watering down. You will get a velvety smooth finish and, if you want, can even get some good latte art going. The temperature is very precise, automatically, meaning that you needn't fear scalding the milk.
The machine isn't small – you will need to make sure you've got a decent amount of room set aside in your kitchen before purchasing. It's a full 16 inches tall, 13.5 inches wide, and 12.5 inches deep. This is about the standard height and depth of a drip filter coffee maker, and about twice as wide.
However, this can be a very good thing. Compared to some of the more compact espresso makers out there, the Breville Barista Express looks and feels robust, underscoring its high build quality.
Using the Breville BES870XL Barista Express
The Barista Express gives you the perfect amount of autonomy, control and, ultimately, responsibility for an at-home espresso maker.
There are just about enough adjustable components – gauges, settings, controls and so on – to make you feel like a pro and to enable you to get your coffee just right. It needs a bit of patience and skill to work, especially at the beginning.
However, it is, in the main, super easy to operate. I've worked a fair few professional barista coffee makers and they require a much higher level of detail, instruction and concentration than the Barista Express. For instance, you can change the temperature and pressure, and set the grind size (more on all of this below), but the grinder itself is automatic and grinds beans right into its portafilter, more like a bean to cup machine.
To me, this is something of a win-win situation.
I'll talk about the coffee itself shortly. However, owning and using a coffee machine isn't all about the coffee. It's also about the fun and the theater of using a large, hulking machine. The Barista Express performs as well as many machines that cost thousands of dollars, with the same satisfying clicks, bumps and internal workings, and the same pure, smooth espresso at the end. The stainless steel chassis and heavy steel portafilter and handle make it look lovely and professional, and give a really satisfying user experience. The pressure gauge on the front, the large bean hopper and the burr grinder add even more to this.
You will genuinely have a lot of fun playing with the Barista Express – I know I did.
The pressure gauge is a little intimidating at first (in fact, so are all the knobs, buttons, and dials – I thought I might need a degree in mechanical engineering just to get a latte). However, it's placed front and center, so is easy to read. It will show you how the internal pump is doing – whether it is pushing the hot water through your grinds with the right amount of pressure. Too little, and water will flow through the grounds too quickly. It won't pick up all the flavor from them. Too high a pressure will give you a bitter taste.
The fact that you get a pressure gauge shows you how much Breville care about giving you the right taste – cheaper machines don't have this option. And, when you've used it once or twice, you'll realize how easy it is to keep the pressure where you want it.
Then it's simply a case of making a few selections – which basket to use, how many shots, what temperature, and a few other bits. The interface is easy and satisfying to use (and you get to play around with it all, drinking plenty of coffee, in the name of 'research').
If you want minimal fuss, go for a bean to cup. If you want a full barista experience with a professional espresso (and a three thousand dollar price tag), get a hardcore machine. If you want the best of both worlds and a bit more cash in your wallet, the Barista Express is perfect.
The Barista Express Taste Test
I can go on about the theatrics involved in using an espresso machine all day long. I can go on about ease of use and the pleasure of living with any given machine (the Barista Express passes with full marks on all counts).
However, all of this is nothing compared to the end product – the coffee itself.
So, what is the coffee like?
Well, depending on the beans you use, it's pretty damn good.
It is full-bodied, as you want from an espresso, with a deep richness. When you get the pressure right, the flavors are incredibly complex, with plenty of different notes coming through – again, these will depend on the beans you use, but whatever you go with, the Barista Express will make the most of them.
Generally, a good degree of subtle sweetness will come out, aided by the PID keeping the water temperature perfect, so that the extraction is exactly what it needs to be.
There is also a really nice aroma that comes from your coffee, as everything is balanced, realized and released at the proper time. The auto-dosing helps with this, giving you intensity and balance throughout.
The espresso itself is creamy and thick, made rich as it soaks evenly through the grinds.
Finally, the foaming wand gives you delightfully smooth, silky lattes, macchiatos and flat whites, perfectly micro-foamed. As above, the milk, treated in this way, will enhance the flavor of the espresso, which is both vital and rare with at-home machines.
The Verdict
If you want the perfect reconciliation between quality and convenience, go for the Barista Express.
As above, if you want something that will shoot you out an espresso at the touch of a button, a bean to cup will be more your thing. If you want the works, save up, commit, and buy a professional machine.
However, if you want delicious espresso, perfectly frothed milk, from a machine that is both satisfying and easy to use, on demand, go for the Barista Express.
We are sorry that this information was not useful for you!
Let us improve this post!
Tell us how we can improve.