Breville Oracle Touch Review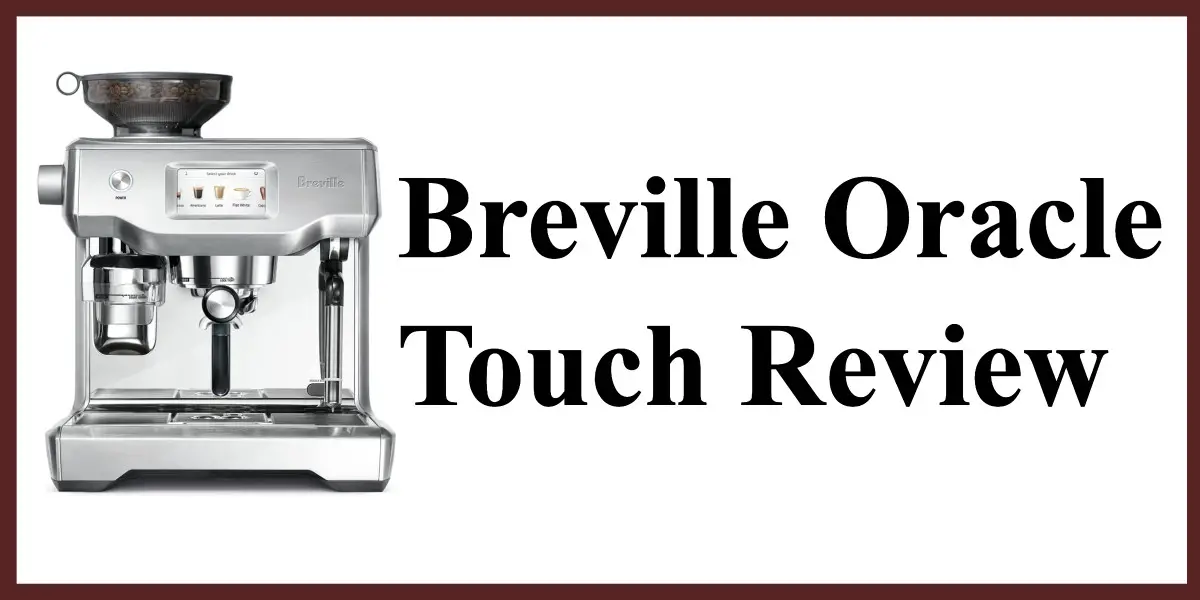 Coffee is a lot of things to a lot of people. For some, it is just a vehicle to get caffeine into their body. Other people see it as a social drink – having a cup of coffee with people is a great excuse to meet up with friends. My guess though, if you are reading this article, on this website, is that you see coffee as so much more than that.
That is why machines like the Breville Oracle Touch exist – for people that really love their coffee, and take it quite seriously. It's for people that are on the quest for their perfect drink and will spend time and money to get there.
A bean-to-cup machine is a luxury item. It will make the freshest coffee, grinding the beans immediately before making the drink, and that is the best way to get the nicest tasting coffee. I cannot overstate how important freshness is to the quality of your drink. It is everything.
Breville knows this. These Australian based kitchen appliance manufacturers have been around since 1932, and are renowned the world over for their commitment to innovation and quality.
The Oracle Touch is their flagship coffee machine, and is priced at a point where you need to be absolutely certain that this is the machine for you before you commit. Fortunately, we were given the opportunity to give it a thorough test, so we can help guide you with that decision. Here goes:
Breville Oracle Touch Specifications
Before we delve into what it can do, let's just take a moment to just have a look at it. It is incredibly attractive, isn't it? The stainless steel finish almost glistens, it just has this look of clean, cool style. It certainly wouldn't look out of place in most kitchens, and in fact will draw plenty of compliments (and envy) from guests.
It's also pretty compact, when you consider how much it can do (more on that shortly). Measuring just 14.7×14.5×17.6 inches, it is certainly smaller than much of its competition and will not take up a lot of space on your kitchen counter. In summary, this machine will fit in almost anywhere.
Okay, now on to what this can do – buckle up. Straight away you will have noticed the handsome colour display on the front of the machine. This is a touch screen, and it is where you select which drink you are having. You simply scroll along until you find your selection and tap away.
The area above that is the conical burr grinder, which is where you place your beans. A burr grinder is always preferable to the other option, a blade grinder, because the nature of the two burr plates 'crushing' the beans gives you a much more consistent grind than blades whirring around and 'chopping'. The more consistent the grind, the more precise you can be with how you make your drink.
The grinder is automatic, so will grind to the recommended size for whatever drink you have selected. Not only is that automated, but also it tamps the ground coffee, which saves time and mess.
There is an integrated micro-foam steam wand as well. This is powered by a separate boiler to the water, which is great because it means you can be heating milk and water at the same time. The milk will be, again, automatically textured to preference based on the drink you have selected, and when it is finished it will even clean itself! You get a 480ml stainless steel milk jug with the machine, which does the job and looks great.
The coffee is produced with the help of the Over Pressure Valve (OPV), which limits the maximum pressure that is used during the extraction process. This means that the coffee is extracted at exactly the right speed which means your coffee won't be too bitter. You should get an even extraction every time.
The water tank itself is located in the back of the machine, but you actually fill it using an opening on the front of the machine and pouring your water in. It is large enough to mean that you won't need to keep refilling – every few days should be fine.
What It's Like To Use The Breville Oracle Touch
You will have probably noticed that throughout the previous section, the word 'automated' was used quite a few times. That has probably given a clue as to how this section is going to pan out!
This is probably the easiest machine I have ever used to make really good quality, barista-style coffees. Let me walk you through the process and you'll see what I mean.
Before you start, you'll need to make sure the water tank is filled and that there are coffee beans loaded and ready to go. As I mentioned above, the water is so easy to fill with the opening at the front (no fiddling around trying to remove the tank at the back), and loading with coffee is as easy as opening a lid and pouring in. No need to worry about quantities.
If you are having a milky coffee (cappuccino, latte etc), then you'll want to fill the jug with the recommended amount of milk, and place it into position under the milk wand. You'll need a cup in position under the coffee dispenser as well.
Next, the trickiest part of the whole process – you need to decide what you would like to drink. The preset options are espresso, long black, latte, flat white or cappuccino, so to begin with I would pick one of those. To do that, simply swipe along the touch screen display and press on your desired drink.
Everything will then kick into action. The water will start heating up, and the milk wand will kick into life. Before you know it your coffee will be poured and your milk will be ready, so you just add the two together. At this point, you can try out your 'coffee art' and make some fantastic looking drinks. I really think that if you are going to be investing this amount of money in a machine, you owe it to yourself to spend a little time perfecting your artistic finishes!
That's all there is to it. The entire process takes less than a minute, which is incredible when you see the results. Fantastic looking drinks, literally, at the touch of a button.
Of course, there is some scope to personalise your drinks – there are 8 available 'save slots' on which you can calibrate your perfect drink by adjusting coffee strength, milk texture or temperature to suit your taste. Part of the fun is playing around with these settings to develop your perfect drink.
That's all there is to making these barista-style drinks. Simplicity personified.
Oracle Touch Taste Test
I guess it's all well and good being easy to use, but what is the point of that if the coffee is garbage, right? Well, I have good news for you…
The quality of these drinks is fantastic. I genuinely don't think many people would be able to tell the difference between a drink made with the Breville Oracle Touch, and one that was bought in a coffee shop. The fact that the settings are so precise, and the grinder, milk wand and OPV are so consistently accurate, means that you get wonderful results every time.
One of the best tests I always find, with a coffee maker, is how good the crema is on an espresso. This machine makes one of the best cremas I've ever seen, and I take a lot of pleasure in just watching it materialize.
I should add the caveat, as I do with most coffee makers, that the results will only ever be as good as the coffee that you put into it, no matter how grand (and expensive) your machine is. I'm pretty confident, though, that if you are really considering buying this machine, you already have a huge list of delicious coffees that you have discovered and can't wait to try in a machine like this!
Verdict
The price of this machine alone means that it is not for everyone – there are plenty (I'm talking thousands) of cheaper ways to make coffee. However, if you are in the position where you can spend this amount of money on a coffee machine, well, I'm not sure how you can top this.
The ease of use, coupled with the quality of the drink it produces, means that this machine is pretty much unrivalled on the domestic market. The fact that so much of it is automated means that, on a busy morning when there are a million-and-one things you need to get done, you can just press a button and enjoy a truly great coffee.
Some people will want a more 'hands on' machine, giving themselves more control over their drink, and that's fine – if they have developed the skills to make great coffee they should use them. For the average Joe, though, this is simply the best way to make a much-better-than-average cup of Joe.
We are sorry that this information was not useful for you!
Let us improve this post!
Tell us how we can improve.