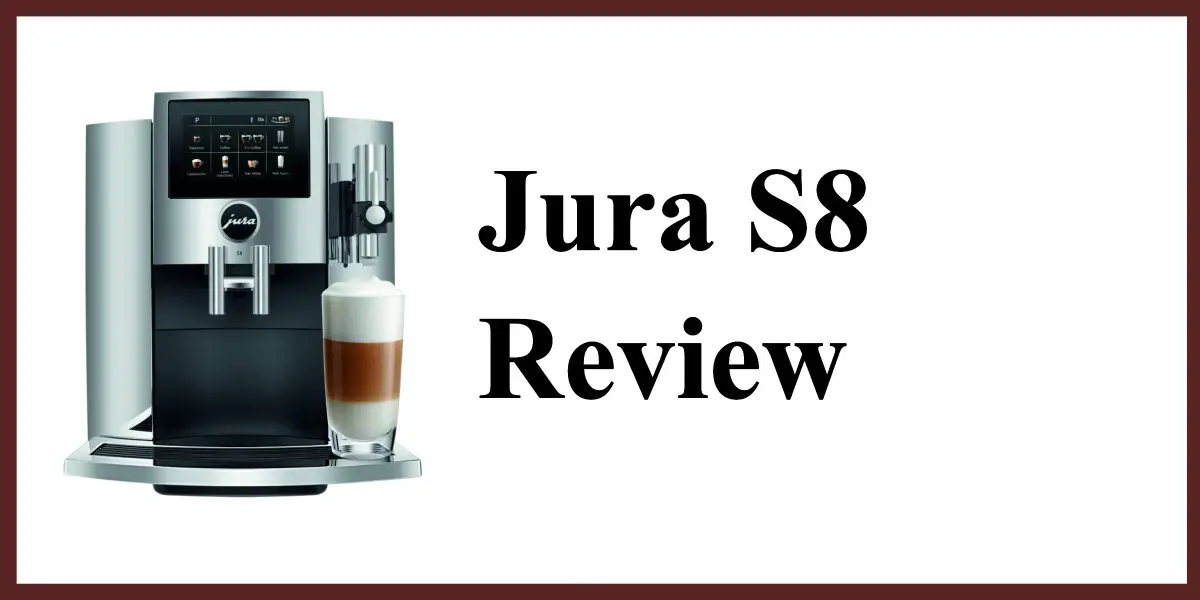 The Jura S8 is a large investment, usually coming in at around two and a half thousand dollars, or thereabouts. However, it is very arguably worth it – you will have access to luxurious, top-quality, delicious coffee that is guaranteed to make you feel great and put a spring in your step.
A super automatic espresso machine, the Jura S8 is a lot smaller than many of its equivalents and competitors – and is actually very reasonably priced compared to most of them – yet it bats above its weight.
It gives you the kind of coffee experience usually associated with much larger, higher end machines. And, though it may lack some of the features often found with higher end machines, it has some remarkable qualities of its own that make it well worth considering for purchase.
Jura S8 Specs And Features
The Jura S8 is a well-rounded machine, good across a number of areas.
As you would expect of a machine in its price bracket, it makes superb coffee, which I'll go into in more detail below. It also looks stunning, the perfect adornment for any modern kitchen or office space.
There is also a lot here to please eager techies, with amazing software/hardware design and interplay.
It's also easy to use. It can make the full gamut of specialty coffees, including espresso, macchiato, cappuccino, flat white, and so on.
This is all done at the touch of a button – a button on a beautiful color display, I should mention – which will allow you to choose from fifteen different beverage styles.
Pulse Extraction Process
It is the innovative engineering that really stands out with the S8. For instance, it is able to effortlessly give you top quality, rich, complex espresso, using the Pulse Extraction Process (P.E.P®).
Essentially, it pulses water through the coffee grinds in short bursts, which ensures the optimal extraction time. The result is a riot of perfectly blended yet completely distinct flavors in every sip.
This award-winning process stands behind much of Jura coffee machines' success; it allows them to stand out in a crowded market.
Aroma G3 Grinder
Then there is the Aroma G3 grinder, a conical burr grinder that is twice as fast as Jura's previous models, yet still manages to retain the wonderful coffee aroma you should expect from fresh ground beans.
In fact, if anything, it seems to draw the flavors out more, giving you wonderful complexity in your espresso.
Fully Automated
Every element of the Jura S8 is fully automated, meaning that even complete newbies to the world of coffee can make a full range of excellent espresso drinks, with no barista training required.
Though you will likely get a better cup of coffee from a classical barista coffee machine, the difference will be minimal – hardly noticeable, in fact – whilst the difference in effort and skill required is staggering.
High Resolution Touch Screen
The 4.3 inch TFT Touch Color screen provides a high resolution display with an incredibly intuitive, easy to navigate user experience.  All you need to do is press a button on the touch screen.
The S8 will then grind the coffee, make and pour the espresso, froth and add the milk, and clean and maintain itself. It really couldn't be easier.
Beautiful Aesthetics
There is no compromise on aesthetics with the S8 – which I'll go into in more detail below. This is quite stunning, really. Without compromising, it is able to seemingly effortlessly intertwine aspects of high-end, barista espresso machines with elements of compact, countertop machines.
Water Container
The water tank has a 64 ounce capacity, with a 10 ounce bean container, meaning that you will always have the materials on hand needed to make your favorite coffee.
Size and Weight
All in all, it weighs 22.5lbs empty, so it is not lightweight. It measures in at 28cm x 34.8cm x 44.94cm.
Using The Jura S8
The whole S line is stylish, refining and coming close to perfecting classic espresso machine design in a precise, well-crafted manner that makes them look more like works of art than functional drink makers.
The S8 is the latest incarnation of this trend, and it shows. It is simple and intelligent in its appearance, design, and in the way it behaves.
Brilliant Technology
This intelligence comes out in the creative features you will find in the S8. The dual technologies of the trademarked Pulse Extraction Process and patented Aroma G3 grinder will change the way your at-home coffee tastes, far away for the better, in quite a fundamental way.
Many grinders simply shred and pound your coffee beans into little pieces, ready to swill into hot water. The Aroma G3 does the opposite – it is meticulous, measured, and wonderful. It saves the aroma and teases out the flavor, giving the PEP something worthwhile to actually extract.
Pre Brew Aroma System
Then you get Jura's Intelligent Pre Brew Aroma System, which pre-infuses coffee grounds before the Pulse Extraction Process. The flavor and aroma released through these key features are incredible – balanced yet explosive, smooth and subtle yet bold, ultimate clarity mixed with a riot of color and flavor, full of wonderful contradictions and delightful to even the most snobbish of coffee connoisseurs.
Intelligent Water System
Much of the coffee we drink is, of course, made from water. This is especially the case if you like your coffee black. Because of this, Jura decided, quite rightly, that the best, purest coffee should have the best, purest water.
With this in mind, they created their Intelligent Water System, which uses RFID technology in conjunction with a Claris Smart filter to make sure that the water is fully filtered, sweet and clear.
Delicious Milk Coffees
I like black coffees – espressos and Americanos – so this is a lovely feature for me. However, milk is key to most espresso drinks – the natural smooth sweetness acts as a lovely counterpoint to the bitter acidity that most espressos deliver.
I'm also partial to a cortado or flat white now and then. It all works well with the S8 – the drinks I made with it, with milk, were delicious.
This is thanks to its new professional fine foam frother, which steams milk perfectly and creates a faultless microfoam. As with everything else on the S8, this is all done for you at the touch of a button.
So Simple, Yet Powerful
This brings us to simplicity, which is in the use. Everything – EVERYTHING – is done for you at the touch of a button.
You can adjust your coffee to your exact specifications using the control panel. It is completely programmable and will walk you through every step of the way (allowing you to choose single or double shots, extra milk, less milk, and so on) then, when it is ready to your specifications, a simple tap of the button will have it made for you, bean to cup.
It is wonderful.
Why Choose The Jura S8?
You should choose the Jura S8 because of how wonderful it is, because of everything above. It is ridiculously high-tech and smart. It is also breathtakingly simple. Herein lies its beauty.
Bean to cup makers is generally simple machines that give you an OK cup of coffee. High end espresso makers usually take a degree in engineering or ten years of experience as a professional barista (visit our guide to learn how to become a barista) to work them, but will give you a pure, balanced, well-blended coffee.
The Jura S8 genuinely takes the best from both of them.
The espresso is superfluous. The microfoam texture is of artisan quality. Yet it only takes a few taps on a high resolution, color touchscreen to make it all happen.
The internal workings – their patented grinding and brewing technology – do the heavy lifting, letting you simply sit back and enjoy your brew.
The variability is also fantastic. Fifteen programs to choose from means that you will have something for everyone. I made my miniature, strong macchiatos at the same time, with no added effort or switching around, as I made my wife's milky cappuccinos.
Then I finished off with a cheeky shot of espresso for the road. All in a few minutes, with no tinkering needed.
It's also a stunning machine – well-made and beautiful.
Verdict
I love it. I would always argue in favor of learning your business and investing in a proper barista espresso machine…or at least I would have. I may still do – I'm not sure – but the Jura S8 has given me pause for thought.
It has led me to a crisis showing me for the first time how much better machine coffee can be.
This isn't to say the coffee is better in itself. It's not. It's nearly as good – which is a hell of an achievement in its own right. The milk may even be better than all but the best foam wand artists can come out with.
It's the ease with which you can achieve such superfluous coffee that really took me aback with the S8. This, and its beauty, more than earn its admittedly hefty price tag.
We are sorry that this information was not useful for you!
Let us improve this post!
Tell us how we can improve.