Our coffee expert Tyler has had his hands on the new Keurig K Mini and put it to the test. Here's what he thought.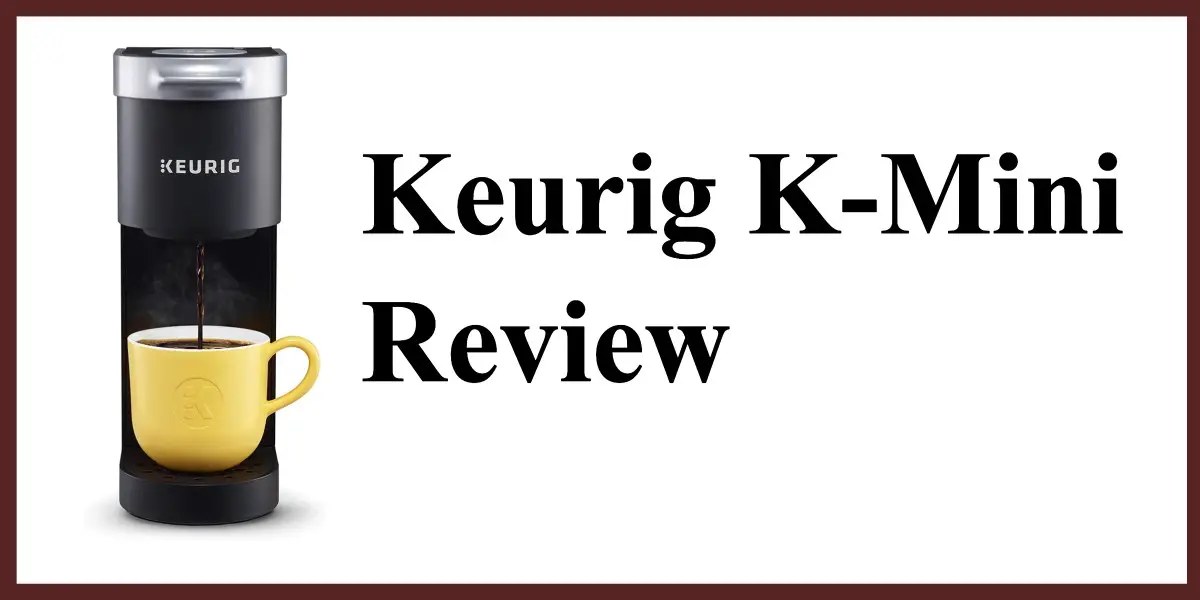 The Keurig K-Mini is intentionally very small, designed as it is to fit smaller spaces and deliver single cups of coffee. It is simple and effective, with no frills, no extras, gadgets, or gizmos – just a straightforward way to get a decent brew when space is limited.
I can see it being used in studio flats, dorm rooms, and office spaces rather than in larger, home kitchens – I think these home-from-home environments will really let The Keurig K-Mini shine.
Our Keurig K-Mini review looks to assess how well it is suited to modern life and who will best benefit from this one cup wonder. Remember that this mini is different from the Supreme version: the Keurig k910 so do not get them confused.
The Keurig K-Mini plays up to this simplicity with its aesthetics, too. It is minimalist in design and form as well as intention, available in a few different retro shades reminiscent of 1950s SMEG fridges, with a clean, paired down visual that will look good in any modern kitchen.
It is efficient and unassuming, well-priced (you'll get a decent amount of change from a hundred dollars), and is very (very!) easy to use.
But is it any good where it matters? How is it to live with? Does it make a good cup of coffee? And how badly let down is it by the fact that it relies so heavily on K-cups?
Let's take a closer look.
Keurig K Mini Specs & Key Features
The Keurig K-Mini coffee maker packs quite a lot of detail into such a small, seemingly simple design. There is actually a fair amount to go through here.
For starters, let's look at the basket. There is no portafilter and you won't be able to use your own ground coffee – it can only take K-cups coffee capsules.
This is usually a strike for me – I see no reason (other than obviously tying you to their product) that a coffee machine would ever need to rely on pods.
Ground coffee in filter baskets is incredibly easy to work with and won't end up doubling your own contribution to your local landfill with useless little plastic pots.
You are also, as mentioned, tied to Keurig's products, which restricts variety and, let's be honest, quality.
This aside, the Keurig K-Mini is good to live with. It is a very light machine, coming in at less than 5 lbs, so it's usable and portable for pretty much everyone.
You can take it on vacations if you like to go glamping or to self-catering accommodation where there might not be coffee making facilities. Students can take it to school easily enough each term.
The drip tray works well, saving you from making a mess, but is also removable. This means you can fit a larger, travel mug in place for a coffee on the go.
The Keurig K-Mini also has a small footprint, at 4.5 by 11.3 inches (though it's quite tall, at 12.1 inches), further reinforcing its unobtrusive and portable nature.
There is a small storage section into which the machine's cord can be fitted, making it safer to travel with and keeping smaller, perhaps otherwise cluttered countertops nice and tidy.
The water reservoir takes around 12 oz of water and needs refilling each time you brew a coffee. You need to put at least 6 oz in, with the rest depending on the size of coffee you want.
It's also quite the little energy saver. It turns off automatically after 90 seconds, saving you money on your electricity bill.
The machine can only be used in North America. If you're traveling elsewhere with it, make sure you get a good quality travel adapter.
I'd like to note something odd at this point, however. The pricing is a little weird. As mentioned above, the Keurig K-Mini comes in a few different colors. The black version is pretty cheap.
The various colored ones can be around twenty dollars more (about a 25% hike). I don't quite know how they can justify this.
Using The Keurig K Mini
If you can overlook the strange price hike, I would start by giving serious consideration to the three different colors available with the Keurig K-Mini.
You can have the standard black, a popping pink mini Keurig, a lovely slate gray version, and gorgeous turquoise is also available. The turquoise is the priciest by far, but it looks amazing on any sideboard.
Aesthetics aside, the Keurig K-Mini offers a lot. It is incredibly easy to use, with a very intuitive control panel on the front top of the machine. You get an on/off switch and brewing control.
Straight forward, no fuss. The drip tray catches all the drips, as you'd expect, meaning that you can walk away and leave the coffee to brew without worrying about it going anywhere.
As above, you can remove this to accommodate a larger mug – though I personally much prefer shorter coffees and found that the Keurig K-Mini excelled at 6 oz. cups.
However, you won't have to walk away for long. The Keurig K-Mini is very fast, with a full, steaming 6 oz. cup of coffee ready in a little under a minute.
You have no option to control the temperature of the coffee, which is a bit of a letdown but completely understandable in such a small, discreet, and simple machine.
Cheaper machines (and, actually, some of the more expensive ones on the market) can tend towards making a lot of noise. You put your coffee on, and it sounds like somebody is taking a pile driver to the kitchen counter.
This isn't the case here. The Keurig K-Mini is surprisingly, reassuringly quiet. This is perfect if you're an early riser who lives with others – you can have your morning brew without waking everyone else in the building.
It's also easy to clean. Most of the parts you would want, notably the drip tray and K-cup pod holder, are dishwasher safe. They are also easy to hand wash if you don't have access to a dishwasher.
Everything else wipes down easily enough. The machine itself will need descaling every few months, but this is quite standard and easy enough to do.
Keurig K Mini Taste Test
I've been skirting around an issue. Everything above is absolutely true. In many ways, this is a triumphant machine for its price. It is economical, beautiful, quiet, easy to live with, and incredibly portable.
For anybody for whom these considerations are important, therefore, it makes for a very enticing package.
But how is the coffee itself?
It's… OK. It's a pod coffee, so what more can you say? You're restricted to K-cups, which simply aren't that great. It's tasty and it will do the job, but there is no depth to the flavor.
The lovely richness inherent to freshly brewed coffee isn't there.
You are also beholden to Keurig as long as you have this machine, so will have to keep shelling out for expensive pods that are environmentally ruinous, and that gives you a distinctly mediocre brew.
The Keurig K-Mini is good for what it is. It's actually really good for what it is.
However, if you're going through all the fuss of investing in a real coffee maker, and possibly transporting it around with you, or living with one when you don't necessarily have the room to do so, you probably value a good cup of coffee.
You will get a palatable coffee that will perk you up with the Keurig K-Mini.
If you want something nicer, you will really have to consider a machine that doesn't use pods. They are more hassle for a better product – it's up to you how ready you are to make that trade off.
The Verdict
The Keurig K-Mini is very good at what it does. It is simple and elegant. It is actually quite beautiful. It's also perfect for a couple of purposes.
If you like to holiday in self-catering places, as mentioned above, this will be a very decent, portable machine to take with you. You will be able to make a nice coffee easily and incredibly quickly.
Similarly, if you're staying in any kind of dorm or temporary accommodation, it will work a treat.
I wouldn't recommend the Keurig K-Mini as the dominant coffee maker in any main household.
I would never push somebody to go with any machine that uses pods, both for environmental reasons and as a matter of flavor. You would do better to find something that allows you to use proper ground coffee.
Nevertheless, if you value convenience, you would do well with the Keurig K-Mini. Fill the water tank up, pop in a pod, and leave your mug on the drip tray for a minute. You'll have a decent cup of coffee afterward, time and time again.
The convenience and reliability are worth the price of the machine.
We are sorry that this information was not useful for you!
Let us improve this post!
Tell us how we can improve.