The Ninja CP307 is a very versatile machine. It has the ability to make either hot or cold brews, tea, or coffee, and there are individual options and settings for every drink you make. Let's see how it compares to other models in our full Ninja CP307 review.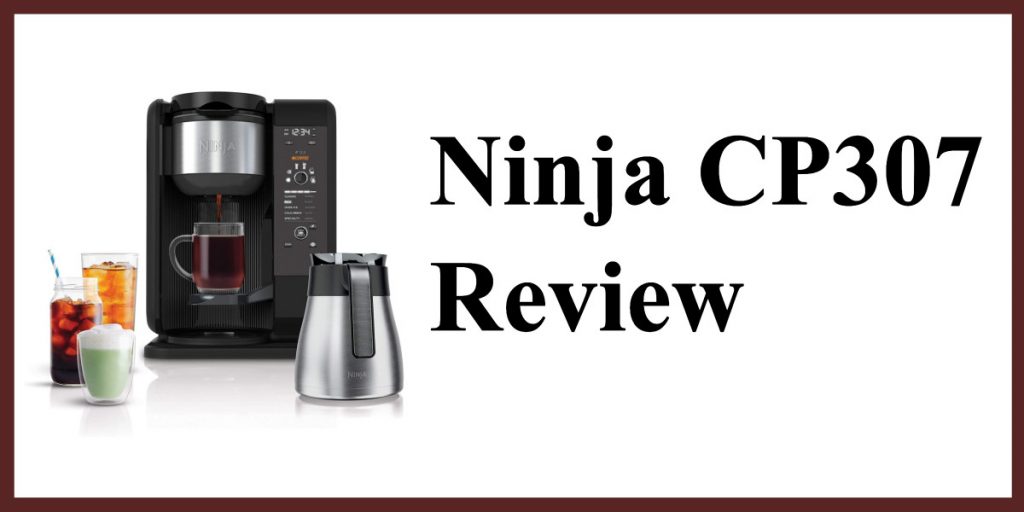 Ninja is part of the Shark Ninja company, founded in Massachusetts in 1993. In 2015 the name was changed from Euro-Pro Operating LLC to take advantage of the popularity of the two main brands: Shark – best known for their vacuum cleaners, and Ninja – famous the world over for their innovative cookware.
The CP307 is the latest in a fairly long line of coffee makers that Ninja has produced over the last few years. There has been a clear focus on drip coffee systems- these tend to be cheaper than high-end espresso machines, both to purchase and to run. They are generally much easier to use – you just set them up and press a button, and it can produce a large amount of coffee in one go, whereas you have to make individual drinks with an espresso machine.
There are many things to consider when looking at a drip, filter, or coffee maker: the capacity, the various brewing options, the ease of use, and extra features to name a few. In this article, we are going to take an in-depth look at the Ninja CP307 to help you decide whether it is worth your time and money. Let's dive into the Ninja CP307 review.
Ninja CP307 Specs And Features
Before I start talking about what the Ninja CP307 can do, I think it's important to take a moment to consider what it looks like. A coffee machine is likely to take pride in your kitchen, so it needs to fit in with the aesthetics of the room.
You'll probably have already noticed that this is a nice looking machine. There is nothing particularly vivacious about it, but it is neat and tidy, with a subtle sophistication about it. The smooth black body of the unit is contrasted nicely with the stainless steel dispenser while the user interface is crisp and clear. It looks like it can do a lot, but without seeming overly complex. And the little clock is always handy to work out exactly how late you are in the mornings!
The carafe is very pleasing to look at as well – very nicely designed that fits in with the subtle sophistication of the overall unit. A stainless steel jug, that you can just place on your breakfast table for people to help themselves. Your coffee will stay nice and warm.
In terms of size, it measures 11.81 x 10.01 x 15 inches, which is quite compact for a machine with this level of versatility. The size doesn't impact the amount of coffee you can make either, as this is a 50oz machine, big enough for 10 cups of coffee. I doubt you will need a machine bigger than this for domestic use, it is more than big enough.
You may be thinking 'I don't often need to make that much coffee, should I just buy a smaller machine?' – which is a valid question, but fortunately the Ninja CP307 has the answer. There are 6 different brew sizes that this machine can make: single small cup, single large cup, travel mug, large travel mug, half carafe, and full carafe. This means that you don't need to make a huge amount of coffee every time, potentially wasting time, energy and money. You can also brew directly into the vessel of your choice, which is not always the case with drip coffee makers.
Okay, so now on to the wonderful drinks that you can make with the Ninja CP307. There are 5 brew styles:
Classic – A standard brew
Rich – A more intensely flavored brew
Over Ice – Designed to brew hot over ice, at double strength, for authentic iced coffee
Cold Brew – Again to be brewed over ice, but at an accelerated lower temperature for a smooth taste
Specialty – For pairing very rich coffee with frothed milk for cappuccinos, macchiatos, and other specialty drinks.
Wait, frothed milk from a drip coffee machine? Yep! The machine has a fold-away hot and cold milk frother, which enables you to produce the milk exactly how you need to make these drinks. It doesn't heat the milk itself, so you will need to pop it into the microwave before you froth it up if you would like hot frothed milk. For a drip machine, though, the ability to froth milk at all is a welcome bonus, particularly for those households (like mine) in which the occupants like a variety of drinks.
Now I must confess that I don't think I have ever included this next aspect in a review before, this is a coffee review website after all, but one feature that does stand out is the ability to brew tea. Don't get me wrong, you shouldn't buy this machine just so that you can brew tea – that would be a complete waste of money as there are plenty of cheaper ways to do that, but it is a really handy feature, particularly when it comes to iced tea with the cold brew/over ice settings. Something you won't get from many other coffee machines.
You are provided with separate baskets for coffee and for tea, which means that you won't contaminate any rogue flavors from one drink to the next – there is nothing worse than a coffee that has tiny hints of tea, and vice versa. Best of all, the machine will recognize whether you have inserted the tea or the coffee basket, and then offer you options based on your drink selection.
The clock on the front of the machine is not just useful for telling the time, of course. You can 'delay brew', and set a time for when you want the coffee to be made. There is nothing quite like walking into your kitchen to the smell of fresh coffee in the morning, so this little feature, while pretty basic, is simply wonderful.
When it comes to cleaning, there is an inbuilt system that will tell you when it is required. The 'Clean' button on the front of the machine will illuminate orange when that fateful time is upon you. Fear not, though, because the solution is pretty simple – just fill the reservoir up with a cleaning liquid and press the 'Clean' button. The machine will then take over and do what it needs to do, which will take around an hour. This will remove any calcium build-ups.
One feature that this coffee maker doesn't have that you may expect it to is a hot plate. Most machines like this will have one, just to keep the coffee warm for long after it is brewed, but this one doesn't – probably because they have focused more on the versatility of which vessels you can decant your drink into. The stainless steel carafe certainly helps remedy this, though, as your coffee is kept warm for a good while afterward, without having to use extra electricity.
Using The Ninja CP307
So we have established that it has a lot to offer, much more than your standard one-button drip coffee machine. While this is definitely a plus point, there is always the chance that more features could lead to a clunky or confusing user experience, so is this the case for the CP307?
Well, you can see for yourself now – I figure the best way to explain the usability of this coffee maker is to walk you through the process step by step. So here goes:
The first thing you will have to do is check to see whether there is enough water in the tank. Obviously, this will depend on what receptacle you are about to fill with coffee, from a small cup to the full 50oz carafe, but if you fill it to the top you can always leave some in there for next time.
For the purpose of this article, I am going to make coffee, rather than tea. So next you will need to fill your coffee basket with coffee. How much will depend on how many cups of coffee you are making, but as a general rule you will want around 7-8 grams (a tablespoon) of coffee for every 3-3.5oz of water. Obviously you can add more or less than this according to taste.
Now you need to decide what sort of coffee you are making. I think it would be best for us to look at the most common drink you would make with a coffee machine like this – a carafe of filter coffee. The good news is that pretty much whatever you are making follows the same method.
Head to the user interface on the right-hand side of the unit and select which size of drink you would like (we are doing a full carafe here – the option at the far right of the dial) and what kind of brew. I love a strong coffee so I am going to opt for 'Rich', which brings out more of the coffee flavor. This style does take a little bit longer than the 'Classic', as it has a slower, more thorough extraction process, so if you are in a hurry, this is probably not the best option.
Next, you wait! Your delicious coffee will start to drip nicely into your carafe. The process should take around 9 minutes, but remember that this is the slowest brew you can make and the largest quantity. No other drink will take this long to brew.
A quick note on the milk frother, as this is the only other feature that requires any instruction. It is very basic, and if you are used to an espresso machine with an integrated frother, you are probably going to be a bit disappointed. However, this is a great little extra bonus feature, if you occasionally fancy a milky coffee, and don't want to purchase an entirely different machine. Even though you can't heat the milk, and it is difficult to get the exact texture you're after, it produces a decent microfoam from which you can create some lovely latte art!
Why Choose The Ninja CP307?
The most appealing aspect of the Ninja CP307 is its versatility. This is on many different levels. First of all, you have the many different brew sizes. This is great for busy households with people coming and going – sometimes you just want a quick travel mug of coffee as you head out the door, and sometimes you'll want a big carafe to serve to a full breakfast table.
Next, you have the different brew styles – this is, again, great for households with lots of different tastes. While there are limits to the 'Specialty' setting, particularly with regards to the milk frother, it is a great additional option. The iced coffee settings are really impressive though, and if you enjoy these kinds of drinks in the summer, you will find yourself getting a lot of use out of this machine.
Of course, there is also the option of tea and iced tea. This is a nice little gimmick, and one I would get some use out of. If your family is similar, then this could be the machine for you.
Verdict
The Ninja CP307 is a great little machine. It gives you so much choice of what drink you make, that you can have a different drink for every day of the week. This is something that you just don't get from most drip coffee machines.
In terms of price, this is about what you would expect for a drip coffee machine of this size – there is certainly nothing to put you off in that regard. The versatility that it offers, and the neat little features like programming to start at a specific time, mean that you can have a lot of fun with this coffee machine. It will do anything you could possibly want from a drip coffee maker, and plenty more.
We are sorry that this information was not useful for you!
Let us improve this post!
Tell us how we can improve.