Aeroccino 3 vs Aeroccino 4
Today our resident coffee expert Alex is going to be pitching the Aeroccino 3 Vs. Aeroccino 4 – find out the key differences and which is best for you below…
Nespresso, as I am sure you are aware is the pioneer in the world of pod coffees. Way back in 1986, Nestlé launched the brand to coincide with the patent of the first-ever coffee capsule-based coffee machine. It took a while to take off, but they kept modifying these machines and they have exploded in popularity in the domestic market over the last 10-15 years.
They present the easiest, and often cheapest, way to make delicious coffee – that you would have otherwise had to spend a few dollars on in a coffee shop – in your own home.
But there was still one problem – the milk. Baristas train for years to be able to perfect the art of frothing and heating milk to perfection for the more specialist coffees. That was not easy to replicate by a machine, so the team at Nespresso set to work.
The result was the Aeroccino in 2006. A unique, fully automatic cylinder that froths and heats milk at the touch of a button – absolutely no training required.
As pioneers of the industry, though, Nespresso knows that it can't stand still. Since that first version, they have released another 3 Aeroccinos, as well as other ways to froth fresh milk.
The latest incarnation is the Aeroccino 4, and today we are going to be looking at how it differs from its predecessor, the Aeroccino 3, and whether it is worth you spending your hard-earned dollars on. Let's get into it:
Nespresso Aeroccino 3
Let's start with the older model, the Aeroccino 3. It is probably the product that you picture when you think of an Aeroccino – a stylish black cylinder, with ripples down the side. It is very much made with the image of Nespresso's pod coffee machines – economical with their design, but oozing sophistication and class.
While the black outer is plastic, the unit is made from stainless steel – it is well made and attractive. The lid on the top of the unit is made out of transparent plastic, so you can see the progress of your milk – quite a handy little feature if you have a specific density that you like your milk.
The main appeal of the pod coffee machines, in general, is that they require little to no training and that they are quick. This would all be pretty pointless if when it came to the milk you needed a 7-week training course in order to make your drink effectively! So with that in mind, Nespresso really focused on the ease of use when they designed the Aeroccino.
The best way to highlight this is to describe, in detail, the controls that you will need to master in order to froth your milk with the Aeroccino 3:
There's one button. Press it and it will make hot frothy milk. Press it for two seconds and it will make cold frothy milk. I'm really not over-simplifying things here – that is it.
Well, okay – you might want your milk to be warmed, but not frothed, in which case all you need to do is remove the little magnetic whisk on the inside of the unit before you pour your milk in. Then one quick press of the button and your milk will be heated up.
When I say heated, I can be a bit more accurate than that – the milk will be warmed to between 160 and 170 degrees Fahrenheit – ideal for making extra-hot coffees, or even hot chocolate for that matter.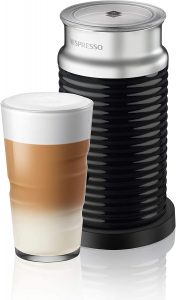 The entire process takes around 20 seconds, and you get the same results every single time. It is reliable, easy and quick. Unlike many other pod coffee machines, which use pods to create the milky foam, the Aeroccinos enable you to use fresh milk, which is, of course, much tastier than any form of powdered milk.
In terms of cleaning, the inside surface is made of Teflon, so it is very easy to rinse and wipe down. As we mentioned above, the whisk is removable so again, that just needs to be run under a tap. Unfortunately, it isn't dishwasher safe, but it is still very easy to keep clean.
That's all there is to worry about with the Aeroccino 3 – it is quick, easy and produces good results – let's see how the Aeroccino 4 compares.
Nespresso Aeroccino 4
From the first look at the Aeroccino 4, you know that Nespresso has really tried to mix things up with this version.
Aesthetically, it has gone in a very different direction – giving off the appearance of a jug rather than a more subtle cylinder. The uninitiated could be forgiven for not knowing what an Aeroccino 3 actually was – a strange little robot sat in the corner of your kitchen. With the Aeroccino 4, you are left with no doubt what sort of product this is – it looks like a milk jug.
I like that – it seems to be straddling the line between the traditional and the modern. A classic feel to the height of innovation – a nod to how things used to be.
The other thing you'll notice is the chrome – a beautiful, bold color that is both simple and stylish all at once. It looks pristine, and that look will stay long after you have started using this machine.
The handle isn't there just for aesthetic reasons, of course. One complaint that people have had of the Aeroccino 3 is that gripping it can be slightly difficult. That is not to say that it is in any way tricky to use, it really isn't, but in order to get an accurate pour, with a steady flow, you do feel like you have less control when there is no handle there to grip. The Aeroccino 4 has addressed this.
In line with this, the other thing you may have noticed – the spout. If you are really interested in 'latte art' and making your coffee look that tiny bit special, then you are going to want a spout to pour your milk – something that the Aeroccino 3 doesn't have.
Now, time to address the controls, because you will have also noticed that rather than the one button on the Aeroccino 3, there are a whopping 4 on the latest version. I can sense that you are feeling utterly overwhelmed by this, but don't be – it really is quite simple. The four buttons are as follows:
Cold Milk: This will froth up cold milk into a dense foam – perfect for iced coffees and cold brews
Hot Airy: Produces a light foam that is perfect for cappuccinos and lattes (Check out our latte vs cappuccino article to find out the difference!)
Hot Dense: This thicker foam is ideal for macchiatos
Hot Milk: The milk is simply warmed, with no frothing or foam which is perfect for lattes
All you need to do is fill up the jug, place it on the base unit, and then hit whichever button you would like. It is actually even easier than the one-button operation of the Aeroccino 3, if you can imagine such a thing.
The base plugs directly into your mains supply and will stay on for 9 minutes after you turn it on, at which point it will automatically shut off in order to save you power.
Apart from the base, obviously, the entire thing is dishwasher safe, so you don't need to worry about cleaning it at all –  although I found that a little rinse after each use will keep you going for a little while. The inside of the unit is ceramic, rather than Teflon, which does the job perfectly well, and is equally easy to wipe clean.
Which is better: Aeroccino 3 or Aeroccino 4?
The Aeroccino 3 is a great little unit that has made it so much easier for millions of people around the world to make great and exciting coffees in their own homes. It does a great job, but the speed and ease are the main selling points. It is so easy to use, with just one touch of a button. It's a wonderful product.
Nespresso didn't get to the size that they are today by being satisfied with one great product, though.
They are constantly looking for ways to improve their products and target gaps in the market wherever they see them. With the Aeroccino 4, they have really improved what they offer in the world of easy to use milk frothers.
It does a very similar job to the Aeroccino 3, of course, but the few tweaks make it a much better experience for the user. First of all, there are the extra frothing options – you no longer need to fiddle with the whisk to make different types of milk – it is all done by pressing a button. Great.
The real difference is the opportunity you now have to get really creative with your milk – the handle and spout make it a real possibility to create beautiful coffees that will dazzle your guests and family members – it makes the whole experience more fun.
Even if you don't think that you will utilize the potential for latte art – the spout and handle make it easier to use on a day-to-day level. More comfortable, and more control. With the prices being roughly similar, if you are choosing between the Aeroccino 3 and the Aeroccino 4, it really is no contest. The Aeroccino 4 is just like the Aeroccino 3, but better.
Final Thoughts
The Aeroccino 4 is quieter and has a more powerful motor than the Aeroccino 3. It also has a new design that makes it easier to clean.
The Aeroccino 4 can heat milk faster and froth milk more quickly than the Aeroccino 3. Conclusion:
If you are looking for an upgrade, the Aeroccino 4 is worth considering. It is quieter, has a more powerful motor, and is easier to clean.
We are sorry that this information was not useful for you!
Let us improve this post!
Tell us how we can improve.