Obviously, different coffees taste different. Some are deep and heavy, some bitter, some sharp; some are light, fruity and citrusy, some almost sweet. Packets will often tell you that a coffee contains notes of chocolate or nut, or green tea, or spice. There will be a great many flavors at work for the avid coffee fan to tease out, and no two varieties will be the same.
There are a couple of reasons for this. Origin and type of bean matter, as do the fineness of the grind and the way in which the beans were stored and processed. However, the most potent variable in flavoring any given bean is generally the intensity of the roast – how light or dark the roast is. This will generally be the biggest signifier as to how your coffee is going to taste; depending on your taste, it will be the biggest factor in your buying decision.
Today we're going to look at some of the best dark roasts around – heavy, strong flavored coffee beans that give a really bitter kick with a full, velvety body.
Why Choose Dark Roast Coffee?
Light roasts generally see less heat than a dark roast. Cooking is essentially the process of removing water by evaporation, using heat. Light roasted beans are left with more moisture inside the bean than dark roasts, making them denser. They will generally have a great deal more vivacity to the flavor, which many people call the 'acid', and will often have a very slight amount more caffeine in them than darker roasts. The flavors will also be more floral, lighter, herbal, and definitely more complex.
However, the actual body of the coffee that results will be thinner than a dark roast can give.
Dark roast coffee beans are roasted at higher temperatures and stay on the roasting machine for longer. The beans lose far more moisture, making them less dense, removing a small amount more caffeine, homogenizing their flavors more and giving a fuller body to the coffee brewed with them.
The flavors will also tend towards heavier, headier tastes than you would see with a lighter roast. Basically, in simple terms, where light roast coffees have a thinner body and more delicate flavors, dark roasts are more full-bodied with more straight-forward, bolder flavors.
If you like the taste of roasted nuts, dark chocolate, caramel, burned butter and tobacco, you will probably like a dark roast. It's a more traditional format for coffee drinking – it tastes like the kind of strong black coffee that truckers and cops should drink over donuts and cigarettes.
Nine of The Best Dark Roasts
Let's take a look at the 9 best dark roast coffee flavors we found during our testing.
[wpsm_toplist]
Volcanica Dark Roast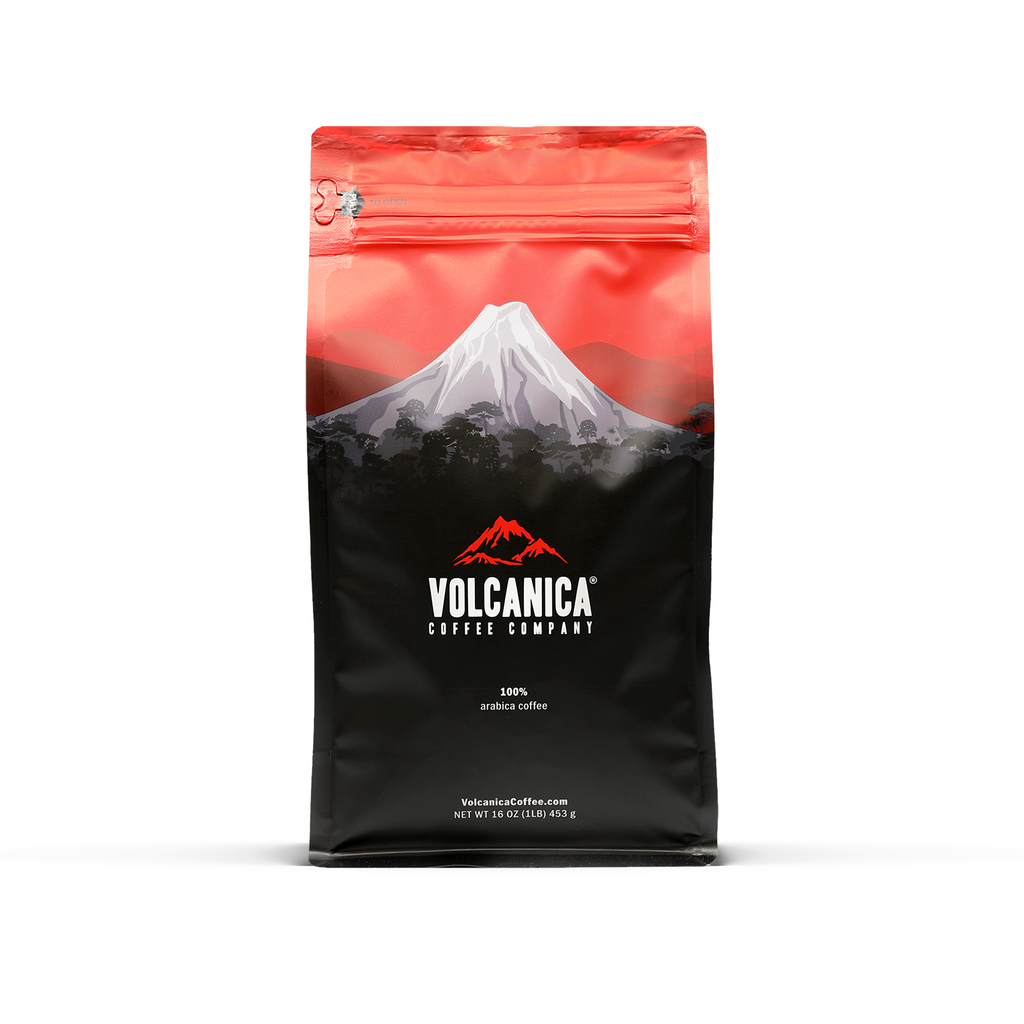 Volcanica Coffee Company produce some of the best coffee we have tasted and after tasting our way through their organic coffee range, we decided to check out some of their other beans – and started with dark roast.
There is something about a good quality dark roast coffee that just cannot be beaten – and this blend from Volcanica quite simply was not bettered in our taste testing.
The intense, rich flavors of dark chocolate and caramel are accompanied perfectly by smoky, aromatic notes with this coffee. The coffee is responsibly sourced from Colombia, Guatemala, and Sumatra, and like many of the Volcanica coffees, it is available to buy as whole beans, drip grind, espresso grind, or ready to go straight into a french press.
You can buy this dark roast coffee in a single bag, as a 3 pack, or even in a large bag that saves you an extra 5%. There is also a subscription option that saves you 10% – these options are great as it means you get exactly what you need.
We tested the beans for maximum freshness and wholeheartedly recommend them for dark roast lovers that aren't afraid of rich flavors – if that sounds like you then you won't be disappointed with Volcanica.

Grande Domaine Vienna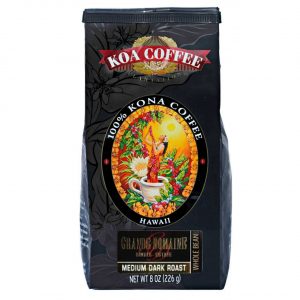 Next on our list is a dark roast coffee that is at the pricey end of things, with Grande Domaine's Vienna Roast Kona coffee.
Kona coffee, from the volcanic slopes of Hawaii, is amongst the best, most delicate, most layered coffee in the world. It is also one of the most expensive types of coffee – two pounds of Grande Domaine's Vienna Roast Kona coffee will set you back over a hundred bucks.
However, Grande Domaine Kona has gained notoriety in recent years. It was selected as a Kona Coffee Cupping contest winner for outstanding quality and balance. A decadent blend of some of the most flavorful Kona coffee beans going, blended with a smattering of Peaberry Kona, the rarest Kona Coffee of all, harvested by hand and roasted to a perfect Vienna roast (slightly darker than medium), it manages to be bold and delicate, sweet and bitter, refined and punchy all at once.
It is from one of the finest, most well-beloved Kona estates in Hawaii, roasted with one of the best, most well-beloved methods going. The result is somewhere between medium and dark; it is utterly delightful.
Sumatra Mandheling Reserve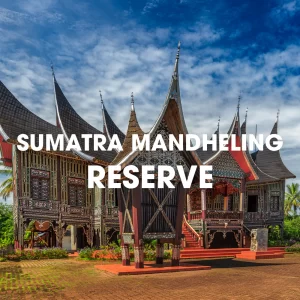 If you're looking for a rare and exotic coffee, look no further than the Sumatra Mandheling Reserve.
This unique coffee is prized for its intense flavor and delicious aftertaste. This dark roast brings out a different, more potent taste that is sure to satisfy even the most discerning coffee lover.
This bean is absolutely perfect for those who appreciate a strong cup of coffee with an intense flavor. The aftertaste is earthy and syrupy, making it a truly unique coffee experience.
This bean has been produced to have a lower acidity level, making it more tolerable for those with stomach sensitivities.
Whether you're a coffee aficionado or just looking to try something new, the Sumatra Mandheling Reserve is a must-try.
Peaberry Dark Roast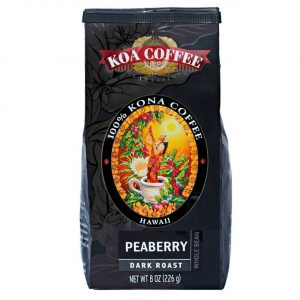 Koa's Peaberry Kona is some of the rarest, most sought-after coffee in the world. This is reflected in the price – at over a hundred and fifty bucks for two pounds, it's even more expensive than Grande Domain's Vienna Roast Kona coffee.
However, there is a very good reason that people habitually pay this much for it. Peaberry Kona is one of the best coffees you can find.
But what makes Peaberry coffee so rare – what exactly is it?
Peaberry beans are rare simply due to nature's whims. Most coffee cherries contain two coffee beans nestled face to face, which is why they are flat on one side. However, a small portion of coffee cherries – about 3-5 % – hold just one single, small, oval-shaped bean instead. These small oval beans are 'Peaberry' beans.
Only 3-5 bags out of every 100 bags of Kona coffee will be Peaberry.
But what is so great about Peaberry beans?
Well, they are fantastic to roast. They are full-bodied, velvety, and smooth, with just a little edge to them. They are so good, in fact, that coffee connoisseurs call the Peaberry the 'Champagne of Kona'.
Demand for Peaberry is so high that Koa often has to purchase unroasted Peaberries from smaller farmers who don't sell to the public. It's still never a guarantee that they will have enough to meet demand, however. Their rarity and the quality of the coffee you get makes these decadent little beans absolute treasures.
Starbucks Dark Roast
Let's put the rarefied nature and cost of the high-end of the market to one side for a little while and talk about a dark roast that I shouldn't like, yet which keeps seeming to surprise me with its quality (especially for the price!)
I don't want to like a Starbucks product. Starbucks are the last line in pervasive, cheap, mass-produced, uncared for coffee. Their stores are soulless and their coffees, generally, forgettable. The only thing they have going for them is their ubiquity (and the massive tax dodges they seemingly get away with year after year!).
However, their dark roast is good. In fact, it's very good, far better than anything you could expect to buy in any of their coffeehouses themselves, and it's a fraction of the price of some of the other offerings on this list.
Their main dark bean is a French roast Arabica, which means it is smoky and singular. One of the darkest roasts going, it will explode across your palate with depth, bold taste and a full body robustness that cannot ever be fully, adequately conveyed other than by actually sampling it.
If you're looking for a dark roast that doesn't quite hit so hard, their Italian roast is also worth trying. It has notes of caramel, with a deep, rich sweetness and hefty aftertaste to it, allowing through some of the high notes that the French roast foregoes. Alternatively, for a little spice in a dark roast, go for their Sumatra – it will pep you up in mind and body, delivering herbal notes with a deep, earthy aroma.
Each of these three dark roasts gives a very nice crema if you're using it to make espresso, and they all finish with a lovely, full body.
Peet's Coffee Major Dickason's Blend
Here's another reasonably priced Arabica for you, in the form of Peet's Coffee Major Dickason's Blend. It was conceived by Mr. Peet and his most discerning customer, the coffee loving, fine-tuned tastebud sporting Major Dickason.
It is a wonderful blend of Arabica coffees that sums up in each and every cup the rich, flavorful nature of Peet's coffees. It is rich and complex, with the kind of full body and sweet, deep low notes that you would expect of any fine dark roast.
To achieve the quality they deliver, Peet's source the best Arabica coffee beans going. They then hand-roast them in small batches, ensuring freshness throughout. Most sellers don't keep tabs on roasting dates for their buyers – Peet's do. They print the roast date on each bag so that you know what you are getting. The end result should be a more flavorful, vibrant cup of coffee than you might get elsewhere, achieving the blend perfection for which their founder, Alfred Peet, was well-known.
Community Coffee
Community Coffee is a rich, dark roast with a bit of a difference.
Firstly, I want to talk about the coffee itself, as this is the most important aspect. There is nothing to disappoint, here – it is excellent. It is their original recipe and showcases a dark roast blend, roasted to a depth of color and flavor that is truly magnificent. It is slightly decadent and very rich, like dark chocolate or slightly caramelized butter.
In fact, it's so good that it has been served for over a century, with punters always coming back for more.
Community Coffee uses high quality, 100% Arabica beans, roasted and ground to perfection by a team of diligent experts who are constantly trying and tasting what they brew. This expertise shows through – the end result is rich and flavorful, and oddly comforting.
I have found that it works best brewed as drip coffee or when used in a cafetiére. It works well as an espresso, but the café crema is a little lacking and the depth of flavor really lends itself to a slower brewing process – really let it steep in your French press before drinking.
Then there is the other side of the business – where they put their money, resources and effort. They use responsibly-sourced coffee beans, all Fair Trade and planet friendly. They run programs that support military service members, local schools & more, making sure that they give back to their partners and local communities in every way that they can.
If you want a really good dark roast whose proceeds you know are going to great places, this is the one for you. It's a winner on two fronts.
San Francisco Bay
San Francisco Bay Coffee is a family owned, American made company with a good history. They trade heavily on their reputation, which is stellar, and even offer a direct line front and center in all of their sales pages for you to call should you ever be disappointed with your product.
To me, that speaks firstly of a company who cares about what their selling and, secondly, unless they really are prepared to field thousands of phone calls, one who is confidant in their product. You only ever give out a number like that if you know you're barely going to need to use it.
I doubt they do use it that often. The quality of their coffee means that few people are likely disappointed in it.
I loved what I tried. It was a French roast, so just about as dark a roast as you can get, blended from good quality Arabica beans from Central and South America. The roast brought out the oils needed to deliver a full-bodied, dreamy, dark coffee with chocolatey notes.
It doesn't end at their French roast, either. For a slightly lighter dark coffee, you can try their Scandinavian blend. It's a medium dark roast that puts more emphasis on a vanilla lightness, still with hints of chocolate, and even a little spice in there. Alternatively, if you want to really go for it, they deliver their darkest blend in the form of their Extra Dark Italian Roast. It really brings out the dark cocoa elements, with a smoky, full-bodied finish that may leave you gasping (or simply gasping for more!).
It is all roasted and ground fresh using 100% Arabica, kosher beans, so that you know that every cupful will be quality.
Top Shelf
Top Shelf make some bold claims with their dark roast. They say that it's the best tasting high caffeine coffee in the world.
Obviously, this is hard to verify; it is hard to quantify. But I wouldn't write them off – if they're not the best, they're very close.
There was a time when your high caffeine coffee tasted like burnt mud. I still sometimes drink it this way – triple the number of recommended spoonsful of ground, dark coffee in your cafetiére, fill it with just sub-boiling water, let it brew for five minutes, then chug it back and feel your brain explode.
I'm a professional writer. We've all done it.
However, Top Shelf have a compelling alternative to this DIY pep-swill. Their dark roast whole bean Colombian blend is very strong, yet it tastes amazing. If you need that extra kick in the morning (or any time, really) but don't want to sacrifice quality, this is the brand for you.
Their blend is low acid, as a dark roast should be, with a bold, chocolatey taste – again, as a dark roast should offer. It is a hybrid of Robusta and Arabica, borrowing the super-high caffeine content of the former and marrying it with the smooth elegance of the latter. All of their beans are expertly sourced from small, family owned farms, meaning that you can rest assured it is responsibly sourced whilst being skilfully blended and roasted.
They even offer to refund your order entirely if you're not satisfied. I imagine they've rarely had to make good on this.
Dark Roast FAQs
Does Dark Roast Coffee Have More Caffeine?
Dark roast coffee generally tastes stronger than light roast. This has led many to the assumption that it is stronger in chemical terms – that it contains more caffeine. This isn't necessarily, or even usually, true.
The caffeine content in light and dark roast coffees are about the same and depend far more on the type of bean being used (Robusta is around twice the strength of Arabica, for example).
Conversely, conventional wisdom often has it that light roast coffees are stronger in caffeine than dark roast, due to less of the caffeine being cooked off during the shorter roast. This can be true and will often mean that there is slightly more caffeine in a light roast. However, caffeine levels actually vary very little during any roast. It would take a roasting temperature of around 600° F to see any significant variation, whilst actual roasting temperatures rarely exceed 470° F.
Is Dark Roast Coffee More Bitter Than Other Types?
Yes, dark roast coffee is more bitter than other types of coffee.
Coffee roasting is in essence an act of pyrolysis – chemically, everything in the bean is being broken down into its most basic forms. This is basically carbon.
For this to happen, the bean needs to dry out, which elicits the Maillard reaction, in which sugars start to caramelize and acids begin to break down.
These sugars break down and the acids all but disappear as the beans approach dark roast. This results in a more bitter taste, as the volatile aromatic compounds are being broken down to nothing – there are essentially very few sugars left in the bean.
What Does Dark Roast Coffee Taste Like?
Dark roast coffee tends to be thought of as being simpler than medium or light roasts. There is good reason for this. They tend to have the least unique flavors and notes. Where you might be able to detect five, six, or even more distinct tastes in a light roast, darker roasts are far more homogenous, giving just one or two notes.
This doesn't mean that they are bland or uniform, however. They are generally richer, with a stronger body, making for a delightfully smooth, bitter drink. They will also have more of the deep notes usually associated with coffee – dark chocolate, spice, smokiness and so on. They will also often have a stronger, bolder aroma, and far less acid, than other types of coffee.