Decaf Delights: Best Decaf Kona Coffee Without the Jitters
There is a reason why Kona coffee is expensive. It is not produced in large amounts and has unique tastes that make them worth splashing serious money for. If you are looking for some Kona coffee to try yet do not want to take in the caffeine, you are in the right place.
In a hurry and just want a quick bag of coffee to pick up and go?
Check out Koa Swiss Water Decaf 100% Kona Coffee.
The best decaffeinated Kona coffee you can try out are:
Buddha's Cup Decaf 100% Kona Coffee
Koa Swiss Water Decaf 100% Kona Coffee
Kona Joe Gourmet Decaf Coffee Blend
Royal Kona Volcano Roast Decaf Kona Blend
Hualalai Estate Decaf 100% Kona Coffee
Best Decaf Kona Coffee Based on Roast Level and Tasting Notes
Tasting Notes:

Maplewood, milk chocolate, honey

Tasting Notes:

Cherry, dark chocolate, caramel

Tasting Notes:

Chocolate, hazelnut, caramel
---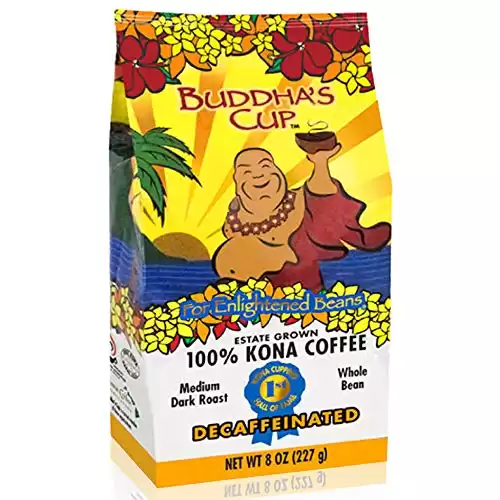 Why We Like This: It is an award-winning Kona coffee, winning the AVPA-Paris Kona Cupping competition. It is also decaffeinated using the newer carbon dioxide process, which is not used as widely as Swiss water. It is also a single-origin, single-estate coffee.
Buddha's Cup is a unique coffee maker. Aside from roasting their coffee, they also farm their own and host farm tours. Aside from Kona coffee, they also produce tea. Buddha's Cup is based in Holualoa, Hawaii.
The Buddha's cup decaf represents 100% Kona coffee, washed and then roasted slightly towards the darker end. As a result, the coffee should taste a little bolder, with a fuller body. Tasting notes include honey, vanilla, and some floral flavors. 
The Buddha's cup decaf is also decaffeinated using the Carbon Dioxide process, which means no chemicals are used to decaffeinate the coffee. 
Many drinkers agree that the Carbon Dioxide method helps preserve the coffee taste more. This means you should enjoy the full flavors of Kona coffee yet spare yourself the jitteriness from the caffeine.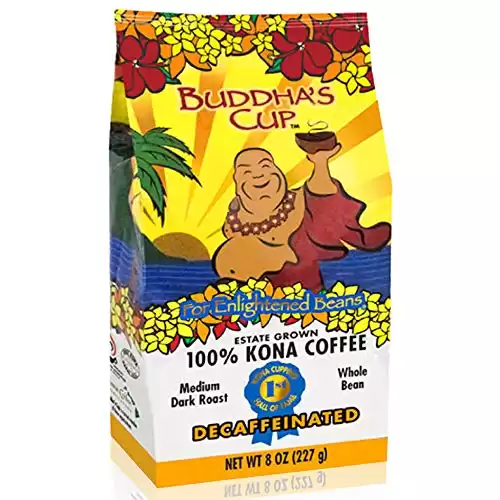 ---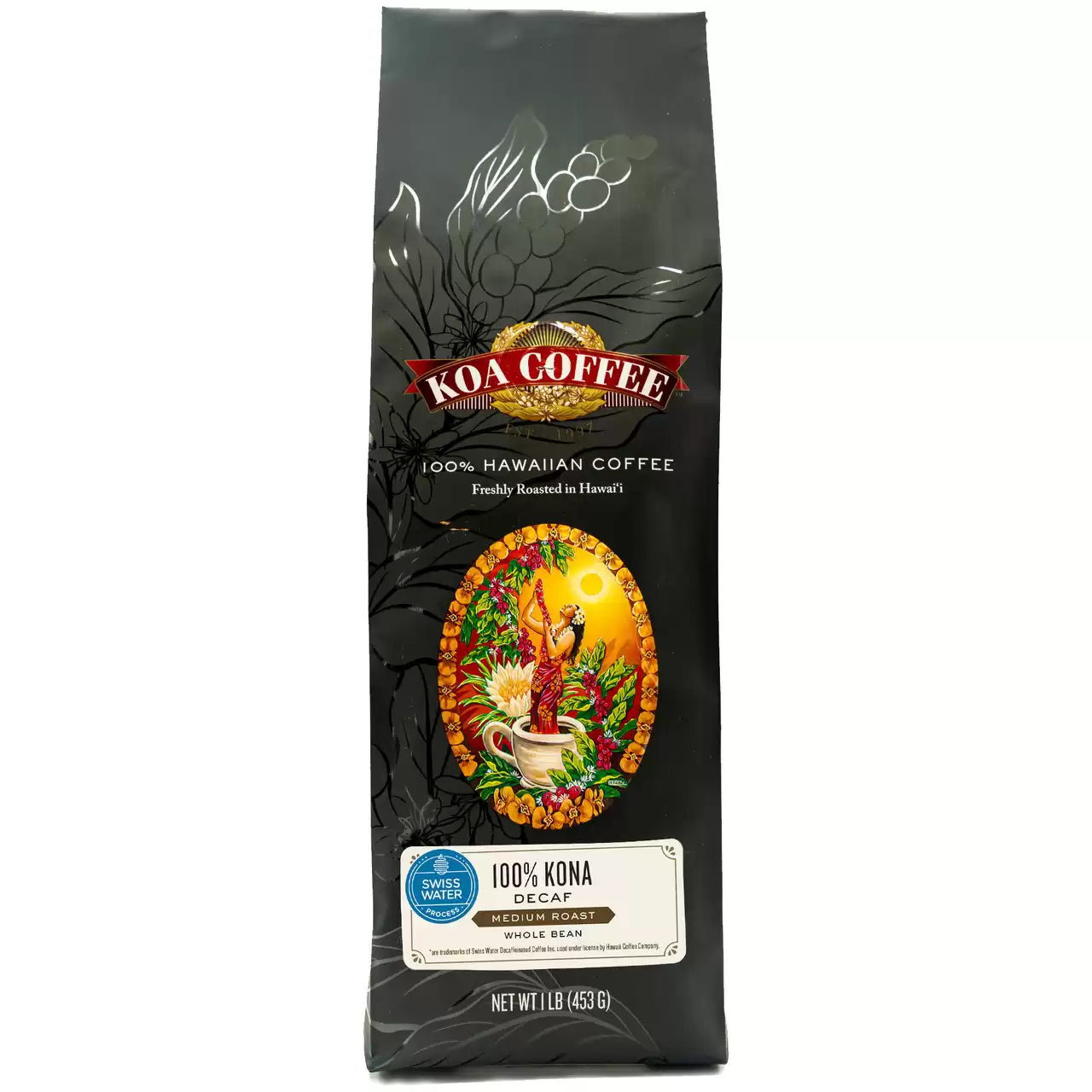 Why We Like This: You get to enjoy the real, full taste of Kona coffee without caffeine with Koa. Koa's coffee beans are decaffeinated using the Swiss water method, ensuring no chemicals are used.
Koa Coffee started off in 1997 as a small family business and eventually won the Gevalia Cupping Competition. It was also featured in Forbes' best coffee in America. Koa offers Kona coffee and also other premium Hawaiian coffees for your enjoyment. 
The decaf coffee featured here is Kona's pure, 100% Kona coffee, decaffeinated using the Swiss Water process. This helps to avoid using chemicals in the coffee, giving you better peace of mind when sipping them. 
The beans were given a medium roast to help preserve the natural flavors of the coffee. Medium roasting also prevents the coffee from becoming too bold and heavy, which may turn off some drinkers. 
Take a sip of the coffee, and you should notice hints of chocolate, hazelnut, and caramel, which are signature taste notes of Kona coffee. Consider making iced coffee using the beans as an additional way to enjoy the coffee.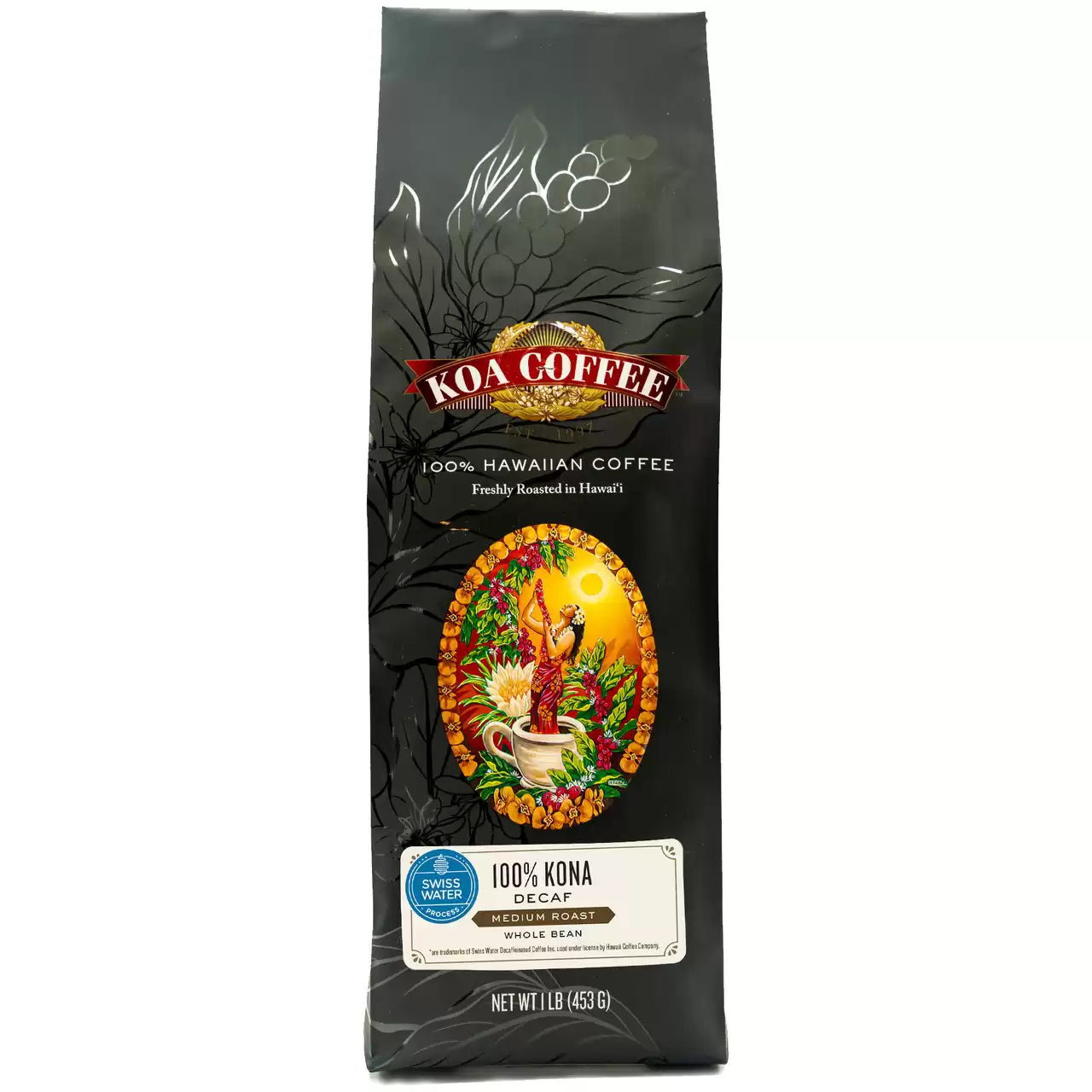 ---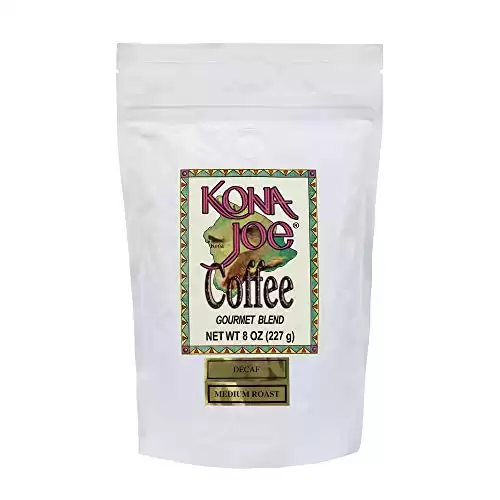 Why We Like This: Kona Joe's coffee has that 'underrated' appeal. The packaging looks simple, yet it packs very high-quality Kona coffee inside. It also has a milky, sweet taste that may appeal to some drinkers. 
Kona Joe has a down-to-earth and romantic feel to it. The founder, Joe Alban, traveled to Hawaii and eventually met his love there. 
Together, they founded Kona Joe to plant, harvest, and roast their coffee. You can also visit their farm in Keukelakea, Hawaii, for tours and roast your coffee.
Their gourmet decaf coffee is a prime example of Kona Joe's coffee. They claim to plant their coffee on a trellis, like in vineyards. This means their coffee plants may get more sunlight, which may help explain their coffee's, slight sweetness. 
The Kona beans are blended with other coffee beans, decaffeinated, and then given a medium-level roast. 
The slight dark roast should introduce a bit of body to the coffee and accentuate the natural flavors of Kona coffee. Take a sip, and you should notice tastes such as Maplewood, milk chocolate, and honey.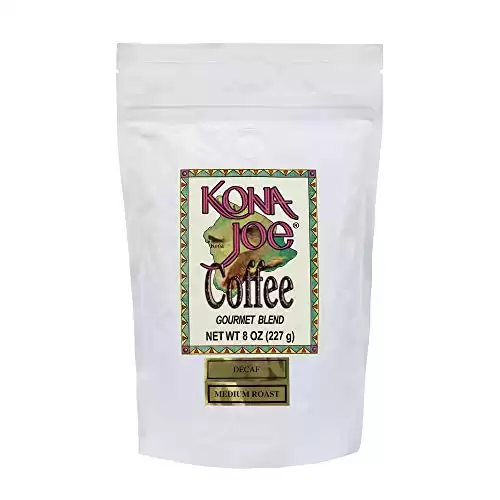 ---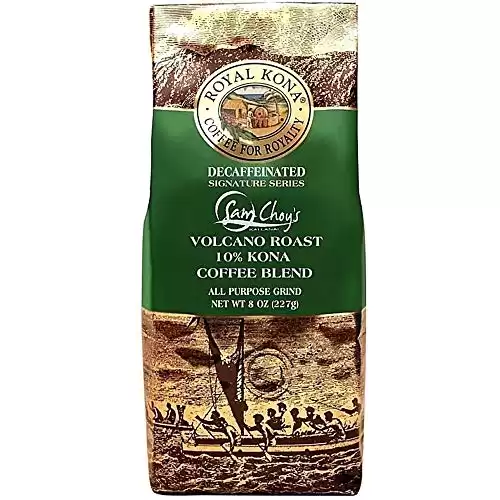 Why We Like This: The blend helps to bring an additional dimension of taste into the coffee, compared to just full Kona coffee. The medium roasts allow you to sample the famous milky and creamy taste of Kona coffee, with the fruity notes from other coffees inside the blend. 
Royal Kona may be the big brother in the Kona coffee industry, starting as a coffee roaster in 1969 in Honolulu, Hawaii. 
They are probably best known for their chef series, where they work with world-famous chefs and produce specialty blends for use in world-class restaurants. 
The Royal Kona Sam Choy's Volcano roast is one such creation. This blend is a collaboration between Royal Kona and Sam Choy, a Hawaiian chef known for popularizing the Pacific Rim cuisine in the US. 
This coffee blend consists of 10% Kona and then combined with beans from all over the world. This results in a smooth, easy-to-sip coffee that carries a hint of Kona's famous creamy and sweet taste. 
As a result, this blend is perfect for the exact reason they were created with Sam Choy, a great cup to sip and savor as you wash down your meal.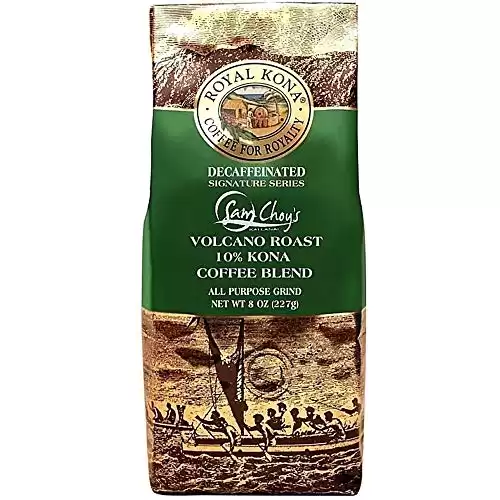 ---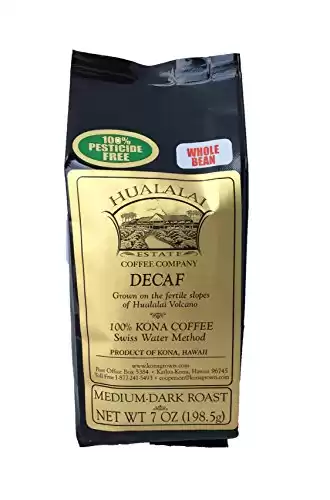 Why We Like This: You get to sample Kona coffee in its purest form in a darker roast. This means instead of a lighter body, you get a full, bolder taste and perhaps stronger notes of flavors such as spice and butter.
Hualalai started as a pet project and hobby by Joe Cooperson in 1996, with just a couple of acres in his backyard. As his passion and knowledge for coffee grow, so does the business. Today, Hualalai plants its own coffee and imports high-quality coffee for roasting. 
The Hualalai Estate Decaf is a 100% Kona coffee, meaning it is not a blend. This allows you to sample the full flavor of Kona coffee. The tasting notes for this coffee include butter, spice, and wine.
The coffee is roasted to medium dark, which means it will taste a little heavier and bolder than other beans in this list. But the full body will make it a very hearty coffee for you to enjoy, particularly after a meal or with sweet desserts such as a cake.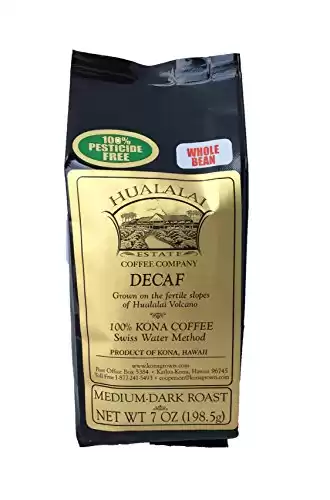 ---
What Is Kona Coffee?
Kona coffee is from Hawaii and is known for its notes of chocolate, nuts, and a slightly fruity and floral note. It is primarily served as a single-origin coffee. The name Kona coffee is also legally protected.
Kona coffee grows on the slopes of the Mauna Loa and Hualalai volcanoes in the Kona district of the Big Island of Hawaii. The coffee plants are grown at elevations of between 600 and 2,500 feet, which allows them to enjoy the cooler, misty conditions and thrive.
It is often served as a single-origin coffee, allowing the unique characteristics of the beans to be enjoyed by drinkers. The coffee is also used in blends to add complexity and depth to the flavor.
It is known for its unique flavor profile, characterized by notes of chocolate, nuts, and a slightly fruity and floral note. The coffee is also known for its low acidity and smooth finish.
As a result, many coffee connoisseurs see Kona coffee as a specialty coffee. Kona coffee is also one of the most expensive coffees in the world and is sought after by many drinkers. 
Kona coffee's popularity has resulted in the name being abused by some unscrupulous roasters. They add only a small bit of Kona coffee with other beans and then sell them as an expensive 'Kona blend.' 
This has resulted in a legal requirement that the label 'Kona Coffee' can only be used on blends with at least 10% Kona coffee.
What Makes Decaf Coffee Good?
Decaf coffee can be good for people with caffeine sensitivity. It can also help people enjoy coffee while reducing caffeine and avoid aggravating health conditions such as high blood pressure. 
One of the best things about decaffeinated coffee is that it lets people enjoy the taste and smell of coffee without the effects of caffeine, which can be stimulating. 
This can help people who are sensitive to caffeine or have trouble sleeping because they can have a cup of coffee in the evening. They no longer need to stay awake at night just because they took coffee.
Some people may also be working on caffeine addiction and are actively trying to cut back. They can also benefit from drinking decaf coffee. 
Caffeine is a stimulant that can lead to addiction. Some people may find it hard to cut back on coffee without the help of decaffeinated coffee.
People with certain health problems can also benefit from drinking decaf coffee. Caffeine can increase your blood pressure and heart rate, which can be bad for people with high blood pressure or heart problems. If you drink decaffeinated coffee, these effects can be lessened.
Also, decaf coffee still has a lot of good things in it, like antioxidants and chlorogenic acid, which are good for your health. Some diseases, like type 2 diabetes, Parkinson's, and liver disease, are less likely to happen if you take these compounds.
Final Thoughts
Kona coffee is a unique and rare delicacy that carries a hefty price tag. For those who enjoy the taste but wish to avoid caffeine, there are several great decaf options available.
The decaf Kona coffee brands reviewed above offer a range of taste profiles and are sure to satisfy any coffee lover's palate.
Go ahead! Indulge in the rich flavors of Kona coffee without worrying about the caffeine content.
We are sorry that this information was not useful for you!
Let us improve this post!
Tell us how we can improve.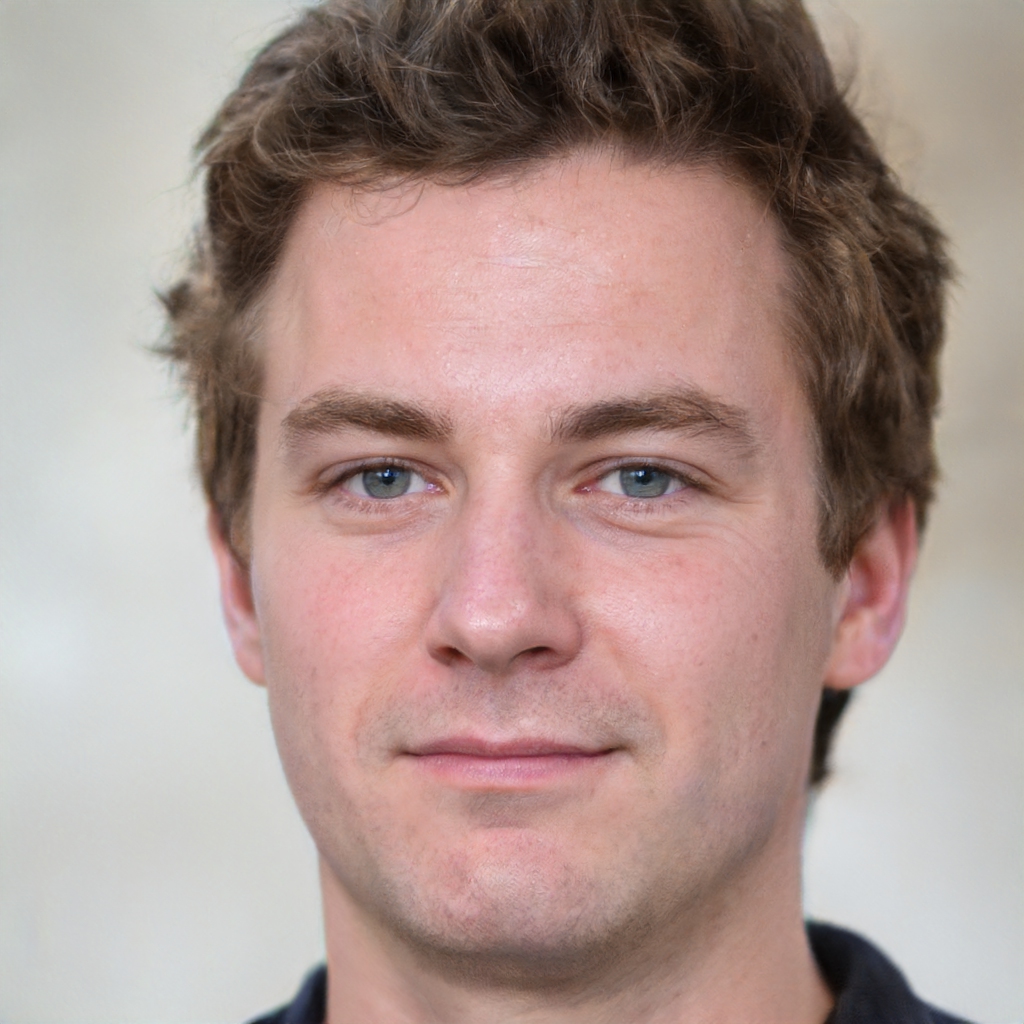 Alex is a self confessed coffee addict – but he takes his love of caffeine seriously in a completely responsible way. He loves trying new coffees and testing the latest machines and is not usually fan of one button pod machines. Alex is happiest when he is tinkering with settings and milk temperatures to create the perfect cup. When not obsessing over coffee, Alex is a keen musician and plays weddings and other social events (usually fuelled by… yes, you guessed it… coffee).