There are a few different types of coffee beans that you can go for. If you ask a lot of sources, they might tell you there are four main ones worth trying – Arabica, Robusta, Liberica, and Excelsa. Of these, Arabica is by far and away from the most popular, and likely the most recognizable for most people.
In fact, Arabica makes up around 60% of the world's coffee beans. This makes sense – Arabica plants are easy to care for, grow in high altitude areas with plenty of rainfall (hence their popularity in the hilly, tropical climes of South America) and give a nice quality, full flavor. Robusta beans are perhaps the next best-known and are the second most produced. The beans are hardy and easy to produce and give twice the caffeine kick of Arabica. Then you have smoky, slightly floral Liberica beans and their offshoot (that incidentally tastes completely different to them), Excelsa beans.
However, these four beans paint an incomplete picture. There are other beans to try, and more flavors to savor.
Enter Kona beans, an increasingly popular Hawaiian delicacy, hard to get hold of but worth every drop you manage to brew.
What Is Kona Coffee?
Kona coffee comes from the Kona Moku, or district, of the Big Island part of Hawaii, where the weather is particularly good for bean cultivation. Vibrant, green hills with dark, richly fertile soil, plenty of blue skies and sunshine, with as much rain as it gets sun, Hawaii is nice and warm, without being overly hot or dry.
Hawaii is also a volcanic island, meaning that many coffee farms are positioned on volcanic sites like Hualalai and Mauna Loa. This lends the dark soil a great deal of goodness – it is fertile, packed with minerals, and enriched by the earth and the shade.
All of this sets the stage for a coffee par excellence.
Kona beans are incredibly high quality, grown in near perfect conditions. The traditional Kona coffee taste profile is light, sweet, and fruity. If Kona coffee is roasted correctly, to the right degree, it will deliver this sweetness, this fruitiness, early on. Then, as the roast progresses, the lower notes come to play. You will generally be able to tease out nutty hints, even a little spice. As the sweetness and fruitiness decline, the coffee will begin to develop body and depth.
The right roast will balance these two properly, delivering just the right amount of each.
It's expensive, there's no way around it, especially if you go for 100% Kona coffee beans. But, if you really want the best, it's worth every penny. Even if you break it out at weekends or on special occasions, you'll be opening yourself up to a whole new world of coffee delights.
Is It Best to Buy Kona Coffee Online?
To be honest, you will generally only be able to buy coffee online, unless you happen to live near an extraordinarily good, specialist roaster. You may be able to find it at a posh farmer's market, or at a super hipster gourmet coffee shop, but this is a rarity.
Most often, you will need to search the wonder web.
Kona coffee is available from many online retailers, including Amazon. You should be able to find a vendor who can ship it to your door with a vacuum seal, designed to keep it fresh until you're ready to use it.
There are a couple of things to be wary of, however.
The high prices that Kona coffee demands quite naturally open the market up to conmen. Be careful, here. Always check reviews – if there are plenty of them, you should be OK. If anything looks fishy, walk away.
It's also quite common to make precious Kona coffee go further by selling it as part of a blend, with something like 10% Kona and 90% some form of Arabica from Colombia or Brazil.
This is often pointless – the 90% added might bury the flavor, unless it's a really sympathetically chosen Arabica, making it in essence just an overly expensive Arabica that tastes nearly identical to the stuff you can buy from your local grocery store for a few bucks a bag.
Also look out for brands that claim their coffee has 'Hawaiian flavors', but has no traceable link to Hawaii or Kona. They can describe their coffee however they like without facing prosecution. This doesn't make them right – they are not selling Kona and are likely just ripping people off.
Look for brands that import their beans directly from Hawaii. Helpfully, Hawaiian law is very strict about what can be labeled 'Kona coffee'. If a company is bringing it straight from the Big Island and selling it as Kona, they are very likely selling the real stuff.
Some Of The Best Kona Coffee Brands
If you're looking to buy Kona coffee online, the following brands are well worth a look. They sell the real deal, roasted to a high standard, and are all readily available for order. This list is far from exhaustive – there are plenty of decent brands out there. They are just demonstrative of everything that is good about Kona coffee.
Some are pure blends (and are priced accordingly!), whilst some are blended sympathetically with a good quality Arabica, making them far more affordable whilst still giving you a good coffee treat.
Private Reserve Medium Roast Whole Bean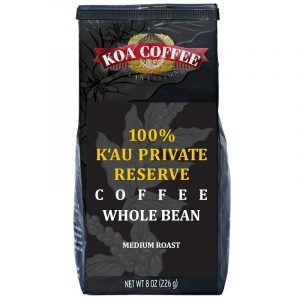 Koa Coffee is one of the bigger names in the Kona game. Their products are known for their richness, for being velvety smooth, and for delivering a full-bodied flavor. They have won multiple industry awards thanks to the quality of their coffee. There is a very small chance indeed that you will be disappointed.
This quality doesn't come cheap, however, with a couple of pounds of their pure, 100% Kona medium roast giving you scant change from a hundred dollars (I'd go with one of their smaller packs for twenty odd bucks, at least the first time). It's one for special occasions, perhaps, rather than daily consumption – unless you're mega rich, in which case go for it!
Koa's Private Reserve Kona Coffee is a proprietary blend of 100% Kona Coffee beans exclusive to Koa Coffee – they really mean it when they say it's a secret blend. Don't worry, though – it isn't Kona blended with Arabica. Rather, it's different grades of Kona from the slopes of the Mauna Loa volcano, combined together for flavor perfection. It is an incredibly popular, accessible medium roast, perfect for your first venture into the world of Kona.
Their Tri-pack is also worth a look if you want to save a little by buying in bulk. You can choose between a medium and dark roast, both of all which will be rich, bold, and smooth. It is still pretty pricey, but, as above, so is all good quality, pure Kona coffee, and you will get three for the price of two.
Hawaiian Isles Classic
Hawaiian Isles Classic coffee is the first blended Kona coffee on this list. Let's not beat about the bush – there are much better, nicer, smoother coffees on here. If you buy one of the pure Kona options, you will get what you pay for – but you will pay for it.
Hawaiian Isles Classic is far more affordable and, unlike some of the trashier offerings on the market, manages to balance its Kona and Arabica coffees very well, bringing out some of the best flavors of each. Of these, you get 10% Kona, with the rest being made of high-quality Arabica.
It is medium roasted, which should make it accessible to everybody, though it is on the stronger side – I quite like this, but I imagine that most people will want to forego the two recommended tablespoons per cafetiére for one, or make up single shot espresso drinks.
I would usually hesitate to include blends in a list like this. However, some of them work very well. This is one such blend – it is Arabica made better for the presence of Kona, rather than Kona made worse by the presence of Arabica.
If you want a much nicer than average coffee, with a hint of Hawaii, and don't want to break the bank, it's well worth considering.
Royal Kona
In Royal Kona, we have another expensive offering – one of the priciest on our list, actually. A little over forty bucks should get you around 7 ounces of high-quality, ground Kona. They bill it as 'coffee for royalty', which sums Royal Kona up nicely.
It is, of course, 100% pure Kona coffee, which you would expect for the price.
Royal Kona's coffee is surprisingly light and refreshing, dancing across the tongue rather than sitting heavily on the palate. It's technically a medium roast, though it tasted more like a lighter, blonder roast to me, with plenty of floral, fruity, citrusy notes. There is no bitterness, no acid, no aftertaste or lingering trace at the top of the mouth, just sharp, clear, refreshing high notes with a bit of a deeper, earthy base lying beneath it all.
For me, it really does sum up the idea of the natural Hawaiian landscape, bursting with uplifting flavors whilst still somehow managing to remain rooted in earthy, volcanic soil.
You can also always be guaranteed freshness with Royal Kona's coffee. They only roast it after they've received your order, which is fantastic. This roasted coffee is then locked into a sealed bag and shipped to you, giving you the freshest, richest taste possible without actually drinking it in Hawaii.
Hawaiian Gold
Hawaiian Gold is another blended coffee, combining high-quality Kona with other high-mountain-grown Arabica coffees. This means that you get about four pounds of coffee for the price of around 7 ounces of Royal Kona. Yes, there is definitely a quality drop – so much so that you can more realistically consider them two distinct drinks, rather than different styles of the same – but it obviously goes a lot further.
This will always be the trade-off.
Hawaiian Gold at least does it well, much as Hawaiian Isles Classic does. Theirs is a gourmet blend, medium roast that really sings. It combines the vibrance of high quality gold Kona coffee with the depth and balance of the Arabica used in their recipe. It is smooth yet robust, full yet gentle. It gives an exotic, powerful character, with radiance and zest that sits well at odds with the deeply rich, almost indulgently smooth flavors that hit you first with each sip. The lighter notes come out slowly, playing above the rest, making each cupful an utter delight.
There is little to no acidity, no aftertaste. It is playful and fleeting. Lovely.
Lion Coffee
Lion Coffee is probably the most reasonably priced pure Kona coffee that I have seen, balancing quality and value very, very well. The coffee is 100% pure Kona from the Big Island of Hawaii, yet it costs a lot less than other, similar brands, like Royal Kona, for instance.
Despite this, Lion Coffee is smooth and consistent, clearly well roasted, and really quite fresh. This means that each cup is consistent (and consistently delicious).
Lion Coffee label their Kona coffee as a medium roast, which I would dispute. It tastes far more like a darker roast, giving a far darker taste with quite strong bitter notes, quite unlike some of the lighter blends on this list. I personally like this – I can very much appreciate floral, fruity coffee that dances on your tongue, but my heart will always belong to dark roasts that hit you between the eyes.
Exercise your own judgment here. If you like bitter, bold, strong coffee that lingers in your mouth long after drinking, you will likely love Lion Coffee's Kona. If not, try another variety.
You can also buy Lion Coffee Kona blends, with premium, hand-picked Arabica beans. I've not tried it myself, though I hear good things – given their pure Kona's tendency towards deep, boldly bitter flavors, I would imagine that this kind of blend works incredibly well, whilst saving you a little more money.
It isn't refined – go for the more expensive stuff for that – but it is lovely, and suits certain palates perfectly.
Don Francisco's
I'm not a big fan of the K-cup approach to coffee making, which Don Francisco's uses with their Kona blend. It is convenient, of course, but it doesn't usually elicit the best results, and the amount of packaging waste they generate is hard to stomach. However, they do have a place.
I would suggest that anybody use ground coffee wherever possible. But if you're in a hurry and have a compatible machine, it's always handy to have a couple of pods in the back of a cupboard somewhere.
I would recommend those couple of pods be Don Francisco's Kona coffee. First of all, Don Francisco has partnered with Terracycle for a recycling program that makes Don Francisco's coffee pods recyclable through terracycle.com. The coffee itself is a decent blend of the usual 10% Kona topped up with high-quality Arabica beans. The end brew you get is far from the best Kona experience going, but it is still very good, and it comes in far more affordable than pure blends.
The flavor is dark and rich, the espresso consistently smooth and even a little creamy, depending on the machine you use. If you want to keep it warm in a travel mug or flask, the flavor will remain for hours, making it a good one to pack on the way to work.
Final Thoughts
If you have the money to spend, always go with pure Kona. It is far better than pretty much any other kind of coffee going. Keep it vacuum-packed and dip into it on weekends or special occasions, or simply have it as a daily luxury. You really won't be sorry for parting with the cash needed to make it yours!
If not, or if you're simply looking for a boosted Arabica, be careful – there are a lot of rubbish products out there that use sub-par beans, both Arabica and Kona. However, the products on this list blend their beans sympathetically, giving you something that isn't quite Kona, isn't quite Arabica, but is absolutely gorgeous, nonetheless.
We are sorry that this information was not useful for you!
Let us improve this post!
Tell us how we can improve.