We all love coffee, right? I mean, that's a pretty safe bet for people reading this article, surely. Well now that we've got that established, let me ask you; what sort of coffee do you like?
I don't know about you, but I find that a much more difficult question to answer. There is just so much choice. Everywhere you look there is a new and different coffee available that you haven't tried, all different grain sizes, strengths, roasts, country of origin – where do you even start trying to take it all in?
Well, you can start with us. While we can't tell you which is your favorite coffee, we can certainly help you wade through all of the different options so you can focus on buying the coffees that you're really going to enjoy.
Today we're going to be looking at light roast coffee, and 8 selections that we have found to be some of the best available on the market today. Before that though, it's probably a good idea to establish exactly what light roast coffee is, and have a quick look at why it could become your go-to type of coffee.
Light Roast Signature Blend From Coffee Bros.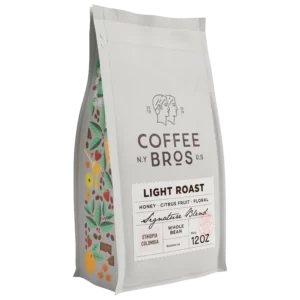 The Signature Blend Light Roast from Coffee Bros. is truly impressive for a light roast.
This blend offers a unique flavor profile. Its taste notes encompass sweet honey, fresh citrus fruit, and subtle floral hints, all blended together for a really special cup of coffee.
The flavor was definitely full of nuance and complexity. It had a nutty flavor that was simply delicious. The flavor is bright, beautiful, and full-bodied without being overpowering.
We highly recommend this blend to anyone looking for an enjoyable and memorable coffee experience.
Tasting notes: honey, citrus, floral
Caribou Coffee Daybreak Morning Blend Light Roast
What better coffee to kick us off than a Daybreak Morning Blend from Minnesota-based coffee giants Caribou Coffee?
Often seen as 'a smaller Starbucks', Caribou Coffee has grown exponentially since it was formed in 1992. While you can find its coffee shops all over America, it is doing the company a slight disservice to lump it in the 'coffee chain' category.
The Daybreak Morning Blend is a good example of why – it's a coffee that is packed full of delicate flavors, rather than having the more mainstream appeal of the coffee behemoths. To put it simply, there is so much more to these coffees than a lot of the competition – they are for coffee lovers, not just coffee drinkers.
Described as 'sunshine in your mouth' this is a wonderful light roast, blending coffees from the Americas and East Africa together. It is a soft, easy drinker that is a nice, calm way to kick off your day.
Even if you are usually a dark roast fan, I think you will be pleasantly surprised with how much body there is to this coffee – the taste really shines through though. You get the first hit of the cherry before the smooth caramel slides in. It is a clean taste, with no bitterness at all – a lovely consequence of the light roast.
As with all Caribou Coffees, it is a coffee that has been sourced responsibly – it is 100% Rainforest Alliance Certified, which means that it is "produced using water conservation methods and sustainable farming practices while protecting forests and wildlife habitat." They are a company that seems to take its environmental responsibility seriously.
All in all, this is a reasonably priced, full flavored, easy drinking coffee – use this as your base from which to compare other coffees and you won't go wrong.
Tasting Notes: cherry, caramel
AmazonFresh Direct Trade Rwanda Coffee Light Roast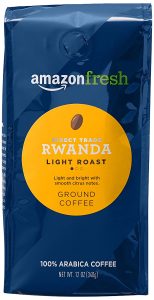 In the previous section we mentioned some of the biggest coffee companies in the world – so now it is somehow fitting to talk about a coffee from one of the largest companies in the world, Amazon.
I get it, Amazon is probably not the first name that pops into your head when you think about the most delicious coffee in the world. To be honest, when I was first tasked with trying out this coffee, I was incredibly skeptical – it's one thing to get an airbed delivered to my house within 24 hours, but they reckon they can make a great coffee? They should leave it to the experts.
It is with some surprise then, that I have included this Rwandan coffee on our list of the best light roast coffees – trust me when I say that it really wouldn't have made it on the list if it hadn't truly earned it.
This is a very versatile coffee – we used it in an espresso machine and gave us a really good shot with an excellent crema. We tried it in a filter coffee maker and it gave us a wonderfully smooth drink, with very little acidity (as you would expect from a light roast), with beautifully delicate flavors. When we used it with a French press, again, we found that it produced a really nice drink.
In their product description, they emphasize the importance of freshness in their coffee, and we absolutely agree – you can tell from the second you open the bag that this is a really fresh coffee. It would be nice if they added a 'date roasted' to the packaging to confirm this.
That is just a minor quibble though, and I have to say that Amazon has produced a great all-rounder here with this Rwandan Light Roast Coffee – you'll be hard pushed to find a better, more versatile coffee in this price bracket.
Tasting Notes: floral and hibiscus
Starbucks Blonde Roast Ground Coffee – Veranda Blend
It was inevitable, wasn't it? I wasn't going to be able to get through a list of coffees without looking at one from the giant of coffee giants, Starbucks.
First of all, some honesty – I'm not a huge fan of Starbucks, as a general rule. Aside from the sheer size of the business (and its impact on smaller ones), and the silly names that sound Italian, I don't like their coffee. In order to get the same 'Starbucks' flavor, they roast the coffee beans within an inch of their lives, which to me tastes too bitter – you miss out on all the actual coffee flavors.
The Blonde Roast (of course they couldn't just call it a light roast!) Veranda Blend is different though. The beans are not over-roasted, and you can taste the actual flavors in your drink, just as the coffee gods intended.
As you would expect from a light, sorry blonde, roast it has a soft and delicate taste to it. There is very little acidity to the taste, but what you do get is plenty of hits of the sweet flavors within. An ideal coffee for first thing in the morning while your taste buds are still waking up!
My one gripe is that they sell it in such large quantities. Don't get me wrong, in terms of value, you do tend to get a much better deal when you buy like this. However, as I have already alluded to, freshness is such an important factor when it comes to a great tasting coffee, so when you have a bag this big, it can be difficult to store it in a way that really keeps the coffee tasting great. Something to keep in mind if you were thinking of purchasing.
Overall, this is a good coffee from a huge coffee company. It's a good value (as long as you can store it properly once opened) and it's an incredibly easy drinker.
Tasting Notes: toasting malt and baking chocolate
Lavazza Organic ¡Tierra! Whole Bean Coffee – Light Roast
Over to Europe now, as we take a look at this offering from Italian coffee kings Lavazza. They have been making coffee products since 1895, and import beans from all over the world to create their unique blends – often mixing arabica and robusta coffees.
I think it is important to note that Lavazza is incredibly committed to the ethical side of coffee production. In 2004 they started the ¡Tierra! The sustainable development project has aimed to ensure a "100% sustainably grown supply chain". This involves improving the living conditions of the farmers and workers, as well as building new schools and infirmaries.
To continue that ethos, the beans used in this light roast are 100% organic and are certified by a number of different organizations from all over the world.
In order to get the right roast, they use a lower temperature, but leave the beans in it for much longer. I found that the result is that you still get that delicate flavor as with the other light roasts, but this seems to have a bit more body to it.
Again, it is a versatile coffee, although the grind is probably aimed at use with an espresso machine. As with all these coffees, we tried it in a filter coffee maker and French press, and the results were equally impressive in all three.
I really enjoyed the combination of the two types of beans, it really made for a smooth, yet quite complex, taste and aroma. I found that I could drink it at any time of the day and it always hit the spot.
It's a reasonable price, it won't break the bank at all, and it's an incredibly flavorsome coffee. You won't be disappointed with this one.
Tasting Notes: honey, malt, and chocolate
 Green Mountain Coffee Roasters Breakfast Blend, Single-Serve Keurig K-Cup Pods
Something a little bit different now, as we move away from the traditional coffees that are available on the markets and take a dip into the world of pod coffees, with this K-Cup offering from Green Mountain.
As part of the Keurig Dr. Pepper company, Green Mountain has been making coffee since the early eighties, born out of an obsession for coffee roasting from its founder Bob Stiller. Since then they have expanded into a household name and you can buy their coffee at Dunkin' Donuts and it was even available in Starbucks.
They were never going to miss out on the pod coffee trend, of course, and they have a great selection in that market. This particular light roast is another great offering.
This has a slightly more acidic taste than some of the other light roasts that we have looked at in this list, but it has a silky smooth flavor to it, with an enticing aroma. This is a growing theme on this list, but this is another incredibly easy drinker.
The pods themselves are very well made, which isn't always the case when dealing with K-Cups (and there is nothing more annoying than getting a pod that leaks the grounds, trust me). They are also recyclable, which is genuinely so reassuring for me. One thing that has traditionally put me off the pod coffees is the amount of waste involved, so it's great to see they've thought about this. Simply peel off the lid, empty the used grounds (great for composting) and recycle the empty cup.
As pods go, these are very competitively priced, so if you are looking for a decent light roast to use in your K-Cup, these are a great option. Not the only option, of course…
Tasting Notes: sweet and nutty
 Caribou Coffee Daybreak Morning Blend, K-Cup Pods
No, you're not going mad – you have already seen this coffee listed on this page, but there is a twist – this is the K-Cup version.
Now, you may think it's a bit of overkill to include the same sort of coffee twice in the same article, but trust me when I say that this genuinely deserves to be included in the list as, like the previous product, this is one of the best K-Cup coffees available on the market.
It's not always the case that really good coffee is replicated by its K-Cup counterpart, but Caribou Coffee has absolutely nailed it with this version of their Daybreak Morning Blend. Everything that is great about their 'regular' coffee grounds is replicated in these little pods.
The deep body, the smooth taste, and the hits of cherry and caramel all come out into every cup, and with that silky finish with no bitterness at all – which I find to be quite rare when it comes to using the pods – they can often leave a slightly harsh aftertaste.
It shouldn't come as a surprise that Caribou has produced great pods, but it certainly is a relief. At the price, they are well worth a try, and if you like your smooth, light roast coffees, these could be the pods for you.
Tasting Notes: cherry, caramel
McCafé Breakfast Blend Light Roast Ground Coffee
When I was (much) younger, my mom would refuse to take me to Mcdonald's. This was not out of any aversion to fast, or unhealthy, food, it was simply because she couldn't stand the coffee they served there.
If I was to tell her then, that some years later I would be including a Mcdonald's coffee in a 'best light roast coffee' article for publication on the internet, I can only imagine the look of disappointment (mixed with a bit of confusion about what 'the internet' was).
But, here we are!
Simplicity is the keyword here. Unless you're my mom, I'm guessing you've had Mcdonald's coffee before, so you have a pretty good idea of what you're going to get. This is what they serve in the restaurants as the 'Premium Roast' – it's an uncomplicated, easy drinking, smooth coffee. Why wouldn't you want to make that in your own home?
The flavors are incredibly delicate, with a slightly citrus tang, and so is the aftermath. I know of plenty of people that tend to suffer from stomach pains after coffee, but this one is so 'light' that none of them seem to suffer at all after drinking this Breakfast Blend.
As you'll probably expect, this is one of the more inexpensive coffees on our list and one of the best crowd pleasers. If you're looking for a coffee that you can serve to guests, or have people that are particularly fussy in the house, this is the coffee for you.
Tasting notes: citrus
Intelligentsia House Blend
We finish this list of the best light roast coffees with this fantastic offering from Chicago-based coffee pioneer, Intelligentsia.
These guys have been making coffee since 1995, driven by "the never-ending quest for the most extraordinary coffee in the world" – this is a motto I can fully get behind.
With our previous entry from Mcdonald's, we focused on the simplicity of the coffee. Well, this is quite the opposite. Bringing together beans from Columbia, Burundi, and Rwanda, and roasting them individually before blending them all together, is a much more complex offering.
That's not to say that it isn't easy to drink, however, it is just to say that there is much more going on with a cup of this House Blend. You'll know as soon as you start making the coffee – the smell is sweet. This is contrasted with the bright acidity of the taste, before then coming back to a silky light body, and sweet aftertaste. Your senses go on a complete journey with this coffee.
I would say that this is a coffee for true coffee lovers. You may not get everyone's seal of approval if you serve them a cup of this, but those people that come over and are really into their coffee will definitely appreciate this from Intelligentsia.
The company claims to want to make every coffee a memorable experience, and I have to say, they are really on the right track with this one. It's a delicious coffee, and one I think you will come back to time and time again.
Tasting notes: milk chocolate, mandarin, and apple
What Makes A Light Roast Coffee?
First of all, what do we mean by 'light roast coffee' – well, it has little to do with the color of the coffee that you actually drink, it is quite simply, coffee that has been lightly roasted.
So what does this mean for your drink? Well, before I get to that, a quick word on the roasting process to help us understand why it is important.
Before they are roasted, coffee beans are completely different from the beans you have in your head when you think of coffee beans. First of all, they are green, not that delicious chocolatey color that we would recognize. Also, they don't have that delicious coffee smell, they smell more like grass or soil – not particularly appealing at all.
So they need roasting. The beans will get darker as they absorb heat, and it is at this stage that you will determine whether they have a light roast (or medium, medium-dark and dark roast for that matter).
Obviously, the light roast beans will have had less roasting than the other varieties – they are removed from the heat as soon as they start to crack. This means that they often still have a slightly earthy smell, but the flavors won't have been lost in the roasting process. They also won't have any oil on them as they won't have been roasted for long enough to bring the oils to the surface.
Ultimately, this means that your coffee will have less body, but the flavors of the original beans will be much more prominent. This is great for particularly distinct and unique coffee beans – you'll really get to taste what makes these beans special when they are lightly roasted.
It is (another) common misconception that dark roasts contain more caffeine than light roasts. You can see the logic there – a richer flavor, more full bodied drink would mean more caffeine, right? Nope! Conversely, you might think that the less a bean is roasted would mean there is less caffeine lost, so a light roast is more caffeinated.
Again, nope… In truth, there is very little difference between the two ends of the spectrum in terms of caffeine content (the difference is so marginal that it depends on whether you scoop or weigh your coffee when you measure your portions), so you don't need to worry about that. Instead, focus on the flavor.
If you're going to focus on a light roast coffee, these are our recommendations. Pick one of these to get a real sense of what a light roast truly offers.
We are sorry that this information was not useful for you!
Let us improve this post!
Tell us how we can improve.