Nothing wakes you up in the morning (or in the afternoon after lunch), like a nice cup of Joe. As wonderful as that feeling is, wouldn't you like your coffee to be made without chemicals or filler ingredients? We thought so. So we figured you would want to know the best way to make the most of your coffee. And that is to go organic.
And this is not just about being responsible towards the planet or supporting sustainable and fair trade practices that are beneficial to the farmers who grow the beans, which it is.
Organic coffee also does a great deal of wonders for your body. For instance, because your coffee no longer has artificial additives, you will get the natural energy kick you have been looking for without an acidic beverage floating around in your stomach.
It is also high in antioxidants along with minerals and vitamins that are good for the immune system. And if you have not figured it out already, organic coffee is free of pesticides and fertilizers which reduce the risk of you ingesting harmful chemicals.
So, here is a list of organic coffee brands that will get you out of the vicious chain of depending on chemicals. Take a look.
Our Top Organic Coffee Recommendations
For those who are looking to start out with organic coffee, this is a great selection of brands – so let's take a look at what made it in our round up of the best organic coffee brands.
Volcanica Ethiopian Yirgacheffe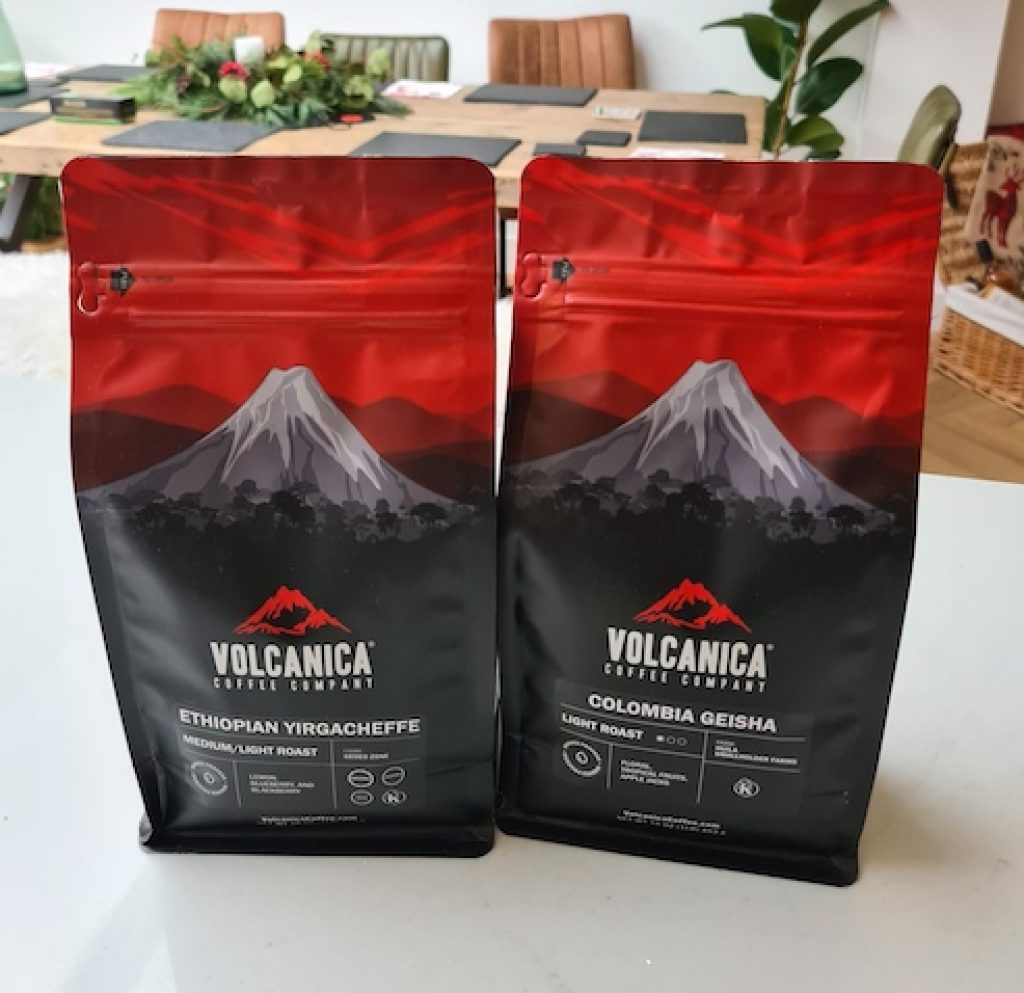 Volcanica have one of the widest ranging choice of organic coffee and after testing we were suitably impressed by one of their offerings in particular. Their Ethiopian Yirgacheffe is actually one of their best sellers and it is easy to see why this South Ethiopian organic coffee is such a hit with their customers. Made with a traditional arabica that is grown on wild coffee trees, this coffee has an almost wine like complexity with fruit-like flavours of blueberry and blackberry on the palate.
This coffee is both Fair Trade and Kosher certified and topped our list when it came to flavour. Volcanica will give you the full back story to this coffee on their website but from a taste point of view you can't go wrong with this medium to light roast coffee.
We tested the whole beans and ground them finely to make a standard coffee using an Aeropress and this produced excellent results. We also tested the Colombia Geisha light roast organic coffee from Volcanica and this was also very good. We'd suggest choosing based on the type of roast you prefer but with 10+ types of organic options to choose from you can't go far wrong with Volcanica.
Features
Flavor

: Lemon, Blackberry and Blueberry

Item Form

: Choice of 4 options

Ingredients

: Arabica coffee

Certified

: Yes

Source: Grown by small farmers from the Gedeo Zone of Southern Ethopia
View All Volcanica Organic Coffees
PROS:
Topped our taste test
Truly ethical coffee with a real story behind it
Four choices of grind to choose from (we tested whole beans)
Washed process
Fast shipping when you buy direct
View All Volcanica Organic Coffees
back to menu ↑
Equal Exchange Organic Ground Coffee
This is a bag of classic ground coffee from Equal Exchange. If you like your coffee sweet with a blend of cream and maybe just a touch of chocolate brownie and roasted nut and caramel, you have truly hit the jackpot. This is a medium roast and French roast blend that you will come to love instantly.
It is also 100 percent Arabica coffee which is grown sustainably by farmers from cooperatives in Latin America, Africa and Asia. This coffee is gourmet quality and certified kosher.
Speaking of being certified, those of you who love fair trade will also enjoy learning that this one qualifies as such and is also certified as organic by the USDA. The manufacturer recommends just a couple of tablespoons for six ounces of water.
Features
Flavor

: Breakfast blend

Item Form

: Ground

Ingredients

: 100% Arabica coffee

Certified

: Yes, by the USDA

Source: Grown by small farmers and collected at farmer co-ops
Check Latest Price Of Equal Exchange Coffee
PROS:
Value for money
Perfect for those who like their coffee between watery and bitter
The mild chocolate flavor is a great selling point
Can be consumed without cream or sugar
back to menu ↑
Lifeboost Medium Roast Ground Organic Coffee
Here's another ethically sourced coffee for those who are tired of the stuff coming out of big labels. The first exciting thing about LifeBoost is that this coffee is low in acid and high in flavor along with being a non-GMO product.
Now, the beans are sun dried and watered in spring water. You get the taste of pure and natural coffee from the mountains of Central America because that is where it's grown.
The company works with exclusive farms that are bird friendly. You will also like the fact that the beans are all individually hand chosen to make sure the purity of the product is not compromised.
About the acid factor. If you didn't know it already, coffee is generally quite acidic which is why your stomach might sometimes feel weird after a cup. You are probably also well aware of the dental problems that this wonderful beverage can cause.
Luckily for you, LifeBoost takes care of that with this antioxidant-rich organic coffee. You can enjoy your cup without worrying about the obvious problems caused by a harmless cup of coffee in the morning.
It has also been tested by a third party to ensure there are no pesticides, heavy metals or toxins in the product that are present in inorganic coffee products. In fact, the manufacturer is so confident that if you don't like what you have tasted, they are happy to give you your money back within 30 days and they say they highly doubt it.
Features
Flavor

: Medium roast

Item Form

: Ground

Capacity

: 12 ounces

Dimensions

: 8.31 x 4.69 x 1.02 inches

Source

: Mountains of Nicaragua

Tested

: Yes, by a third party
Check Latest Price Of Lifeboost Ground Coffee
PROS:
Third-party testing for pesticides and mycotoxins makes it all the more reliable
Low in acid levels and helps avoid teeth issues
Non-GMO product
The manufacturer offers a money-back guarantee
Hand washed and hand-selected coffee beans
CONS:
Customers have complained about orders being mixed up
Relatively expensive
back to menu ↑
Subtle Earth Medium Roast Organic Coffee
Here's another organic coffee brand that is 100 percent Arabica coffee. You will experience a rich depth of chocolate with every cup and since it is low
on the acidic values, you might have trouble stopping at one cup. The coffee comes in whole bean form which is what gives it that velvety edge.
You will taste smooth milk chocolate in every cup and if you are an aficionado, you might even notice a smidge of honey, caramel and cocoa. It is slightly caramelized which makes the beans taste a bit roasted with a sweet aftertaste. You will find this coffee in light, medium-dark and dark-roasted variants.
This is also a non-GMO product and comes from Honduras as part of a Sharing Certified Program. And you might want to know that the manufacturer is confident enough in it to offer a refund. This Subtle Earth whole bean coffee is certified to be organic by the California Certified Organic Farmers (CCOF) which comes under the US department of agriculture.
Features
Flavor

: Whole bean coffee with rich milk chocolate and medium roast

Brand

: Cafe Don Pablo

Item Form

: Whole bean

Specialty

: GMO-free

Capacity

: 2 pounds

Dimensions

: 4 x 5.5 x 11 inches
Check Latest Price Of Subtle Earth Coffee
Cons
PROS:
No chemicals are used in the processing
Tastes fresh and is value for money
Rich in flavor
CONS:
One customer found it to be too strong and/or burnt
Another customer said they found a stone in the bag
A third customer said that the quality has dropped in the recent times
back to menu ↑
Kicking Horse Medium Roast Whole Bean Coffee
If you are looking for medium-roast, whole bean coffee, this is a winner. The Kicking Horse Coffee is smooth and savory at the same time. The coffee beans are an homage to the trio of the Canadian Rocky Mountains.
Now, the beans themselves are well rounded and you will be able to detect a hint of sweet tobacco, cocoa and stone fruit in the flavor. This coffee is pretty great whether you opt for a French press, a drip machine or a pour over and cold brew. These are also the recommended methods of making coffee with these beans.
The beans come from Indonesia, Central America and South America and are grown carefully by environmentally responsible farmers. Also, these farmers are connected to sustainable businesses which is how the beans made their way to the bag in front of you.
The ingredients are not just certified to be 100 percent organic, but also fair trade and kosher. And yes, this is also Arabica coffee. It is an excellent choice whether you are thinking about yourself, the farmers who grew the beans or the planet.
Features
Flavor

: Toasted coconut, sweet dried fruit, chocolate malt; medium roast

Capacity

: 2.2 pounds

Dimensions

: 3.78 x 6.14 x 11.57 inches

Item Form

: Whole bean

Certified

: Yes
Check Latest Price Of Kicking Horse Coffee
PROS:
Bag comes with airtight storage capability
Fresh beans
Rich and aromatic flavor
Value for money
Relatively less acidic
CONS:
One customer said they got a bag that was four months old so it wasn't fresh
Be sure to check the size of the bag before ordering because some customers had a bad experience with that
back to menu ↑
Volcanica House Decaf Coffee
This one is from a brand called Volcanica and it is a lovely mix of coffees from South America and Central America. The name is explosive and the flavor is bold while still retaining a little bit of sweetness.
The whole beans are medium roasted which brings their true flavors out and produces a remarkable aftertaste too. This is a decaf variant and it is made so using the Swiss Water Process which is 100 percent free of chemicals and leaves the coffee 99.9 percent free of caffeine. What's better, it is done so without compromising the flavor.
Now, like our previous choices, this one is also sourced responsibly from coffee farms and local cooperatives. The manufacturer has developed relationships with them over many years to make sure you get the best product while they get a fair price.
Apart from this variant, the manufacturer offers over 100 other premium coffees from single origin to peaberry to estate to flavored. And if you'd like, you can even get them freshly roasted upon demand.
Features
Flavor

: Decaf

Brand

: Volcanica coffee

Item Form

: Whole bean

Capacity

: 1 pound

Dimensions

: 3.5 x 2.5 x 11 inches

Certified

: Rainforest alliance and fair-trade certified
Check Latest Price Of Volcanica House Coffee
PROS:
Mild flavor
Value for money
Airtight storage in the bag
Responsibly sourced
Low-acid coffee
Relatively less acidic
CONS:
Some customers found the roast to be inconsistent
Some might find the flavor to be too mild
Might be tough to grind the beans
back to menu ↑
365 By Whole Foods Market
This one comes from a rotating blend of beans produced by small farmers all across the Pacific Rim Islands and Latin America. You will see that
inside the bag, the beans are well roasted and are in a chocolate brown color. And it's not just the color, your cup of coffee will have a rich taste of chocolate and caramel.
The acid is not very tame so if you are looking to calm your stomach, this might not be the one for you. Since it comes from Whole Foods you can rest assured that the ingredients are premium level even when the price won't burn a hole through your pocket. This is also certified organic and is a kosher delight for your taste buds in the morning.
Features
Flavor

: Chocolate, Caramel

Brand

: 365 by Whole Foods Market

Item Form

: Ground

Specialty

: Organic, Kosher

Capacity

: 1.5 pounds

Dimensions

: 8 x 5.25 x 3.75 inches
Check Latest Price Of 365 Organic Coffee
PROS:
Value for money
Fresh beans
Rich flavor
CONS:
Not low-acid coffee
Not everyone likes the deep brown texture
back to menu ↑
Mayorga Organics Café Cubano Roast
This is a Cuban-style coffee with a dark roast and a touch of vanilla for sweetness. You will also get a smoky, syrupy taste in your cup thanks to the bold but smooth finish of the coffee beans. This is low-acid coffee which is easy on the way down and stays that way in your stomach.
The beans come from Nicaragua, Honduras and Peru and are put through a slow roasting process which gives the coffee a signature taste. It is high-quality 100 percent Arabica coffee
that is shade grown too.
They are sourced from certified organic small farmers which is another win for the little guys with the cooperatives. The quality is inspected and certified to be non-GMO along with being organic by the USDA. The manufacturer is confident in the product and offers a money-back guarantee within 30 days if you are not happy with what you got.
Features
Brand

: Mayorga

Item Form

: Whole bean

Type

: Dark roast

Capacity

: 2 pounds

Dimensions

: 9.8 x 6 x 4.5 inches

Specialty

: 100 percent Arabica and shade grown

Origin

: Nicaragua, Honduras and Peru
Check Latest Price Of Mayorga Organics Coffee
PROS:
Ingredients are of high quality and free of GMO
Coffee is low in acid and rich in flavor
Sourced responsibly from small farmers
Money-back guarantee offered
Value for money
CONS:
Lack of bold flavor is not for everyone
Some customers said the quality is inconsistent
back to menu ↑
Java Planet Organic Coffee Beans
Our penultimate recommendation for an organic coffee brand is this single-origin coffee from Guatemala. This is Java Planet's second most popular low-acid coffee that is shade-grown under banana and guava trees. That's why this coffee is likely to have delightfully fruity undertones.
It is medium-roast which keeps the chocolate and caramel flavor of the beans intact. It is also certified to be 100 percent Arabica coffee which means no more pesticides and GMOs are used in the process. It is also grown on bird-friendly farms and all the ingredients are fair trade which is great for the farmers and the planet.
Whether you go for French press, pour over or espresso, you will not be disappointed.
Features
Flavor

: Chocolate, Caramel

Brand

: Java Planet Organic Coffee Roasters

Item Form

: Whole bean

Certified

: Yes, for being organic and GMO-free

Dimensions

: 8.27 x 4.17 x 2.72 inches

Capacity

: 1 pound
Check Latest Price Of Java Planet Coffee Beans
PROS:
Smooth and fully flavored coffee beans
Roasted in small batches for consistency
Available in three different sizes
CONS:
Some customers said they received a bag that was too old
Not as fresh as advertised
back to menu ↑
Death Wish Dark Roast Coffee Grounds
Last but most definitely not the least, in the manufacturer's own words this is the world's strongest coffee. But even some customers said that one doesn't need drugs, prescription or otherwise, to stay on red alert if you have these coffee beans in your kitchen pantry. So, if you like your coffee to have a little extra kick in the morning, this is the one you have been looking for. It is bold, delicious and intense.
A sip of this coffee will make it almost impossible for you to go back to the cafe-bought coffee because of its smooth and subtle blend with a rather unique cherry and chocolate flavor profile.
This bag contains both Arabica and Robusta coffee beans which are very craftily blended by experts for a dark roast ground coffee experience. It is also made of ingredients that are fair trade and certified to be organic by the USDA.
Features
Brand

: Death Wish Coffee Co.

Item Form

: Ground

Dimensions

:  4 x 3 x 9 inches

Capacity

: 1.03 pounds
Check Latest Price Of Death Wish Coffee Grounds
PROS:
Value for money

Dark roast for those who like strong coffee

Low-acid coffee

Aromatic

Does not have an unpleasant aftertaste
CONS:
Not well suited for those with heart conditions
Buyers' Guide: All You Need To Know About Organic Coffee
If you are a newbie in the business of organic coffee brands, you will need a tiny little guide to help you understand the specifications that each manufacturer is extremely proud of. If you don't know what they are talking about, don't worry. There is a first time for everything and here's all you need to know before you figure out which brand is the one for you.
Why Care About The 'Organic' Part Of Coffee?
Apart from the health benefits, there are quite a few things about the growing and processing of coffee beans that you need to know. In the past few years, many organic coffee brands have populated the market. Here's what they mean when they call themselves organic.
Organic Soil: Growing coffee beans organically does not just mean that no pesticides or other harmful chemicals are used in the process. For your coffee to be truly organic, the soil it is grown in has to be organic.

In some countries, that means that it should have been free of chemicals for three to five years, until the residue chemicals from the previous batch of crops wear off.

In some other countries, it just means that this particular crop is treated without chemicals. So, you need to know where the beans are sourced from and how their governments define organic soil.
Shade Grown: Then there is the matter of pest control which you might think is a necessity. But if the coffee beans are grown in shade there are fewer chances of a pest attack which means the crop actually does not need pesticides to be safe.
Then we move on to processing which is about how the beans are collected and processed. Coffee beans are processed in both wet and dry methods and they can both be organic.
Wet processing takes a lot more time and water when done without harmful chemicals which means those products can be more expensive. On the other hand, dry processing is relatively easier.
What To Know About Coffee Roasting
The specifications of all organic coffee brands also talk about how the beans were roasted. If you are looking at regular coffee beans, you will notice that dark roasts are very popular because this eliminates low-grade options. But when you are looking at specialty beans, roasting is a process that makes the flavor come alive.
Light Roast
You can see this for yourself. The beans are usually in a dark tan color and do not have any oils on the surface. As the name suggests, these have been roasted very little and retain the original flavor quite well compared to the others.
If the coffee beans are supposed to be fruity or floral, this is the best way to roast them. Lightly roasted coffee beans are not bitter and have a lovely aroma to them. But it is also tough to grind these beans because they are still dense. Careful when you put them in the grinder.
Medium Roast
These beans are usually light brown in color and also lack surface oils. They carry the unique features of the farm or the place they were grown in which gives them a smoother flavor.
This roast is typically used for beans which are likely to have exotic flavors. The idea is to trim the rough edges and keep the original characteristics live and well. Medium roast beans often have sweetness in the form of honey or caramel. The roasting process also keeps the acidity at bay. The beans might be a little bitter but that's usually meant to be part of the flavor (or the brand's charm).
Dark Roast
When specialty coffee beans are put through dark roast, you will see that they are still not as dark as commodity coffee beans. That means they will have a dark brown color but you can see some surface oils. Dark roast does not retain any of the original characteristics of the bean but they do have bright acids and some exotic flavor notes.
FAQs
Q: What Are The Health Benefits Of Drinking Organic Coffee?
A: Organic coffee that is certified to be 100 percent as such by the USDA comes with health benefits that are worth mentioning. This is because it is said to contain more minerals, vitamins and antioxidants than your regular, commodity coffee. These antioxidants are good for the immune system. But you should know that this is not a whole lot different than regular coffee.
Q: What Are The Toxins In Regular Coffee?
A: Regular coffee is grown and processed with a lot of help from harmful chemicals that we could all do without. All the pesticides used in the process are toxic for human consumption. So, that's one point. Now, a lot of these crops are also sprayed with synthetic pesticides that target and destroy specific pests which might be great for certain crops but is, in general, catastrophic for the planet (and for the consumption of humans).
Some (not all of them) synthetic pesticides also contain carcinogens, among other things, which are harmful to those who are working in these fields. 
Q: What Is Arabica Coffee?
A: The specifications in quite a few of the products we mentioned proudly talk about being 100 percent Arabica, if not a blend. Why does it deserve a special mention? Well, for starters, these plants do not grow a whole lot of coffee cherries and are delicate.
That's a good thing based on simple logic which is that when the plant has fewer branches, each bean gets full attention and is well-nourished. This is kind of like having a classroom with a fewer number of students so each one gets the teacher's full attention. This kind of nourishment gives the bean a great complexity in terms of flavors, which is absolutely boast-worthy.
But not all of them taste the same. Arabica coffee is also known to have a diverse range of flavors with crisp acids and sweet sugars which makes it a popular item on the ingredients list of many specialty coffee shops across the world.
Wrapping Up
There is a lot more to talk about when it comes to organic coffee. For instance, you might have also noticed single-origin versus blended coffee.
Single-origin coffee comes from one farm and the flavor is usually consistent. This means no extra effort needs to be made in the processing to even it out. These are usually seasonal and last about two months. Their blend is also relatively less consistent than blended varieties because of the lack of focus on this point during processing.
Blended beans come from different places, and manufacturers usually find interesting combinations to create a unique taste. It keeps things exciting for you and the manufacturer. The downside is that the flavor doesn't have as much density and the exoticism might get a bit too adventurous once in a while.
Hopefully, this information has guided your path towards supporting sustainable farming practices while enjoying your delicious Java every day.