The Best Peaberry Coffee: Our Tasting Notes and Review
When it comes to coffee, there are a lot of choices out there. But what is the best peaberry coffee? We've ordered different peaberry coffee blends from a number of coffee companies and have compiled a list of the best peaberry coffees for this year, along with our tasting notes and review.
So whether you're looking for a light and fruity coffee or a rich and chocolatey one, we've got you covered with our picks of the best peaberry coffee that made our list.
What Is Peaberry Coffee And Where Does It Come From?
If you're a coffee lover, you've probably heard of peaberry coffee beans. But what are they? Peaberry coffee beans are simply coffee beans that have a unique oval shape. They're named after their resemblance to peas.
While most coffee beans are flat on one side and round on the other, peaberry beans are completely round. This happens when the coffee cherries on the coffee plant only develops one bean instead of the usual two.
Because they're a rarity, peaberry beans are often more expensive than regular coffee beans. Due to their unique shape, peaberry beans are often medium to dark roast. This produces a bolder and more earthy cup of coffee which this type of bean is known for.
Peaberry coffee is produced in the same way as any other kind of coffee. The difference is just in the formation of the bean.
Peaberry coffee is grown in many coffee producing countries by coffee farmers in Brazil, Ethiopia, Kenya, Tanzania, and Hawaii. The geisha beans are grown at an altitude of about 5,000 feet above sea level.
Our Top 6 Best Peaberry Coffee Compared By Different Tasting Notes
There are different types of peaberry coffee, and each one has its own unique flavor profile. We have compared our top choices for the best peaberry coffee beans by their different tasting notes and the best places to order them so you can try them yourself.
Colombian Peaberry Coffee – Medium Roast – By Volcanica
This is a truly amazing medium roast peaberry Colombian coffee from the always excellent and fresh Volcanica coffee company. We absolutely loved the taste and aroma of this coffee and you can definitely taste the quality.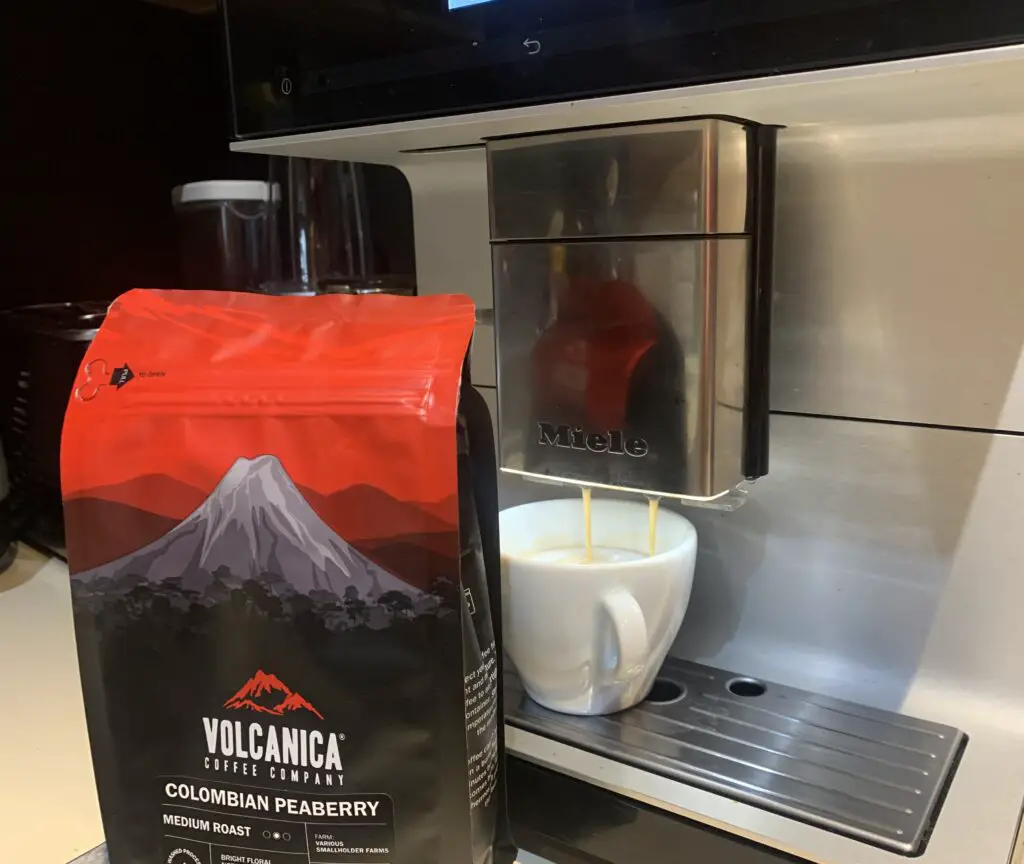 The packaging accurately describes bright floral notes, fruit flavors, and hints of cocoa and cinnamon. We taste a flavor profile of smooth dark cherry with a subtle spice taste at the end. The chocolate flavor is not very strong, but it doesn't need to be. This tastes wonderful as it is.
Volcanica provides an extensive range of the best peaberry fresh roasted coffees available currently. We tried this Columbian peaberry medium roast coffee in a variety of different types of coffee drinks and due to its rich flavor profile, it consistently performed excellently.
It makes a particularly delicious early morning expresso but works equally well as a mid afternoon cappuccino or latte. This is not to say that it does not work as a fine long black or americano as well.
We would have no hesitation in recommending this amazing whole bean coffee as the best coffee made with peaberry whole beans. We are sure you will love the added rich flavor that peaberry coffee beans uniquely provide.
Tanzania Peaberry Coffee – Medium Roast – By Volcanica
Volcanica's Tanzanian Peaberry coffee is a medium roast with a bright, fruity orange flavor. It has a pleasant acidity and a smooth body.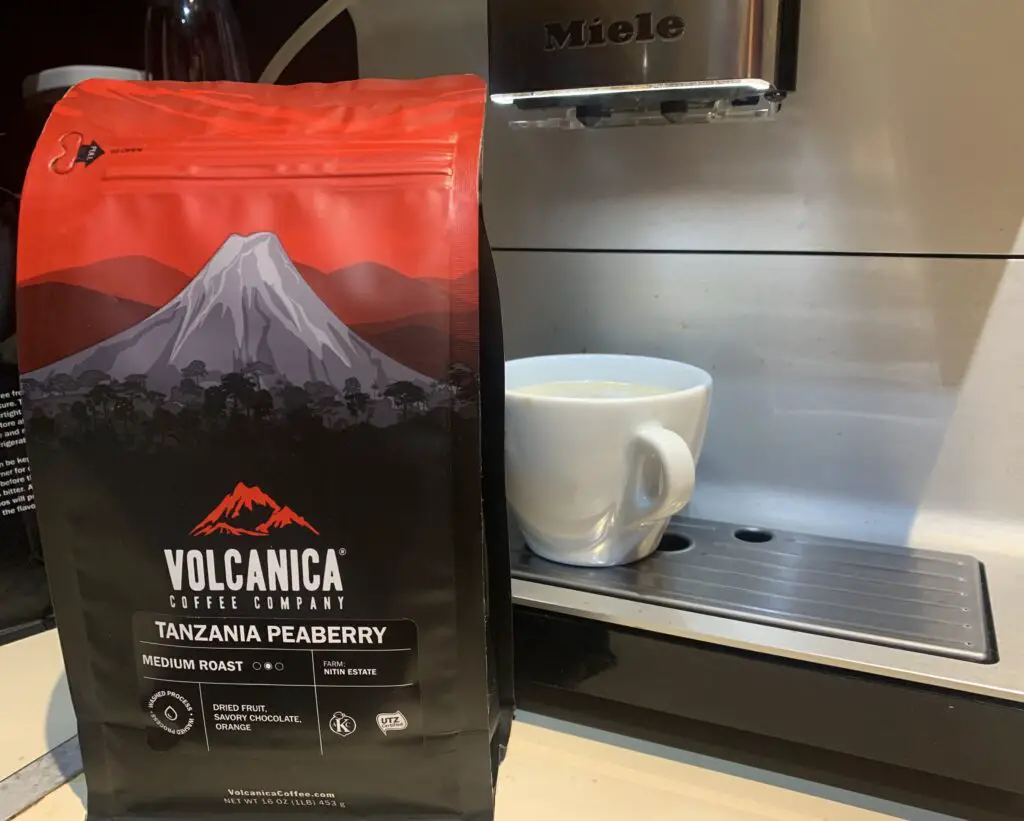 This peaberry coffee bean is grown in the highlands of Tanzania on the Nitin estate at altitudes of 1600 feet. The coffee beans are hand-picked and then sun-dried, which gives them their unique flavor.
We tried this coffee as a cappuccino, latte, and also an iced latte. It was beautiful each way, but the iced latte is a real summer treat! It's so refreshing and this bean makes it especially delicious because of the hints of fruit.
This bean works in a number of different coffee varieties which makes it really versatile. It is an exceptional coffee!
Costa Rica Peaberry Coffee – Medium Roast – By Volcanica Coffee
If you are looking for a unique coffee to try, then Costa Rica peaberry coffee is a great option, but it may not be for everyone! Costa Rica peaberry coffee is medium-bodied and has notes of almonds and honey, but mainly lemon.
In the different types of coffees we made with milk or without, we did get a big hint of lemon in each sip. That's why it is a particular taste that you either absolutely love or do not care for.
This type of coffee is roasted by specialty coffee roaster Volcanica who knows how to bring out the best flavors in the beans. When you drink Costa Rica peaberry coffee, you will taste a rich and full-bodied coffee with a hint of sweetness.
The coffee is well-balanced and has a really nice acidity. It is a great coffee for those that like a softer, more balanced cup of coffee.
Hawaiian Kona Peaberry Coffee – Dark Roast – By Kona Coffee
This special Kona coffee from the Koa Coffee company is an excellent dark coffee. It has a rich, full-bodied flavor with a hint of sweetness.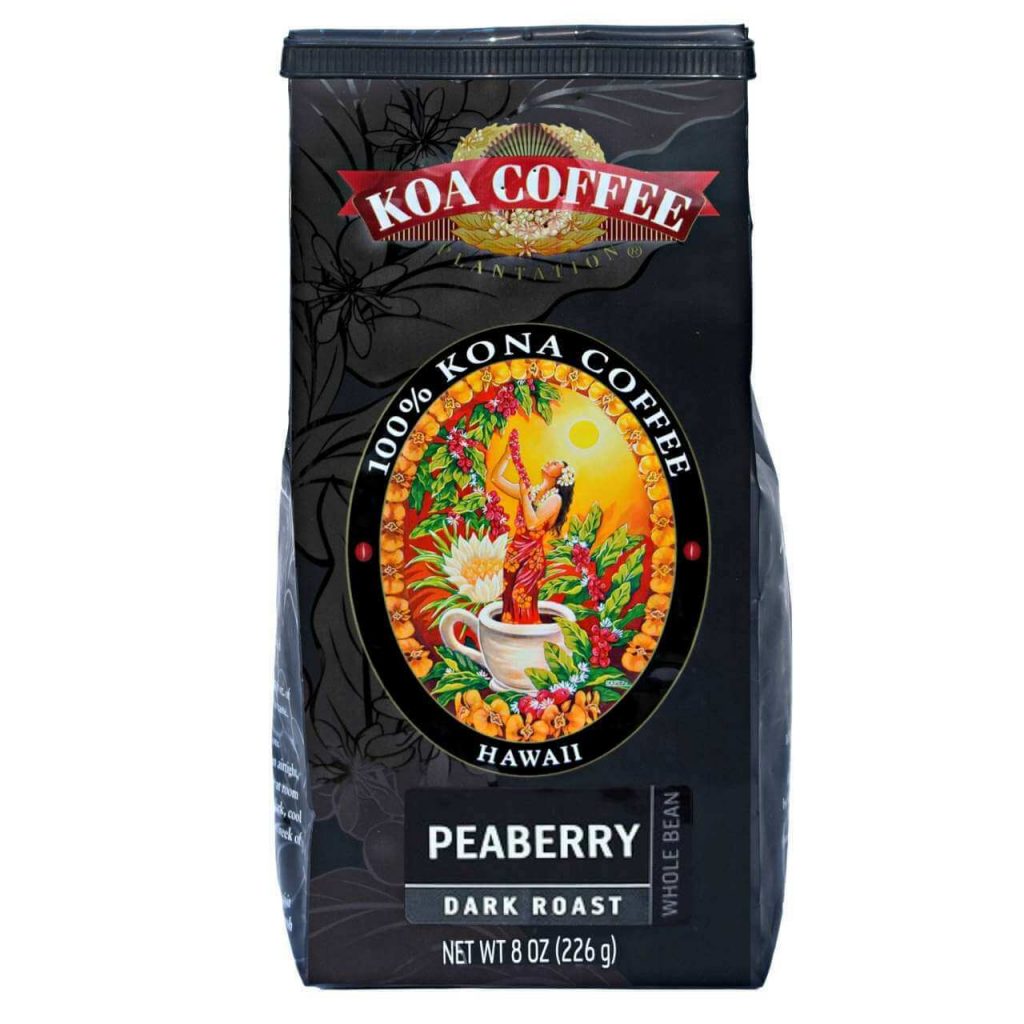 We ground these whole beans directly in our bean to cup coffee maker and tried it as a long black and cappuccino. Both were divine coffees that are flavorful and aromatic.
Peaberry Kona coffee is perfect for those who enjoy dark roast coffee. Keep in mind that because of the dark roast, this will be a lot stronger than the other medium roast coffees on our list.
You'll get the best results if you don't add coffee creamer or sugar to this brand. We tried to add sugar and creamer, but the coffee wasn't as flavorful as it was without any additions. The flavor profile got a bit lost.
If you are looking for a smooth, silky gourmet coffee then this is the one for you! 
Costa Rica Peaberry AA Peaberry Coffee – Medium Roast – By Doka Estate
Another Costa Rica peaberry coffee made our list. That's because this one of the best we've tried and we keep coming back to it.
This is a fabulous medium roast coffee with a natural sweetness and intense hints of lime that counter the bitterness that accompanies any coffee.
Because of this unique contrast of the lime and bitterness of coffee makes the overall experience very pleasant. We drink a freshly ground cup of Doka Estate peaberry coffee every morning and we always enjoy it.
If you're looking for a consistently great medium roast coffee with a peaberry bean then this is the one for you!
Sumatran Gayo Peaberry Coffee – Medium Roast – By Volcanica
Volcanica's Sumatran Gayo Peaberry coffee is a medium roast that is perfect for those who enjoy a low acidity level cup of coffee.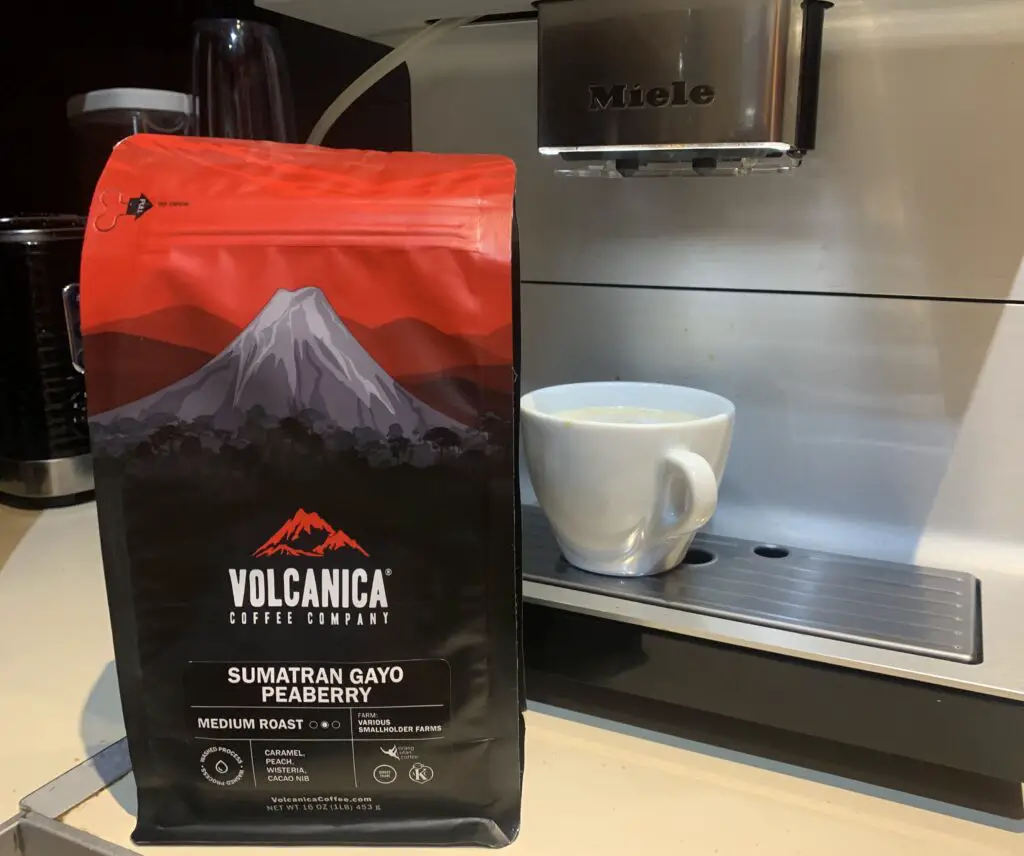 This coffee is grown at an altitude between 4,500 to 6,000 feet above sea level in the area of Lake Laut Tawar. The area is in the center of Nanggroe Aceh Darussalam Province in Indonesia, where the climate and soil conditions are ideal for producing high quality coffee beans.
These beans are roasted using a process that ensures that the acidic components of the coffee are processed out and this results in a smooth coffee that is easier on the tummy!
The flavors we tasted in the different coffees we brewed with these beans were caramel, a hint of chocolate, and a fruity aftertaste. All of these are great flavors that compliment this coffee perfectly.
FAQ
Why Is Peaberry Coffee Expensive?
The price of Peaberry coffee is high because it is a premium coffee. The beans are rare and difficult to find, so the coffee is more expensive than other types of coffee.
Peaberry coffee is also only found in 5% of the crop and is removed by hand. The supply is low and the demand is high. This combination of factors makes Peaberry coffee one of the more expensive coffee beans in the world.
Is Peaberry Coffee Stronger than Other Coffee?
As a whole, peaberry coffee is not stronger than other coffee. The strength of coffee depends on many factors including the type of bean, the roast, and the grind.
Peaberry beans are a type of coffee bean that is rounder and smaller than other beans. This can lead to a more intense flavor, but it does not make the coffee inherently stronger.
Final Thoughts
We taste tested a number of peaberry coffees and have chosen our favorites to recommend to you but remember that what tastes good to us might not taste good to you! This is why we have included a variety of our favorites in this article.
The coffee peaberry whole beans are brewed with is truly delicious and satisfying. That's why this bean is so rare and is also on the expensive side… but it is so worth it! Try it out and experience it for yourself.
Since a lot of these recommendations are medium roast but if you prefer a dark roast, we have a great list of our best dark roast coffee beans that you can check out.
We are sorry that this post was not useful for you!
Let us improve this post!
Tell us how we can improve this post?