Cuisinart Coffee Center Review
After reading this Cuisinart Coffee Center review, you should have a better understanding of what to expect if you absolutely can't live without your drip-coffee, basket-brew system despite wanting the flexibility afforded you by a single serve K-Cup option!
Most of us (oh dear, are we dating ourselves here at CoffeeGrindGuru or what?) will remember the days of big, bulky VHS tapes. What's worse, we even remember going to places like Blockbuster Video or Hollywood Video to actually rent movies and films.
Eek!
Despite all that, however, and even though both of those big-box rental agencies went the way of the dinosaurs, one 'throwback' classic certainly has yet to go extinct and is, more than likely, still hanging about in your kitchen:  The 12-cup Mr. Coffee Machine.
This stalwart of drip-coffee devotees the world over is by no means on its way out à la the VHS tape or the mighty T-Rex, but it could certainly do with a little upgrade and redesign.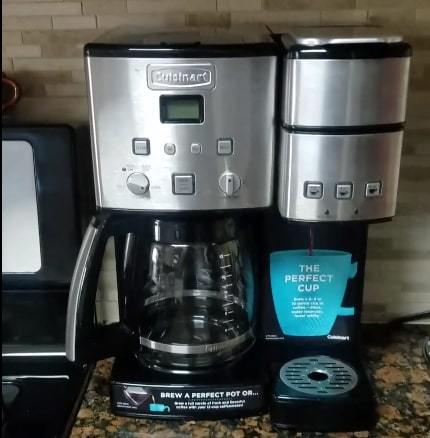 Just think about it. How many times do you actually consume all 12 cups o' joe? Rarely, if ever, right? How about the number of instances where you got so sick and tired of brewing the same single origin day-in and day-out because you bought a hefty three-pound bag and, so, instead dashed out to your local café for one cup of their blended varietal at $3.00 for a single 8-ounce serving?
Again, eek!
But that's where Cuisinart and its genius design team can come to the rescue (again, we might add)!
They have effectively re-created the VHS and DVD combo of 2000 with the addition of coffee and retitled the tie-up The Cuisinart Coffee Center, or SS-15, which effectively pairs the classic Cuisinart coffee maker with a K-Cup option.
Now, we're not saying it's perfect (we'll let you be the judge of that, dear reader), but the concept alone bears some consideration given its ability to brew a single K-cup and a family-sized (or CoffeeGrindGuru.com approved mega batch) of coffee!
That said, the Cuisinart Coffee Center (i.e., SS-15) might just be the best 2 way coffee maker on the market!
Cuisinart Coffee Center Key Features and Specs

Let's take a look at some of the key specs of the Cuisinart Coffee Center:
Easy to use control panel
Programmable 12-cup coffee maker
Charcoal water filter
Adjustable heat plate
Drip filter basket
Removable drip tray
Stainless steel for easy cleaning
Cuisinart thermal carafe
Removable capsule holder
Single serve K-cup option
Great build quality
Is The Cuisinart SS-15 Coffee Center Best In Class?
We here at CoffeeGrindGuru.com pride ourselves on selecting, reviewing, and recommending only the finest in coffee-brewing technology.
That said, and while we have reviewed similarly high-quality products from Cuisinart and its competitors, you can rest assured that this brand continues to not only come to market with interesting ideas, but also listen to customer feedback on design flaws and adjust their products based on what works.
We will discuss this ongoing partnership a bit further on since not everyone will agree with our take on this 2 way coffee maker and we are humble enough to recognize that sometimes VHS and DVD players, er, or large coffee makers with K-Cup options, don't deliver on all their promises.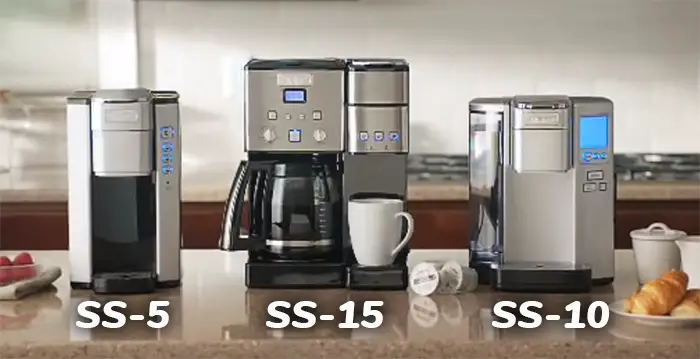 Still, and moving on, how else does this iconic brand, born in 1973 courtesy of Julia Child herself, continue to revolutionize in-home cooking and entertainment? Easy! Cuisinart truly believes that everyone should be able to "Savor the Good Life" by making their products both reliable and affordable over the long-haul. They are able to do this by not only offering 3-year warranties but also guaranteeing safe operations when heating elements and cords are involved.
Consider that the SS-15 is only one in a family of 2 way coffee makers, which include the SS-5 and SS-10. The latter two, however, are really only suitable as coffee makers with K-Cup options despite water reservoirs of 40- and 72-ounces, respectively.
While that definitely could help you entertain a few guests, especially with flexible single-serve size options ranging from four to 12-ounces, neither come with the Cuisinart thermal carafe or the four-hour auto-off option.
Another dual-use, VHS-meets-DVD player option is the Cuisinart CHW model. This member of the family also comes up a bit short, though, despite its having a 12-cup Cuisinart thermal carafe, but no K-cup option. In its place the coffee connoisseur will find a hot water system, which is great for…
right, not K-cups!
So, through process of elimination, are we stuck with or happy to have the Cuisinart Coffee Center?
Good question!
Price Points: Is The Cuisinart SS-15 Good Value?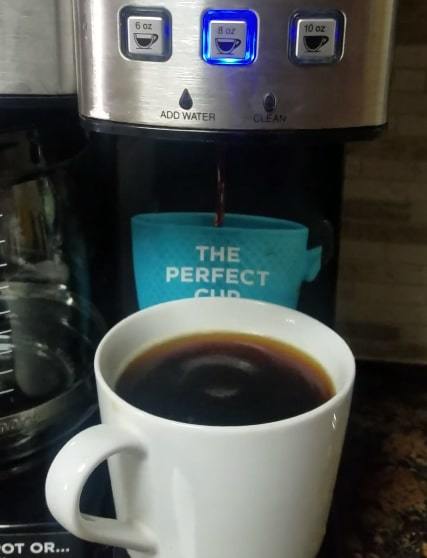 As we mentioned earlier, Cuisinart is always mindful of product cost. Thus, this 2 way coffee maker combines the legendary Cuisinart coffee maker, which normally retails for between $60 to $100 depending on warranty length, with the K-cup option (again, between $40 to $70) for a reasonable $140.
But, and unlike that clunky VHS and DVD combo, this streamlined stainless steel system comes in a variety of colors and is easy to disassemble should you want to clean on the regular. We recommend you use the Cuisinart coffee center manual or simply allow the unit to self-clean when that feature is illuminated on the control panel.
Finally, this packaged deal also comes with 3 free K-cup capsules in Medium Roast, Dark Roast, and French Vanilla as well as the signature HomeBarista Reusable K-cup so that you can keep saving money by grinding your own beans for single-serve use!
Customer/User Impressions
But of course this Cuisinart coffee center review would be remiss if it, or, rather we, didn't mention that not everyone is so taken with the product.
Chiefly, and this is across most all user feedback platforms, the biggest issue appears to be seepage or leakage from either reservoir. Cuisinart, of course, responded and improved their Cuisinart coffee center manual, which now explicitly states that using too finely ground coffee could result in a backup as could using the gold tone filter alongside the paper filter.
What's more, the company went still further and encouraged users to seek out that perfect cup o' joe by sourcing quality water, coffee, grind ratios, and proportions to avoid any unnecessary Cuisinart coffee maker downtime.
This certainly does not make the system flawless, however, as the single-serve side still requires a paperclip (yes!) to properly clean, which, in our humble opinion, needs to be corrected soonest.
Another consumer 'complaint' argued that the single-serve K-cup option encouraged folks to be wasteful since these pods have a pretty sizeable carbon footprint, or did, until Cuisinart responded in kind. This company, unlike others, decided to include (free of any additional charge) their HomeBarista Reusable Filter Cup so that you, connoisseur of the mighty bean, can not only continue to source ethical coffee beans, but also avoid increasing the amount of rubbish the world over.
But, and all things being equal, we here at CoffeeGrindGuru.com doubt you will find a similar DVD / VHS combo with these specs (and freebies!) anytime soon.
Our Verdict: The Cuisinart Coffee Center SS-15
So, and while we here at CoffeeGrindGuru.com believe this review to have made a pretty compelling argument for the Cuisinart coffee center, we will let you, purveyor of the good stuff, decide. To recap:
This unit, much like the DVD / VHS of the early 2000s, allows you to have your cake, er, coffee, and drink it, too! What we mean to say is that you are no longer constrained by having to make either a 12-cup pot o' joe or a single, small 4-ounce dose…you can do both!
The Cuisinart coffee center is just that:  a center! Well, we might say a center of excellence, especially when it comes to all of the features, self-cleaning features, and improvements around customer comments.
The freebies should be enough to win you over, but if not, then simple consider the 3-year warranty when making your decision. But, you probably won't need it given the stainless steel features and reliability when cleaned carefully and responsibly.
The Cuisinart coffee center manual also goes above and beyond expectations by providing quick-tips and pointers on not only caring for your unit, but in achieving your quest of achieving a great cup o' joe each and every morning.
The price of the Cuisinart SS-15 may be off-putting, but when you remember just all what you are getting (2 way coffee system and free K-cups), the system might just be the combo deal of the millennium!
The Upgraded Cuisinart SS-15p1
Since writing this review, Cuisinart has come out with a newer model: ss-15bksp1 and we are currently working on updating this review.
But, in the meantime, we wanted to let you know that there is a new and improved version of the coffee center now available for purchase!
The biggest change with this newer model appears to be the addition of a milk frother on the single serve side. So, if you are someone who enjoys making cappuccinos, lattes, or other coffee drinks that require frothed milk, then this might be a game changer for you!
In addition to the new milk frother, it appears that the new Cuisinart ss-15p1 coffee center has also made some other improvements with this updated model. These include:
– An easier to use control panel
– A larger water reservoir
– Better overall durability
So, if you are in the market for a new Cuisinart duo coffee maker, then we would definitely recommend checking out the new Cuisinart ss-15bksp1 coffee machine! Stay tuned for our updated review coming soon!
We are sorry that this information was not useful for you!
Let us improve this post!
Tell us how we can improve.