After reading this Cuisinart DBM-8 Review, you should have a better idea of whether you want to pay up for a luxury brand grinder (but still end up driving a Toyota) or go all-in with a Benz!
One could be forgiven having bought a Lexus thinking it was little more than a Toyota dressed up in sheep's clothing, but we here at CoffeeGrindGuru want to help you, dear coffee connoisseur, avoid the same (well, less costly) sort of buyer's remorse.
That said, when it comes to taking your coffee grinding game to the next level there are a host of factors, features, and reviews to consider. We endeavor to help you sleuth through this information overload and get back to making a brilliant cup o' joe.
We will, therefore, assume that you are sick of your blade grinder and terrified that it might catch fire due to all that crazy friction taking place day in and day out.
But what are the other options?
Easy! Trade your old car in for the latest and greatest in luxury automobiles, but without the ghastly sticker price:  the Cuisinart DBM-8!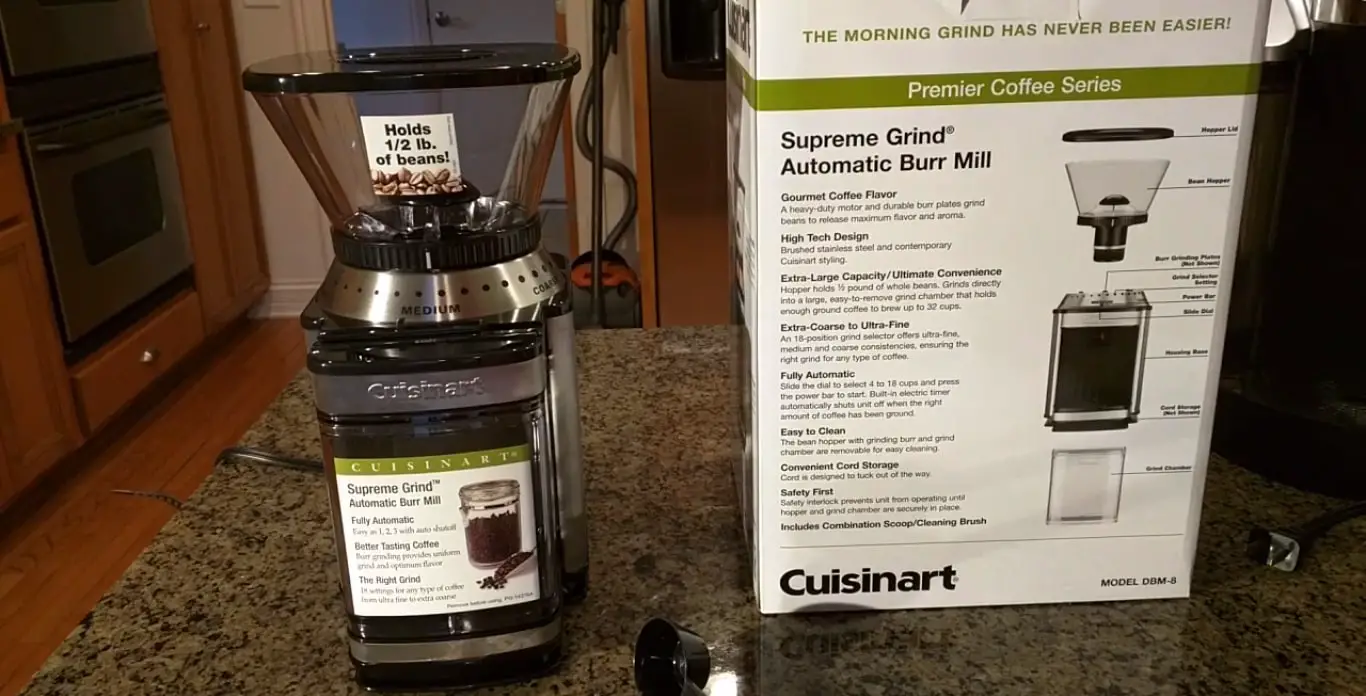 Key Features and specs to consider with your Cuisinart DBM-8:
Let's take a look at the key features and specs of this great Cuisinart burr mill coffee grinder:
Uniform grinding without blades
Stainless steel for easy cleaning
18-grind selections
Extra course to extra fine settings
Automated shut-off so as not to over grind beans
Storage capacity of 32 cups of ground coffee (though, not recommended)
Safe and affordable at less than $50
Limited 18-month warranty
Easy-to-read manual
Comes with scoop and cleaning brush

Simple to assemble and clean
Safety & Sanity
Hold on, wait, you might be thinking. You just told me not to buy a luxury car, er, grinder.  What gives?
Well, just hear us out as there is a host of other factors to consider when going from blades to burrs, especially with regard to automatic or electricity-dependent kitchen gadgets.
When it comes to blade grinders, you are more than likely experiencing an overheating effect after each and every use. Put another way, when you regularly grind beans with the help of only three settings, then the wear and tear on the blades means that you are slowly getting larger and larger grinds that risk a loss of quality in your ultimate brew.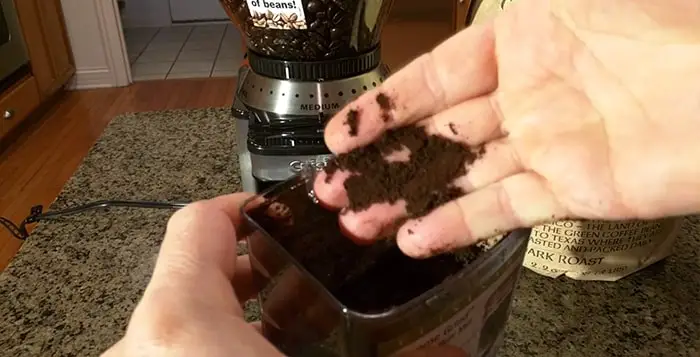 This loss of grinding accuracy means that you have to grind your beans longer, which exposes them to an electrical heat source that risks their being exposed to too much hot air which decreases their flavor profile. What's more, overusing a worn-out device also exposes you, dear coffee aficionado, to safety concerns given that you might 'fry' your grinder on accident or cause a circuit breaker to trip.
Going to an electrically-powered burr mill grinder is a logical next step. This is why we say you should trade in your old model (blade grinder) for a luxury-type means to grind coffee. The Cuisinart DBM-8 is a great model since it has that Lexus hood ornament courtesy of the Cuisinart name.
Cuisinart came to the fore in 1973 when Julia Child revolutionized in-home cooking. In keeping with this image, the company offers outstanding quality at cost so that everyone can "Savor the Good Life".
In order to do this with your daily caffeine fix, though, we recommend the Cuisinart DBM-8 for not only its safety features but its price-check sanity.
This Lexus-slash-Toyota ranges in price from between $40 to $50; what's more, is the 18-month warranty. So, should you have a flame-out in the kitchen, you can get your money back while not losing your coffee-making sanity when faced with sticker shock on other more 'high-end' models.
Easy operation but without the bells and whistles
In so keeping with our (albeit cheesy) themed analogy of buying a Lexus, one must remember that the Cuisinart DBM-8 is cost-conscience and affordable (dare we say, cheap, even?) for a reason:  it is automated. This is buying the Lexus and seeing the Camry underneath. There are a host of grind settings, yes, but do not expect an ultra-fine grind worthy of your espresso machine or AeroPress.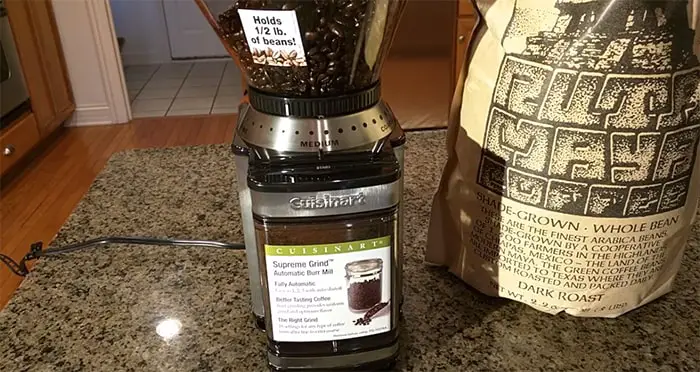 At the end of the day, this machine is a gadget and really shows its gusto in the middle- to course-range of grinds. That means to throttle (no pun intended!) your expectations and to really only consider investing in this gizmo should you be a routine user of drip coffee machines, pour-overs, and French Press brews.
Customer/User Impression
Just like the Kelly Blue Book reviews of cars, there is more than enough customer reviews to keep the would-be buyer busy for days. And we mean days.
For as many coffee consumers who rally around this product for its uniformity and ease of grind for the French Press method, there are just as many trolls who feel suckered into paying for that luxury brand name. To wit, the grinding is automatic, which removes a great deal of control for the user who may or may not have been a former barista. Conversely, if someone is migrating from a blade grinder to a burr model, then this might be a good mid-range sedan for them to test drive.
The Cuisinart DBM-8 Review Manifesto
All that said, we here at CoffeeGrindGuru believe we have made a pretty compelling argument for this gadget. Quickly:
Ideal for the lady or gent that is ready to up their coffee making game by honing their grinding skills
Best for the user who loves a uniform pour over, French Press, or Drip coffee
Great for those who like a nice exterior with a no-fuss, no-muss cleaning schedule
Though we do not recommend grinding and storing coffee as this will detract from the flavor profile of the bean, there is a massive amount of storage (32 cups!) capacity built right into the Cuisinart DBM-8
Conclusion
While we do not want to come off as used car salesmen, the analogy works here:  do your research and know what you are looking for in a burr grinder. The Cuisinart DBM-8, in our humble opinion, is the off-the-lot option for those who want a luxury name with the horsepower of a tried-and-true workhorse!
We are sorry that this information was not useful for you!
Let us improve this post!
Tell us how we can improve.