How To Make Coffee While Camping?
Some people can't start their day without coffee. While some people have the luxury of getting their coffee delivered to their doorstep, some nomads compromise on taste due to always being on the go. We wouldn't want you to miss your cup of coffee only because you are out in the woods. We know how refreshing it is to devour a tasty beverage sitting amidst the serene views offered to us by nature. 
Let us know more on how you can offer yourself this tasty reward after hours of outdoor activity. 
Things you need to know before brewing coffee on your camping trip : 
Always use high quality coffee.

Try to use whole beans if you are carrying a hand grinder. Grind them later to avoid degradation due to air exposure.

Always keep the temperature between 200-205F. Boiling your coffee might lead to a bitter and burnt taste.
How to make coffee on a camping trip?
Instant coffee making on a campfire 
The simplest way to make your camp coffee is with a camping coffee pot on the campfire. To make this –
Pour about two cups of water for every sachet of coffee into the pot. 

Then place it on the top of the campfire or burner and let the water boil.

Now add some steeping bags if you prefer.

Cover the lid of the pot and let it brew followed by addition of sugar to the pot later.

Then you can cherish your coffee and get ready to tip off your camping adventure with a great coffee experience.
Pros
Easy set up 

No additional equipment required 

Hassle free clean up 
Cons 
Stale taste 

The coffee grounds used are not usually fresh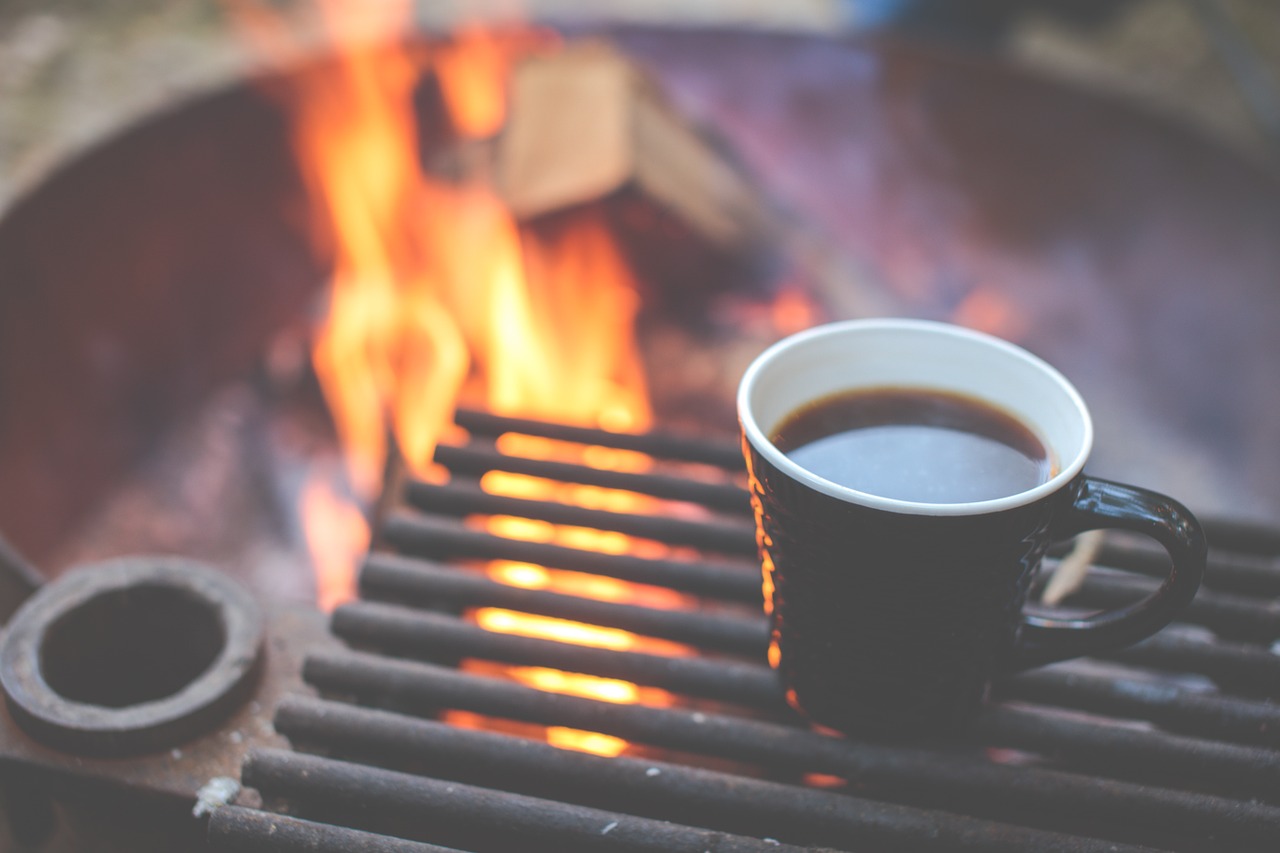 Brew coffee without a camping fire: Get a portable espresso maker 
One of the simplest ways is to make the coffee in a portable espresso maker. 
Simply pour water into the espresso pot and let it boil. Use a secondary pot to boil water if possible. 

Place the grounds at the bottom and cover the chamber.

When you observe a honey color, then you can remove the kettle from the burner. 

Wait for the water temperature to go down followed by mixing the additives of your choice. 

When you see a little foamy texture on the surface, you can pour the coffee into a container. 
Pros 
Rich and concentrated flavor 

Ideal for solo travellers 

Robust equipment makes handling easy 
Cons 
Most pots come with plastic handles which may melt down due to high heat. 

Yield is significantly lesser as opposed to other methods

Chalky taste 
The Cowboy Method
This is a french press coffee but without a filter. To make coffee with the cowboy coffee method-
Pour some cold water in your pot and mix it with a tbsp of coarse ground coffee. 

Let it stay on flames until the temperature reaches up to 200 degrees. Do keep in mind that your coffee will take longer to reach that temperature due to the inconsistent heat supply from the campfire. 

Then, remove your setup from the flames and throw in a small shot of cold water. 

Then wait for five minutes and your coffee will be ready. 
Some people also have a tradition of adding some egg shells to the pot for the sake of adding to the body.
To make your camp coffee exactly like a cowboy, break the eggshells into tiny pieces and add them to the coffee. Make sure that the eggshells don't just stay afloat on the surface, but also mix in the coffee. The job of eggshells is to combine all the coffee grounds and help you in keeping them away from the cup you pour for yourself.
You can make good coffee for two or more people without any complicated equipment. Also, unlike french press makers, the cowboy method does not use paper filters.
Pros 
Perfect for two people 

No equipment needed 

Filter less clean up 
Cons 
Thick texture 

Chalky taste if brewed for extended periods of time 

Many people avoid using eggs in their coffee 
French press camping coffee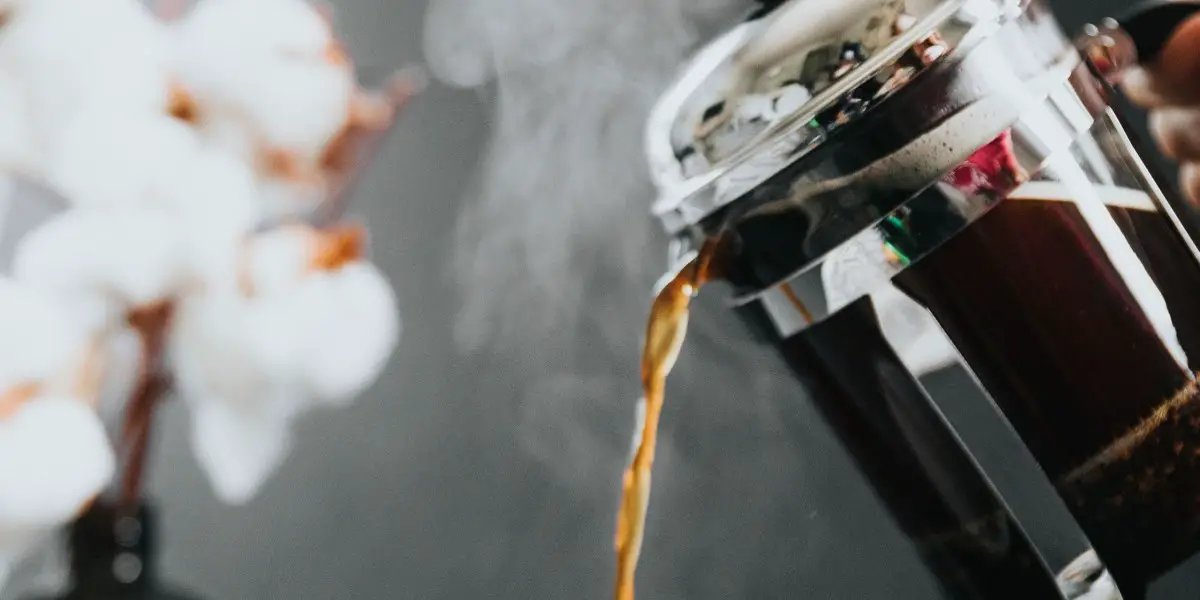 The supplies required for this method are a french press, a boiling pot, some coffee grounds and mugs to serve. 
Start by heating the water and then remove the plunger from the fresh press shortly after this. 

Then add coffee grounds with a 3:2 ratio of coffee and water. 

Add some water and stir gently. 

After fifteen minutes, reinstall the plunger and let it rest on the coffee grounds. 

Brew your mix for 4 minutes and apply pressure on the grounds using your plunger. 

If the plunger reaches the ground, it indicates your beans are pressed to the bottom.

Pour your coffee in the mug and enjoy. 
Keep in mind to wash the brew chamber thoroughly upon completion using some soap and water. 
Pros 
Saves coffee grounds 

Durable construction 

Easy to handle 
Cons 
Chalky taste 

Not available in a compact option 

Filters are tough to clean 
Aeropress camping coffee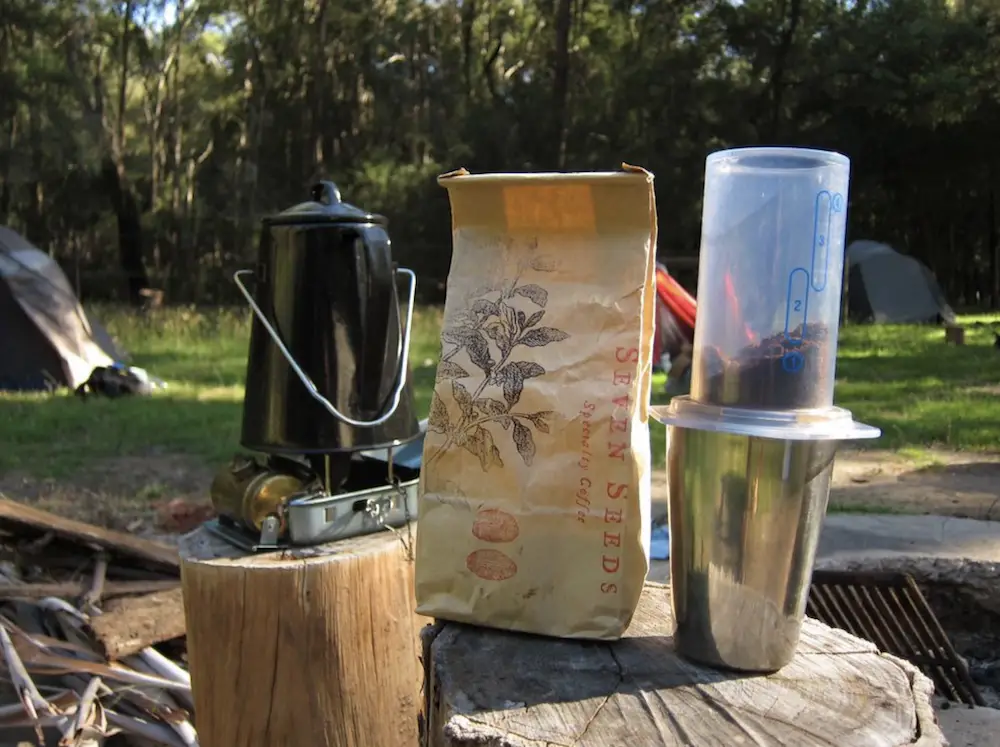 This is the method which is preferred by the experts due to the versatility of the brewing texture. 
This cylindrical coffee maker is super light in terms of weight and can fit in your bag easily while camping. Also, it has been found that this method curbs the acidity that coffee can cause. This coffee maker can brew coffee for 1 to 3 people in about one minute. You can have it for your all-time coffee needs, be it in your kitchen, your office, or while traveling. 
Heat the water and adjust your basket so that it fits the brew chamber. 

Position your brew chamber on the mug and add some medium fine ground coffee 

Pour some boiling water in the brew chamber and stir for 15 namaste seconds. 

Let your grounds settle and then apply downward pressure using the plunger. 

This will take around ten seconds and your aeropress coffee will be ready. 
Pros 
Highly robust 

Volume can be measured with ease 

Better filtering system ensures clean coffee delivery
Cons
Bulky 

Additional equipment needed 
Coffee brewing with coffee bags pour-over method
This method is ideal for larger groups who do not have much space to carry huge loads of additional gear. 
Set up your coffee mug on the pour over dripper. 

Top your dripper's head with a filter while you boil some water. 

Then add some coffee grounds and make sure you level them equally. 

Look around and embrace the beauty of the forest covered in pines in your vicinity. Wait for 30 minutes. 

Now gently pour some water towards the center to rotate the grounds. Repeat this process 3-4 times till the level of water matches the height of grounds added.

Then remove your lid (dripper) and enjoy your coffee. 
Pros 
Cons 
Conclusion
In this article, we learned about various coffee-making methods that would come in handy for you when you are camping. We discussed some interesting methods: traditional and contemporary, and gave insights on the equipment that you can use. Choose whichever method seems the easiest to you. 
If you do not want to put in a lot of labour into this, you can also consider purchasing a hand press gadget. Bon voyage!