If you are looking for a coffee maker that caters to your individual caffeine needs as well as helps you entertain with absolute ease, you should consider getting the Cuisinart SS-70 brewing system.
This machine is an absolute wonder maker and can make a host of warm beverages such as hot cocoa, gourmet coffee and tea in a fraction of seconds. The number of features it comes with makes it one of the best machines on the market currently.
About The Cuisinart SS-700
Cuisinart SS-700 is equipped with a great design and can be a wonderful addition to your kitchen. It offers great customer service, durability and ease of use, leaving nothing to be desired.
The design of the machine is such that it would add to the overall appeal of your kitchen and make entertaining your guests a walk in the park.
Cuisinart SS-700 Features
The SS-700 has a number of features that make it a must-have machine. Here are some features that truly make it unique.
Exterior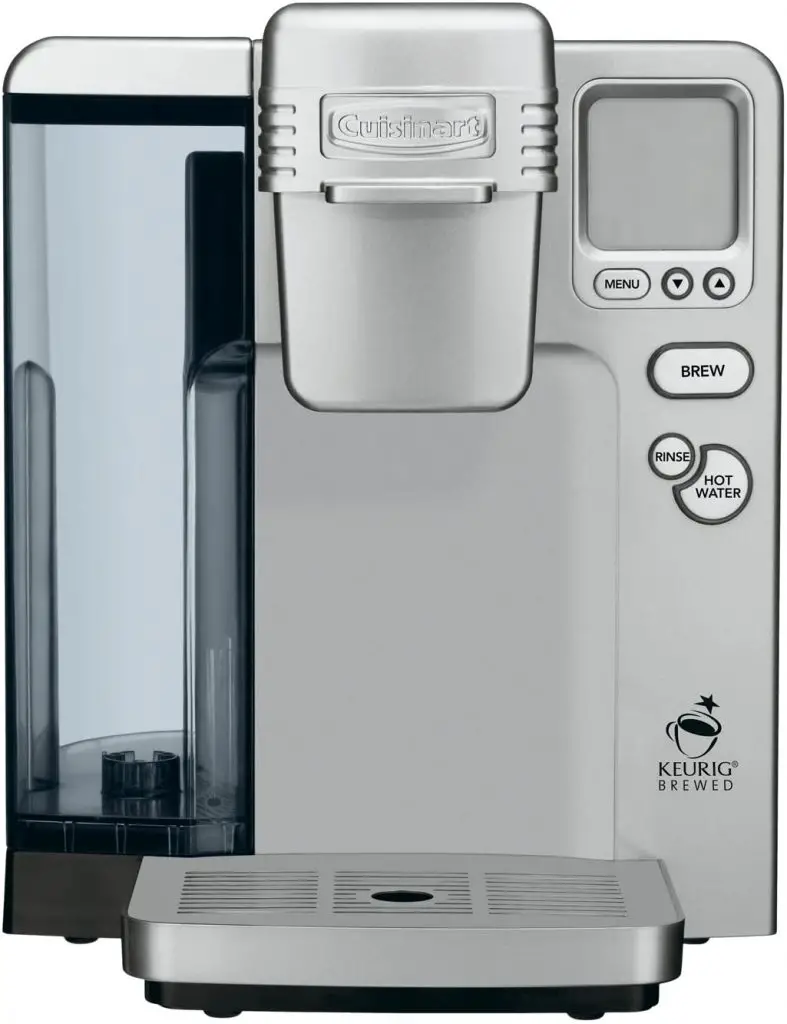 The Cuisinart SS-700 is a regal-looking machine, something that is also reflected in its weight. It is not very lightweight, which is a good indication. Some lightweight machines cast doubts on their durability and robustness. It can truly make any countertop come alive with this design and sturdiness.
The machine comes equipped with an 80-ounce water reservoir that saves you time and energy on frequent water fillings and also helps save water that is lost in multiple fillings.
The control panel is well made and helps you control a number of features from multiple angles owing to its forward-facing placement. Other features include a reusable filter that is beautifully tucked in the side giving the machine a lean look.
The control panel has a rinse button that helps you rid of any residues in the system before brewing a fresh cup of coffee. The functioning of the machine is smooth owing to the presence of a charcoal water filter and a filter holder. All you need to do is to immerse the filter in cold water before installing it.
Durability
The key quality customers look for while buying a new kitchen appliance is its durability. After all, you won't like to invest in a new machine every other month. Therefore, the Cuisinart SS-700 wins big in this department.
It is a robust machine that is even immune to water splashes, that machines in the kitchen are prone to but not resistant to.
Ease Of Use
No one wants a complicated machine that keeps them confused on how to use it. Cuisinart SS-700 understands this, and that is something that makes using it a breeze.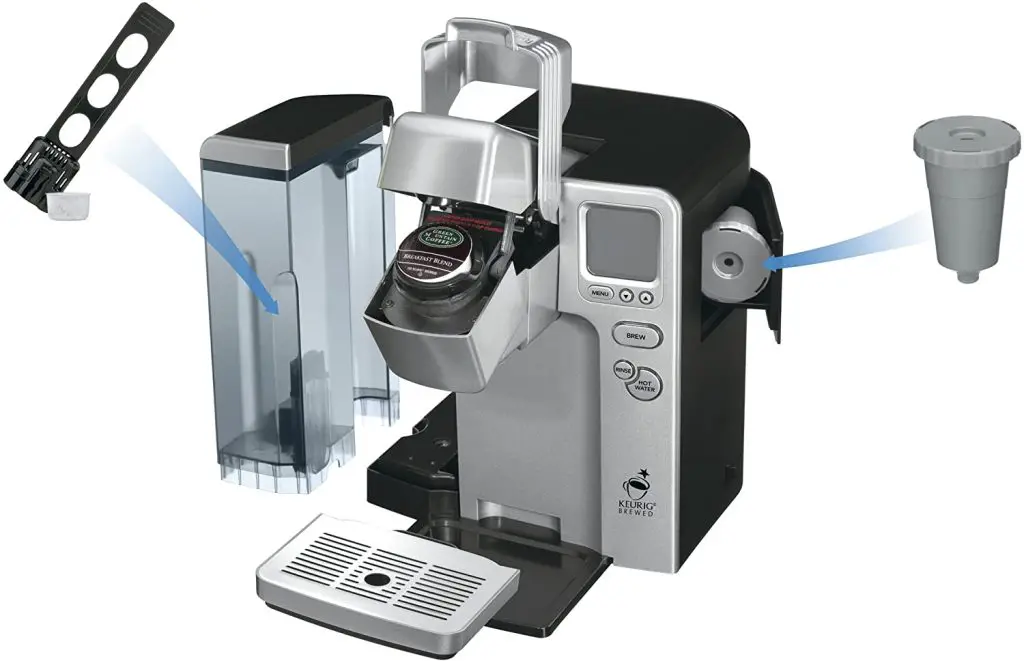 Within a few minutes, you can get a warm cup of tea or coffee. All you have to do is fill the reservoir with water. The machine will take care of the rest and give you in approximately four minutes, a warm cup of tea/coffee. A brewing cycle is recommended so that you don't lose any flavor and texture and refresh the machine thoroughly.
The arrow buttons help you navigate the intricacies of the machine. There is an option to select the size of your beverage and the choices available to you include between four to twelve ounces with a 2-ounce increment between the sizes.
That's not all. With the Cuisinart SS-700, you have the option to pre-set your brewing times. This way you won't have to rush on busy mornings.
Customer Service
One of the biggest advantages of buying the Cuisinart SS-700, is that it offers unparalleled customer service so you don't have to manage everything at your own level.
For one, it comes with a 3-year warranty that is generous by all means. Most machines mostly provide a warranty of one year, at best.
Their customer support team is very supportive and you can expect a speedy response if you reach them through any communication channels of your choice, i.e. phone, form or email.
Besides, there are a host of demo videos and easy-to-understand instruction manuals that will come with your machine to make it easy for you.
[wpsm_column size="one-half"][wpsm_pros title="PROS:"]
Unique Features: This single-serve coffee maker gives you the option to set its timings, i.e. whether you want it to turn on and off all day long or at specific times. It also has an adjustable temperature setting.
Superior Taste: The presence of charcoal water filters helps filter out chlorine, trapped smells and flavors to give your coffee the freshness it deserves.
Brew Speed: If you are one of those people who hate to wait, this machine is your soulmate. It doesn't waste any time and pumps out coffee (or tea) super fast, saving you time and anxiety.
Adds Glamor to Your Kitchen: The Cuisinart SS-700 is one of those machines that can instantly amp up kitchen aesthetics. It is sure to make a few heads turn at your next house party.
Easy to Use and Maintain: The best thing about this machine is that the display makes using it and maintaining it simple. Let's start with the size of cups available to you. There are as many as five sizes you can choose from. The K-cup brewer also has an LCD display that makes using the machine simple while also adding to its aesthetic appeal. The manufacturer recommends descaling it every three months and you can actually do that easily with a homemade cleaning solution without fussing over buying any fancy washing liquid.
K-Cups: Almost all K-cup brands are compatible with Cuisinart SS-700. The same goes for reusable K-cups. This gives you way more freedom to experiment with your desired K-cup and not just the brand's K-cup.
Environmentally Friendly: The fact that you can brew coffee with a single filter that is reusable means that you are also contributing to reducing the trash in the environment. This is important given the huge adversarial impact waste has on the environment.
[/wpsm_pros][/wpsm_column][wpsm_column size="one-half" position="last"][wpsm_cons title="CONS:"]
Singular Size of the K-Cups: While the machine gives you the option to choose from 5 different cup sizes, the fact that there is only one size of K-cup is a bit of a bummer. What this essentially does, is give you a strong flavor in small-sized cups and a diluted flavor in large-sized cups. If you want an even-textured coffee or beverage in a large cup, you may have to use two K-cups for the best results. This can be cumbersome.
Price Tag: The machine is not one of the cheapest options available but if you weigh the features and especially the warranty, it is definitely worth it.
Bulky: Many users find the size an issue, especially because it takes a significant amount of space in the kitchen. So, if you have a small and compact countertop, chances are you will have to make certain adjustments to make it feel at home. Moving it is also a task since it weighs a lot. You definitely need to find a fixed spot that will be occupied for as long as the machine lasts.
[/wpsm_cons][/wpsm_column]
The Final Word
What's the final verdict on Cuisinart SS-700? What makes it unique? And should you consider getting one for your home?
Firstly, the ease of usage and maintenance make it a machine worth considering. The fact that it makes great coffee is an add-on.
If you are one of those people who rely on coffee too often, this may be your perfect companion owing to its large reservoir that can brew big quantities at once. It comes in handy when you have guests or friends over.
The fact that it is compatible with Keurig K-cups adds to its versatility.
Lastly, the fact that it is sturdy and robust makes it a great choice from an investment point of view. You will be spared the hassle of changing the machine and looking for a new one at least for 4-5 years (of course, this is subject to care and maintenance).
The continued assistance from the manufacturer and the incredibly easy-to-use manuals and demo videos are a big help as you would not feel stuck every time you face a problem.
If you are tired of looking for a coffee machine that meets all your caffeine needs and also gives you the option to experiment with tea from time to time, look no further than the Cuisinart SS-700.
It saves you time and is fully programmable which also saves a lot of effort. All the lazy people out there, that is some good news! It is not necessarily a breeze on the pocket but when seen against all the features that it offers, it surely is worth it.
We are sorry that this information was not useful for you!
Let us improve this post!
Tell us how we can improve.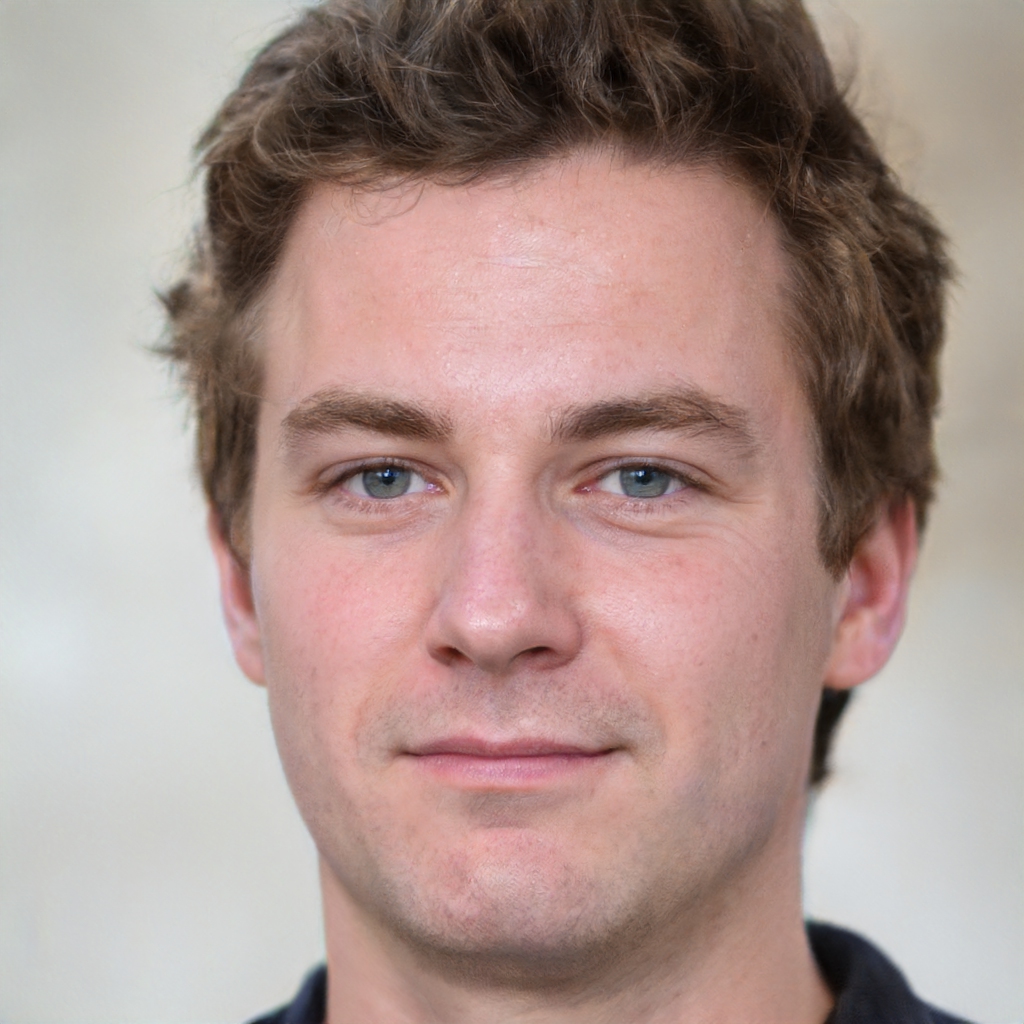 Alex is a self confessed coffee addict – but he takes his love of caffeine seriously in a completely responsible way. He loves trying new coffees and testing the latest machines and is not usually fan of one button pod machines. Alex is happiest when he is tinkering with settings and milk temperatures to create the perfect cup. When not obsessing over coffee, Alex is a keen musician and plays weddings and other social events (usually fuelled by… yes, you guessed it… coffee).