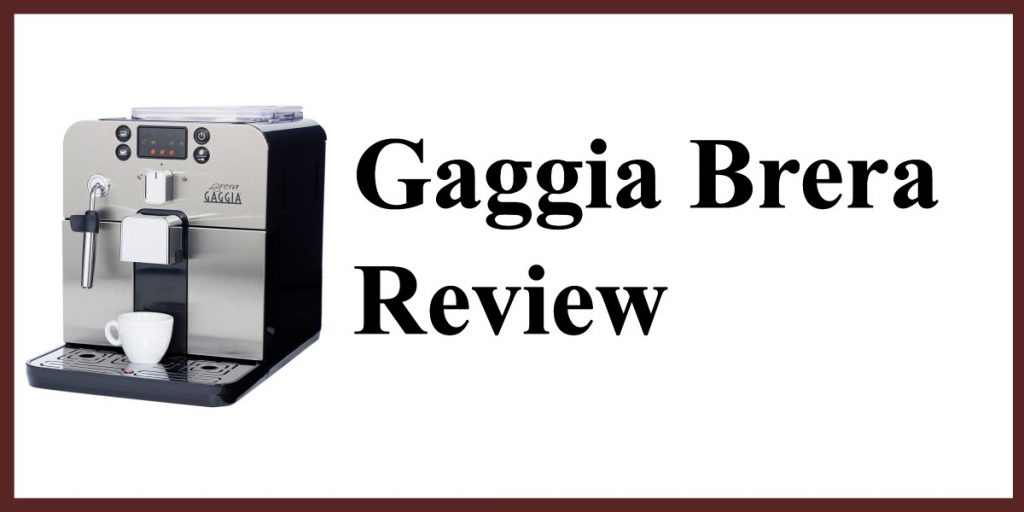 If you like a good espresso at home without all the hassle (and expense) of using a traditional espresso machine, you could probably do with a bean to cup machine, like the Gaggia Brera Automatic. It will enable you to have barista style coffee at the touch of a button.
This is part of the magic of bean to cup machines. Though you may sacrifice a little of the quality – and a lot of the theater – found with a barista espresso maker, they are just far too easy to not love.
Part of the reason is that, unlike many other coffee maker styles, bean to cup coffee makers have coffee grinders built into them. All you have to do is add some beans – or, as is the case with the Gaggia Brera Automatic, your beans or ready-ground coffee – and flick a couple of switches. The machine does all the rest, grinding the coffee into a perfect powder, heating the water and running it through the grinds, and giving you a fresh cup of espresso in just a minute or two.
Gaggia have pedigree – many consider them to be the OG coffee machine brand. The Gaggia Brera comes with their trademark flair and style – it is an attractive, well-designed machine, with stainless steel front panel and elegant black curves everywhere else. It offers various options for coffee customization and has a ceramic burr grinder.
All this, and it's pretty well-priced. Let's find out how it really stacks up against the competition in our Gaggia Brera review.
Gaggia Brera Specs & Key Features
In terms of output, the Gaggia Brera gives you a few different options for customizing your coffee.
These include water quantity, the coarseness of the grind, and the overall strength. You can make yourself a single or double shot, with easy options for either. I like a double shot of particularly dense, strong espresso, and was able to make it quite easily.
The Gaggia Brera achieves this variation in large part through its inbuilt ceramic burr grinder. Grinders like these are known for allowing the ground coffee to retain a lot more of the bean's aroma and, thus, flavor.
The Gaggia Brera makes use of an energy efficient standby mode. This activates automatically and ensures that it uses hardly any power at all when not in use – less than 1 watt per hour, in fact.
You can also use the Gaggia Brera with ground coffee. This is essential for people who like to drink their coffee decaff and will come in handy for anybody who has a favorite ground coffee that they want to turn into lovely, creamy espresso.
The Gaggia Brera can be used to make more than espresso, however. It comes with a Pannarello wand, which allows you to steam and froth your milk. The milk you get from it will be velvety and soft, with a lovely froth on top. This opens up options for caffe lattes, cappuccinos, macchiatos and flat whites, as long as you do your research on milk and foam quantities in each.
This wand can double up as a hot water dispenser for tea infusions and Americano long coffees.
It's also quite a compact machine, at just 12.4 inches, meaning that it will fit easily into any kitchen, no matter how small, without making a nuisance of itself. It has a front-loading dreg drawer and water reservoir, which are both easily accessible. The drip tray is a little on the small side, so will need emptying fairly often – however, in such a small machine, this is completely fair enough. And, despite being so small, you can still get a decent sized cup into it – up to 4.5 inches.
The display is LED push-button, with illuminated icons to make it easy to choose between different options.
You get a 1 year, hassle free warranty from Gaggia which is always good to know.
Using The Gaggia Brera
Let's first talk about living with the Gaggia Brera. It is a very attractive, quite minimalist machine, so will look very nice on most kitchen counters. However, it won't take up too much of that counter space, nor will it be particularly obtrusive, thanks to its compact build. It is perfect for galley kitchens or workplaces.
Though it looks beautiful, there is a sense that Gaggia have let down the quality of the build. The front is stainless steel, but pretty much all of the rest of the frame is made from plastic, as are the controls. This makes it feel a little cheaper than a machine like this – with this kind of price tag – should.
The finish is also easy to mark and takes a lot of cleaning, so it may not stay looking as beautiful as you would want longer term.
However, the Gaggia Brera is easy to use. The controls are very straightforward and intuitive, with an easy set up and simple navigation. There are just four buttons (on/off, water quantity and coffee strength) alongside a dial for selecting the coffee mode. This quick and easy functioning is essential on any bean to cup machine, which are usually designed to sacrifice a little quality for a lot of convenience.
The water also comes up to temperature pretty quickly, so that you can have a fresh brewed coffee in around a minute – again, speed is a must, and this works nicely, giving you a good coffee on the go.
Talking about speed, the standby mode is fantastic. It automatically comes on after an hour, saving energy and thus money, whilst keeping the machine ready to spring into action at a moment's notice.
The frothing wand is also pretty quick, taking around 10 seconds to heat up, so that you really will be able to get a full latte or cappuccino going in less than a minute.
The Gaggia Brera's tools are also good. I love a ceramic grinder, and this one doesn't disappoint. Ceramics are inert, meaning they won't contaminate the beans. They also produce less heat when grinding, which will help to maintain the aroma and flavor by not evaporating any of it.
The Brera has a rinse cycle that it runs through when you switch it off, which will aid with maintenance. It's pretty basic, so you will have to clean components relatively often (every few weeks, or maybe every couple of months, I would guess), but it still manages a lot of the legwork for you.
Gaggia Brera Taste Test
Bean to cup coffee makers will never give as good a coffee as a proper espresso maker. This is a given, so there should be no deducting points from the Brera for it.
However, the espresso it gives isn't quite up to the standard of more advanced, more expensive machines. If you're a real coffee snob then you should save up and go for the bigger guns.
It's very good for a few hundred quid, though. It can be rich and creamy, bold and super strong (or lighter, if you want), depending on the setting you pick and the beans you use. You will get a lovely espresso, even if it's not quite top tier.
I'm also very impressed by the quality of the espresso you get from ground coffee – though not a patch on beans, it really is lovely.
The coffee is also piping hot, which isn't always a given with a bean to cup machine.
The milk frother is also pretty much first class, or as close as you can get without spending thousands. It works quickly and gives a nice texture with no burned lactose. The customization options on offer mean that you will be able to make the coffee just as you like it, and with a decent espresso as its base, any milky coffee you make will be very much up to the standard you want.
The Verdict
It sounds like I'm damning the Gaggia Brera with faint praise when I say that it's the best at what it does for its price point. I'm not. You would think you had spent twice the price on it. There are certainly better machines out there if you want to fork out several thousand dollars. If not, this is the one to go for.
It gives you a decent espresso, with either beans or ground coffee. The frothed milk you can produce is velvety, smooth, and, most importantly, isn't scalded. You won't get the burned sugar taste that many a commercial coffee shop will give you.
It's stylish – though some of the plastic elements let it down – and compact, perfect for smaller spaces and glamourous kitchens. Combine all of this together with the energy saving features and the ease of use and you're onto a winner.
We are sorry that this information was not useful for you!
Let us improve this post!
Tell us how we can improve.