Keurig K-Duo Coffee Maker Review
Alex Calder delivers his verdict on this popular coffee machine in our Keurig K-Duo Coffee Maker review.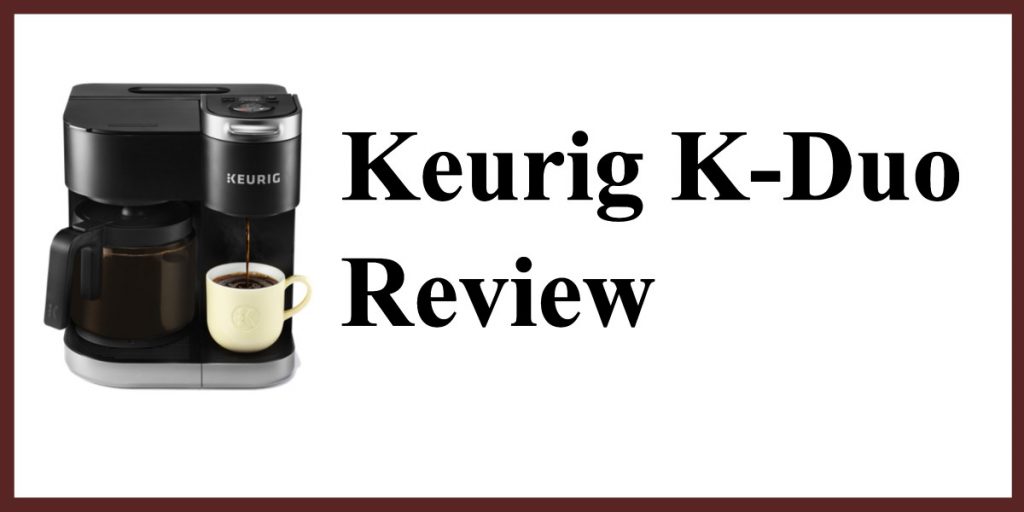 When people buy an appliance for their home, they often look for a brand that they trust. A name that they have heard of is reassuring, and when you are spending a good amount of money on something, that matters.
Well, with that in mind, the coffee maker that we are looking at today comes from a beverage behemoth, but we would understand if you are still getting used to their name.
You see in 2018, Keurig Green Mountain and Dr Pepper Snapple Group merged, creating a multi-billion dollar company with around 27,000 employees – now called Keurig Dr Pepper. I'm not a huge fan of this name, personally, but what is indisputable is that this brand new company is a huge player in the world of drinks.
The subject of our attention today is the K-Duo – seen as the latest innovation in the world of coffee makers. It is priced right in the middle of where you would expect, so let's see exactly what this innovation does to the performance of the machine and whether that pushes it to the top of your 'must-have' list.
Keurig K-Duo Specs And Features
Before we get into what this coffee machine can do, let us first take a few moments to have a look at its appearance. It looks good, doesn't it? It is both sleek and stylish, with a crisp black finish. It is pleasing to the eye, but without having to try too hard.
It looks straightforward, which all goes hand in hand with the size and shape. It measures 12.92 x 10.94 x 12.76 inches, which is actually quite a small unit for a coffee maker with this kind of capacity. It won't take up too much kitchen counter real estate.
The shape helps in that regard as well. It is a box shape, which may sound simple and unimportant, but it actually really helps. If you are anything like me you have quite a few kitchen appliances on your worktops, and it can be a bit of a squeeze fitting everything on – even more so when a unit is an odd shape with bits poking out. A nice rectangle shape is perfect – it will fit in snuggly amongst other units or against a wall.
So, what do you get when you purchase the K-Duo? Well, in the box you will find a 12-cup glass carafe, a removable water reservoir and the unit itself. It's all very straightforward and easy (are you noticing a pattern yet…?).
That water reservoir has a 60oz capacity, which is perfect for what you'll be using it for. As it is removable, it is very easy to refill and wash. It also serves both carafe brewing and single-cup brewing.
What's this? Single-cup and carafe brewing…? Yeah, that's right – the main innovation for this machine is that you have the option of brewing just one cup of coffee, which is served out of a separate section of the unit to the carafe. It is compatible with K-cup pods.
One of the other great little innovations on this machine is the ability to pause the brewing so that you can pour yourself a cup of coffee without having to wait until the entire carafe is full. I don't know about you, but I have often found myself standing next to a coffee machine, quietly waiting for the coffee to brew – just wasting time. With the K-Duo you can just pause the brewing, pour yourself a cup and get on with your day – safe in the knowledge that the carafe will continue to fill with delicious coffee while you go about your business.
With a few taps of the easy-to-use controls, located on the top of the single-serve part of the unit, you can select how much coffee you would like to brew into the carafe (6, 8, 10 or 12 cups) or how much you would like in your single cup (6, 8, 10 or 12 ounces). This is a good place to point out that you can easily fit an 8-inch travel mug in the single-serve section.
You are also able to program the machine to start brewing at a particular time, so you can walk into your kitchen in the morning to the unmistakable smell of fresh coffee. Nothing beats it!
There is also a 'strong brew' option if you prefer your coffee with a bit more of a kick.
Using The Keurig K-Duo
Now, I gave away a little hint earlier on about what it is like to use the K-Duo, given its sleek, yet simple design and easy to follow controls, but in order to illustrate that, let me walk you through exactly what you need to do to make coffee using this machine.
First of all, you'll need to check to see whether there is enough water in the reservoir. It is located on the rear of the machine, but you can see exactly how much water is in there from the side of the machine. While the reservoir is removable, I found that it was just as easy to pour the water directly into it while it is in situ – there is a wide opening so you won't spill any.
I should point out here, that in order to get the best-tasting coffee, I would always recommend using fresh water every time you use the machine, rather than water that has been standing there for an extended period of time.
Next, it's time for the coffee. Are you making a carafe or a single cup? If it is a carafe, you simply lift the lid on the left-hand side of the unit, place in a filter and fill up with the correct amount of coffee for the number of cups you are making (I would go for 1-2 tbsp per cup of coffee that you're making).
If you are making a single coffee, then all you need to do it place in the K-Cup pod under the lid on the right-hand side of the machine and place your cup underneath the spout ready to receive the deliciousness.
Now for the most complicated part – select how many cups you are pouring (in the case of the carafe) or how many ounces (for a single-serve). If you would like a stronger coffee, press the button marked 'STRONG', and then when you are ready to go press the corresponding button to start (either the one with the crate or the pod on it).
That is quite literally as complicated as it gets.
If you would like to program the machine, you can do that by using the H (hour) and M (minute) buttons to set the desired time – you can do this up to 24 hours in advance of when you would like your coffee made.
In terms of cleaning, the drip tray, the reservoir and the carafe are all removable, so they're easy to clean with hot, soapy water. Everything else is easy to wipe down, and when it requires descaling, a red light will appear. Once you have descaled, just hold down the 8 and 10 buttons at the same time to reset.
Why Choose The Keurig K-Duo?
If you like good, strong coffee every day, then a machine like the K-Duo is perfect for you. But there are so many on the market these days, and as the drip method is quite a simple one, they all produce similar results – so why should you get the K-Duo over the others on the market?
Well, because it offers you flexibility. You don't need to make a full carafe of coffee if you are just about to leave for work – you can brew just one cup straight into your travel mug and off you go!
Plus, you don't have to wait for 5 minutes if you want to grab your drink before the carafe is full – just hit pause and pour your drink. You're the one in charge here – why should you be waiting for a machine?! Get your cup and get back to your laptop – the carafe will be full if you need that extra kick.
These features really set it apart from much of the competition. And what is brilliant is that you don't have to pay extra for the privilege – this is priced around the same as most other machines of this capacity.
Verdict
If you are in the market for a coffee maker, then the additional features on the Keurig K-Duo mean that this really is one of the best coffee makers of its ilk on the market. It is priced fairly and the coffee that it makes is fantastic.
I am a sucker for a strong coffee in the morning – so being able to walk into my kitchen to that smell is really something I relish. Put this coffee maker on your shortlist, you will do well to find anything that beats it.
We are sorry that this information was not useful for you!
Let us improve this post!
Tell us how we can improve.