Smeg ECF01 Espresso Machine Review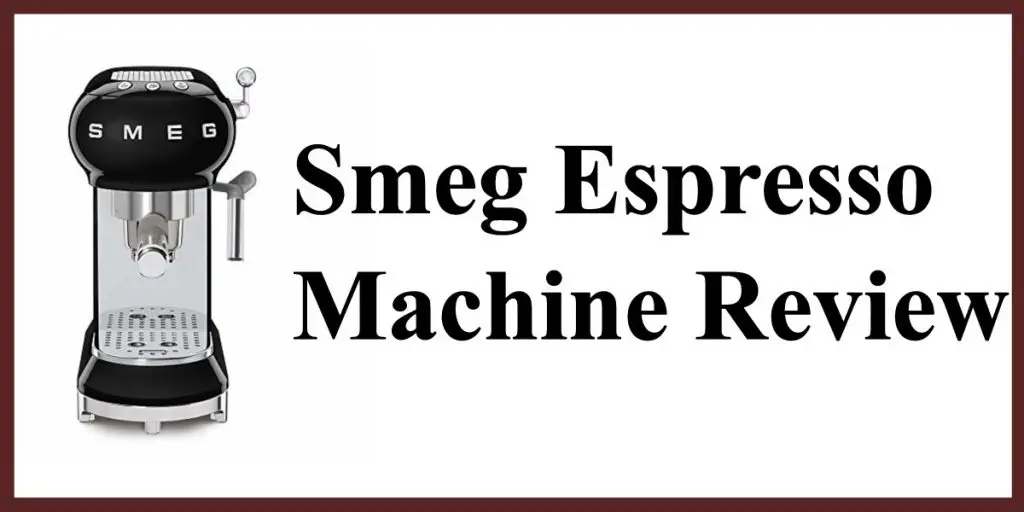 An espresso machine is a luxury item, right? I mean, nobody needs an espresso machine to survive, although I know it can feel like that some mornings.
It stands to reason, therefore, that if you are going to get yourself a luxury item, you may as well go big, and get one made by a luxury brand, which is why today we are looking at the Smeg ECF01 Espresso Machine.
You see, these Italian giants know a thing or two about household appliances – since 1948 they have been world leaders in their industry. You will have seen their fridges, of course, as they are instantly recognizable and world-renowned. They released their first FAB retro-style refrigerators in 1997, styled on the classic 1950's design – bold, bright and game-changing.
In 2014 they started to expand their retro range into other domestic appliances, such as kettles and toasters. It was only a matter of time before they moved into the ever-expanding coffee making market. Let's find out if this style icon has the substance to match its looks in our full Smeg Espresso Machine review.
Smeg Espresso Machine – First Impressions
It's going too far to say that 'first impressions' are everything to Smeg as a company, but it is certainly a huge factor in what they do. They have cultivated a unique style over the years so that now people from all over the globe can look at an appliance and say "that's a Smeg".
So what of this espresso machine? Well, as you would guess,  it is unmistakably Smeg – not least because it says SMEG in crisp, clear 3D letters across the front of the unit. It's more than that though – just like their classic fridges, it is beautifully curved and smooth all over the machine. The stainless steel finish against the smooth black housing just oozes sophistication. This model is also available in cream, pastel blue, pastel green, pink and red – with all these choices if you can't find a color to suit your kitchen I think you have bigger issues than the color of your coffee machine!
There's more though – the chrome zamak steam lever helps to complete the stylish aesthetics, just another touch of quality on a machine that is dripping with it. Every inch of this machine looks to be well built, functional and, crucially, great to look at.
Speaking of inches – the second thing you notice, after the style of it, is how compact it is. This is a wonderfully small machine that will not take up much space on your worktop at all. Small and stylish – the Tom Cruise of coffee machines.
If you are looking to add a WOW factor to your kitchen, then there is nothing about the look of the Smeg ECF01 that should put you off.
Smeg ECF01 Espresso Machine Specs
Looking great is all well and good, but let's take a closer look at how it's built and what it can do.
Well, let's start by clarifying the size – measuring 12 x 6 x 13 inches, as suspected by our first impression, this is a really compact machine. It is much smaller than the majority of espresso machines available on the market today, so it makes it a viable option for almost any kitchen, no matter how much kitchen 'real estate' you have to spare.
How have they made it so small? By being clever. The top of the machine doubles as a cup warmer. The drip tray is easily removed so you can work with a cup bigger than an espresso cup. They have set out to make this machine as small as possible, while still offering all of the features that you would expect for a machine of this caliber.
Now, let's talk power: 1350W, to be precise, along with a 15 bar pump pressure. For context, most of the competition settle for around 950W, and a 15 bar pressure pump is generally considered to be the optimal amount in order to get rich and creamy espressos.
The water is heated using the Thermoblock heating system, which will get your water to the ideal temperature in around 40 seconds. It also gives you a lot more control over the temperature of your water, so you can modify it to suit the coffee that you are working with, or even use it for tea.
The hot water feeds into the steam wand, which means that this can be up and running after just 40 seconds as well. No hanging around here, which can be incredibly valuable when you're in a rush in the morning – which is most mornings, right?
The stainless steel filter holder provides three separate filter options – single, double or paper pod. This is a pretty standard level of versatility, and certainly what you would expect from a machine in this price range, but it is good to know nevertheless.
The tank, situated on the back of the machine, can hold up to 1 liter of water. This is probably a bit bigger than you expect for a machine of this size, but smaller than a lot of the main competition. To be honest, you should be using fresh water as often as possible to get the best results, so a smaller tank will probably inadvertently lead to better tasting coffee!
There is an automatic shut-off feature, which kicks in if your machine has been sitting idle for 10 minutes – this saves energy. There is also a little descaling light that comes on when it needs cleaning.
As mentioned in the previous section, there is a drinks warmer on the top of the machine, which is a great additional feature, particularly if you tend to make more than one drink at a time.
Using The Smeg Espresso Machine
Full disclosure – I was really excited about using this machine. I have been a huge fan of the Smeg brand for a long time, and I was excited to see what they could do with a coffee machine.
On the face of it, the Smeg ECF01 is an incredibly simple machine. As I have already mentioned a number of times, it is small and crisp looking – it isn't busy with lots of buttons and gadgets. In fact there are just three buttons, so there isn't much to learn before you start using it, right?
Well, no, that doesn't really tell the full story. There is a fair bit to know before you start using this espresso machine, and I will do my best to help you, so you can be fully prepared when it is your turn.
It's all about customization. I'm sure you could open up the box and start using this right away, but I would strongly recommend against that. If you are spending this amount of money on a coffee machine, then surely you will want to make the very best coffee that you can – your favorite cup of coffee.
So in order to do that, you're going to need to know a few things. Firstly, if you hold down one of the 'coffee' buttons (there is a one-cup button and a two-cup button) on the front of the machine while your cup is being filled up, it will remember how much water was added, and next time you press that button it will fill to that amount. Similarly, you can set up your preferred coffee temperature (which may vary depending on which beans you are using) and your preferred water hardness.
This will take time and experimentation to get absolutely right, but I urge you to put in the effort – just like there is no point buying the fastest sports car and never going above 50, there is no point having this machine and not customizing the settings.
Once you have all of that set up, though, it becomes very easy to use:
First, make sure that there is enough water in the tank for whatever coffee you are making – and take into account any steam you will be using. Turn on the machine and the water will begin to warm up – this will take less than a minute. While this is happening, you can load your coffee (or paper pod) into the filter and place it into the holder and put your cup under the dispenser.
Then you hit the button of choice, either one-cup or two-cup. You can double tap a button to make a long coffee, like an americano. Once you have made your selection, it will kick into life and your coffee will be poured.
Are you having a milk-based coffee? Well, get frothing up your milk using the steam wand. This is another feature that may take a little time to perfect, but it will be well worth the effort. Getting the correct density and temperature will really make or break your coffee. If you aren't very comfortable with using a wand, I would recommend checking out a few YouTube tutorials to get some hints and tips. When you feel like you have mastered getting this bit right, you can move on to work on your coffee art!
It may seem like this is a complicated machine to use, but once you have your settings all calibrated to make your perfect coffee, and you have mastered the art of frothing up your milk, then it really just comes down to pushing a button and letting it do all the work.
Common Questions About The Smeg ECF01
What is the best tamper to use with this machine?
This machine comes with a small plastic tamper, which does do the job, but if I were you I would consider upgrading to a metal one – it looks nicer and it'll give you nice, even results. A 51mm will do the trick.
Once the descaler light comes on, what should I do?
Descale the machine! This is really easy to do, just use any coffee machine descaler.
What's the best way to froth milk?
There are many different techniques, and it will be a case of trial and error before you perfect it – it is like any skill, and practice is the only real way to get better.
However, there are a few tips to help you on your way:
Make sure the wand is just below the surface of the milk
'Stretch' the milk by moving the wand around the milk, but be careful not to introduce too much air
Move deeper into the jug after 5-10 seconds
Tap the milk jug when you are finished – this helps to remove the air bubbles
How much coffee does each puck hold?
The 1 cup basket holds around 7 grams of coffee, while the 2 cup basket holds around 14. I say roughly because this will depend on how fine the coffee has been ground, and how thoroughly it has been tamped.
Verdict
You will have probably already guessed, but I am a huge fan of this machine.
It does everything that you would want from an espresso machine. The amount of calibration that it offers means that for those of us that want to put in a little bit of time and effort it can create our ideal coffee. Let's be honest, if you are spending this kind of money on an espresso machine, you are going to be a bit of a coffee aficionado and therefore probably find this element all part of the fun.
That's not why you'd buy the Smeg ECF01 espresso machine, though. You don't get a machine like this just for the coffee. You get it for the style, you get it for the aura, you get it to provide that extra little WOW factor on your worktop. That's exactly what this provides – it looks great, and it doesn't just fit into any kitchen, it makes any kitchen.
The price will put a lot of people off, and it requires a good amount of skill to make the best cups of coffee. As such this is a product that will only appeal to those people that really take their coffee seriously, and really want to learn how to make the best coffee.
If you fall into that category, then this machine is the one for you.
We are sorry that this information was not useful for you!
Let us improve this post!
Tell us how we can improve.